Kim Kardashian West Thanks Donald Trump for Signing First Step Act Allowing Matthew Charles to Be Freed
Kim Kardashian West expressed her gratitude to President Donald Trump for signing the First Step Act, which enabled Matthew Charles to be freed from prison.
Kardashian West posted a quick thank you message to Trump on Twitter. In her Thursday afternoon tweet, Kardashian West wrote that she just found out that Charles would be released from prison within 24 hours. She thanked Trump for signing the First Step Act and credited the accomplishment to "true bipartisanship."
On December 21, Trump signed the First Step Act into law after it passed in both the House of Representatives and the Senate. The law reduces mandatory minimum sentences in certain cases, according to The Hill. It also reportedly expands the ability for prisoners to earn shorter sentences through good behavior.
After the bill passed in the Senate, Trump posted on Twitter a congratulatory message to the Senate for passing the "historic criminal justice reform bill." He commented that, as president, it's his job to fight for all citizens, including those who made mistakes in their life. His statements run in sharp contrast to his rhetoric about immigrants.
"This will keep our communities safer, and provide hope and a second chance, to those who earn it. In addition to everything else, billions of dollars will be saved," Trump wrote on Twitter. "I look forward to signing this into law!"
When the bill passed both chambers of Congress, Trump once again expressed his congratulations on Twitter and called it a "great bipartisan achievement" for everyone involved. He noted that when both Democrats and Republicans work together, the country is safer.
Months before Trump signed the bill into law, senior advisor Jared Kushner invited Kardashian West and CNN host Van Jones to attend a meeting to discuss the proposed bill. During the discussion, Trump referenced Willie Horton, a convicted murderer who was granted a weekend furlough from a Massachusetts prison in 1986. He didn't return to prison as he was supposed to and in 1987 raped a woman.
To alleviate the president's concerns that signing the First Step Act could produce similar problems, Kardashian West and Jones reminded him of Alice Marie Johnson, who he granted clemency to in June.
"We just kind of circled back, Van and I, in talking to the President to explain: But you have Alice now, and Alice is your legacy," Kardashian West told CNN. "She really opened up his heart and his eyes."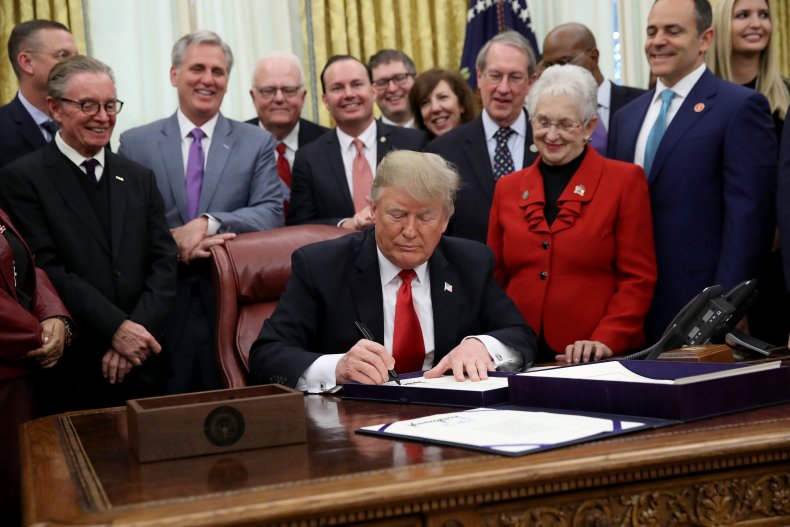 On Thursday, Charles had his sentence reduced to time served and WPLN reported he could be released within 24 hours. Charles was incarcerated in 1996 for selling crack and was released after two decades in prison. While in prison, he was gifted a Bible and found God. During his time in prison and in the short time of freedom he had, he attended college courses, taught GED classes and regularly volunteered at a food pantry.
However, in 2017, after about a year and a half of freedom, the government appealed his release on the basis that he wasn't eligible for a reduction in sentencing instilled under former President Barack Obama. In May, he returned to prison and was facing another decade behind bars.
His case garnered national attention and in May, Kardashian West shared Charles's story and called his return to prison "so sad" because he'd rehabilitated himself. During the September meeting with Trump, Axios reported Kardashian West advocated for clemency for Charles.