Kim Kardashian West Vows 'Naked Selfies Until I Die' as Iran Accuses Her of Being Instagram Spy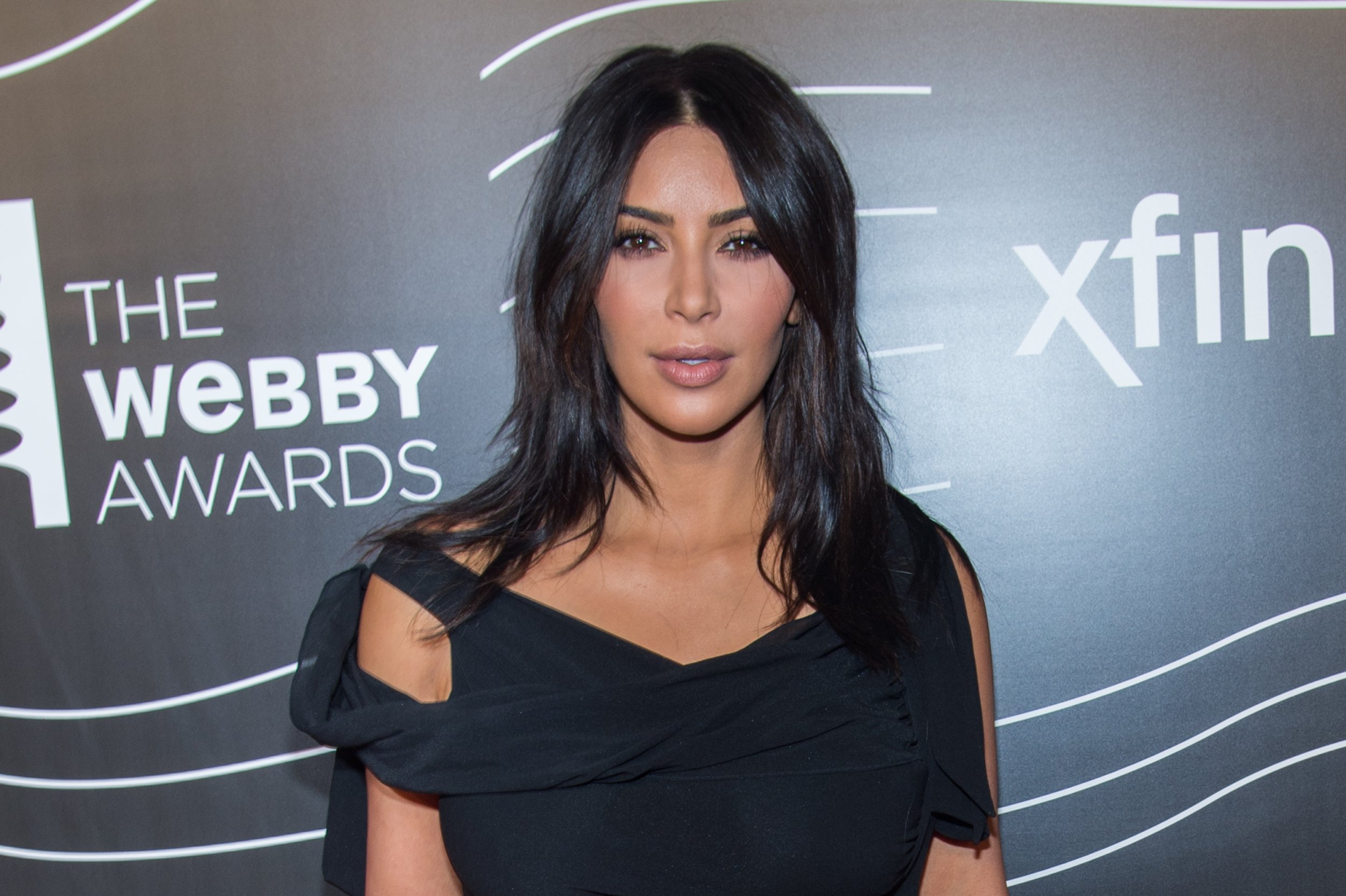 Iran's Revolutionary Guard may think Kim Kardashian West is trying to corrupt their "young people and women" with her provocative, often naked, Instagram selfies, but the reality TV star had the last laugh at the 2016 Webby Awards on Monday night, declaring: "Naked selfies until I die."
West was honored with the first ever Break the Internet award at the event in New York "in recognition of her unprecedented success online and the bold and creative ways she has used the Internet, social media, apps and video to connect with a truly global audience." West boasts 70 million Instagram followers—with a further 45 million on Twitter—and at one time had the most-liked Instagram picture ever.
The Webby Awards, honoring the best Internet viral sensations and celebrities, are now in their 20th year and only allow winners a five-word acceptance speech. It's safe to say West made maximum use of her words.
West again caused titillation on the Internet in March by posting a completely naked selfie on Instagram—save for Photoshopped black lines covering her modesty. The picture gained 1.7 million likes and inspired a flurry of similarly nude snaps from celebrities including Sharon Osbourne and Emily Ratajkowski.
Responding to criticism of her barely-there antics, West penned a powerful open letter—published on International Women's Day—saying: "I am empowered by showing the world my flaws and not being afraid of what anyone is going to say about me. And I hope that through this platform I have been given, I can encourage the same empowerment for girls and women all over the world."
The 35-year-old's defiant promise/threat (delete as applicable) of more naked selfies at the Webby Awards came amid accusations Monday that she is a secret agent working for Instagram, tasked with corrupting the youth and women of Iran with images depicting her opulent western lifestyle—such as flaunting private helicopter rides, pamper sessions and seductive pictures of her body—that is in stark contrast to the conservative religious values of the Islamic country.
Vanity Fair reported that the Iranian Revolutionary Guard Corps is taking West's alleged spying "very seriously."
On Sunday, in a state television broadcast, Mostafa Alizadeh, a spokesperson for the Revolutionary Guard's Organized Cyberspace Crimes Unit, said Instagram's CEO Kevin Systrom had recruited West to influence the country's women and youth to publish their own similarly boastful selfies, reported IranWire. "Ms. Kim Kardashian is a popular fashion model so Instagram's CEO tells her, 'Make this native.' There is no doubt that financial support is involved as well," he alleged.
According to IranWire, the Revolutionary Guard has been cracking down on the Instagram pages of models and others in the fashion industry whose posts it deems too subversive. A surveillance operation known as "Spider 2" reportedly shut down the pages of 170 individuals " active in modeling, fashion houses and photography workshops," 29 of whom face prosecution.
On Monday it was reported that some of the nation's leading models, including prolific Instagram user Elnaz Golrokh, had been arrested earlier in 2016 for appearing in online photography without wearing a headscarf. Golrokh is thought to have fled Iran and is now residing in Dubai.
In a broadcast on state television, another model, Elham Arab, was forced to apologize after being charged with "promoting Western promiscuity." Arab had appeared in bridal fashion shoots with her hair dyed blond.
A news report showed Arab in a conference room with a state prosecutor, wearing a scarf and her hair colored black. She reportedly said entering the fashion industry had been a "mistake."
"I think all humans are interested in admiring beauty and becoming famous," Arab said. "But they must first consider at what cost and what they will lose in return. For an Iranian film star they may not lose much but for a model she will certainly lose her hijab and honor."
Newsweek has approached West's publicist for comment.