I Worked Out Like Kim Kardashian For A Day - Here's What I Thought
When it comes to beauty standards, Kim Kardashian arguably encapsulates the current example of the so-called 'perfect body'.
Along with social media, the reality star's rise to fame could be considered to have made a significant impact on the changing landscape of women's body image, with the dramatic curves and tiny waist she's synonymous with becoming the modern-day ideal for many.
Voluptuous curves while maintaining a petite waist and stomach is not something many women can achieve naturally. So, how does the reality star achieve this look?
Apparently, she works out six days a week, with sessions starting at 6am lasting up to an hour and a half everyday, with lots of focus on strength training and a small amount of cardio thrown in there. She's also said to enjoy low-impact Reformer Pilates, which helps improve strength and flexibility.
Based on what I could gather from social media and interviews, I tried my best to replicate something similar to Kim Kardashian's workout routine—minus the lavish home gym, professional trainer, and personalized nutrition plan, which I am guessing she has access to.
4.30AM: Desperately attempt to get out of bed
When my alarm went off at 4.30am I reconsidered everything. Do I really need to do this exercise routine? Does anyone really need to do this exercise routine? Why on earth have I willingly volunteered to compare myself to subjectively one of the best-looking women on the planet? And on the internet no less.
By the time I dragged my decrepit body out of bed I felt no better and downed two glasses of water and a coffee to try and feel like a human being again.
Kim apparently uses a personal trainer, which I obviously do not have. Personal trainers are super expensive, and certainly not in my personal budget. So, I woke up my long-suffering boyfriend, who will have to do for now.
5AM: Arrive at the gym and cower over the weight section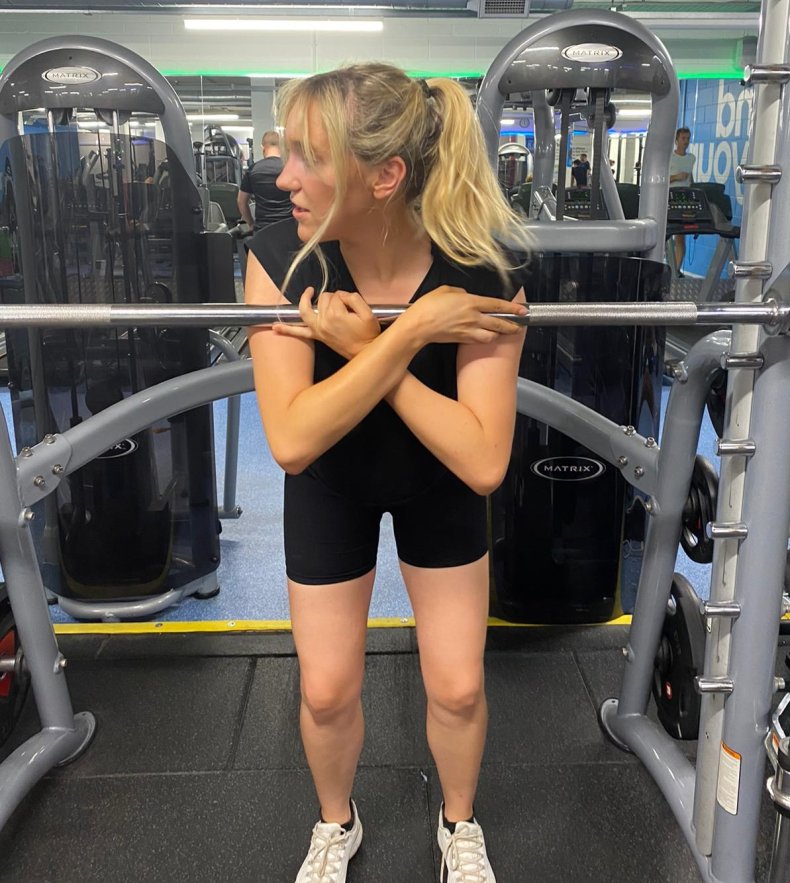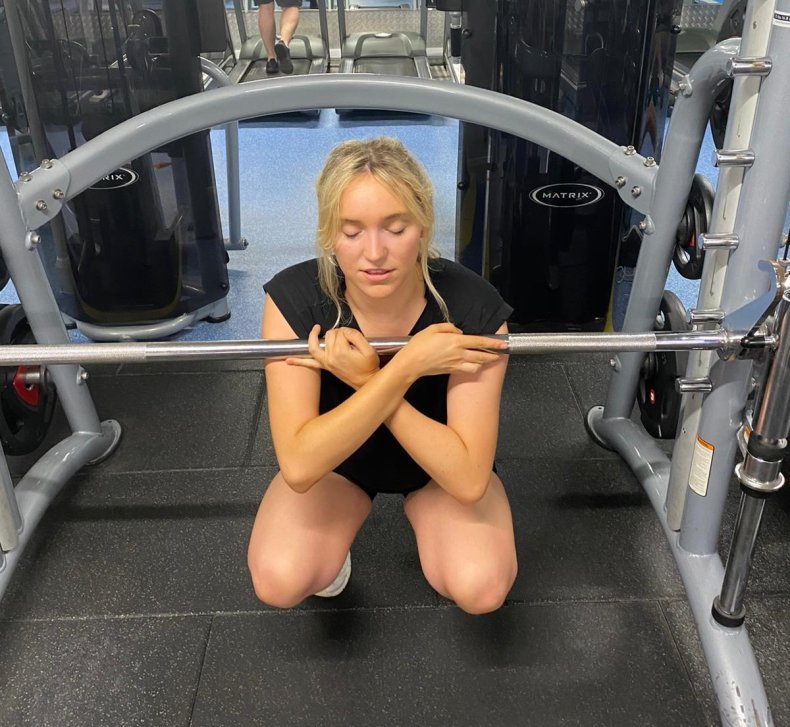 After arriving at the gym I felt much better. The brief ten-minute walk there woke me up and I felt slightly more ready for some physical activity.
I like to think I'm of a pretty average fitness level. I play sports occasionally and force myself to do some form of cardio a couple of times a week, but I'm definitely not someone who dedicates time to working on certain muscle groups or religiously monitoring macros. In fact, weights are something I'm slightly afraid of, so this aspect of the routine was very daunting to me.
I eventually plucked up the courage to enter the weight section, which somehow was already full of people aggressively grunting. Kim apparently does lots of weight training during her early workouts so I decided to start with some weighted front squats. I imagine she targets specific muscle groups daily, but time isn't on my side so I attempt to cover as much ground as possible in one session.
I was shouted at by my boyfriend for using the squat rack incorrectly and potentially injuring my back for a good 15 minutes before anything actually happened.
Once my quads and thighs were burning to no end, which didn't take very long at all, I moved on to kettlebell swings, which are much harder than I've always thought they looked. Next was hip thrusts and finally, I did some arm and leg exercises using resistance bands.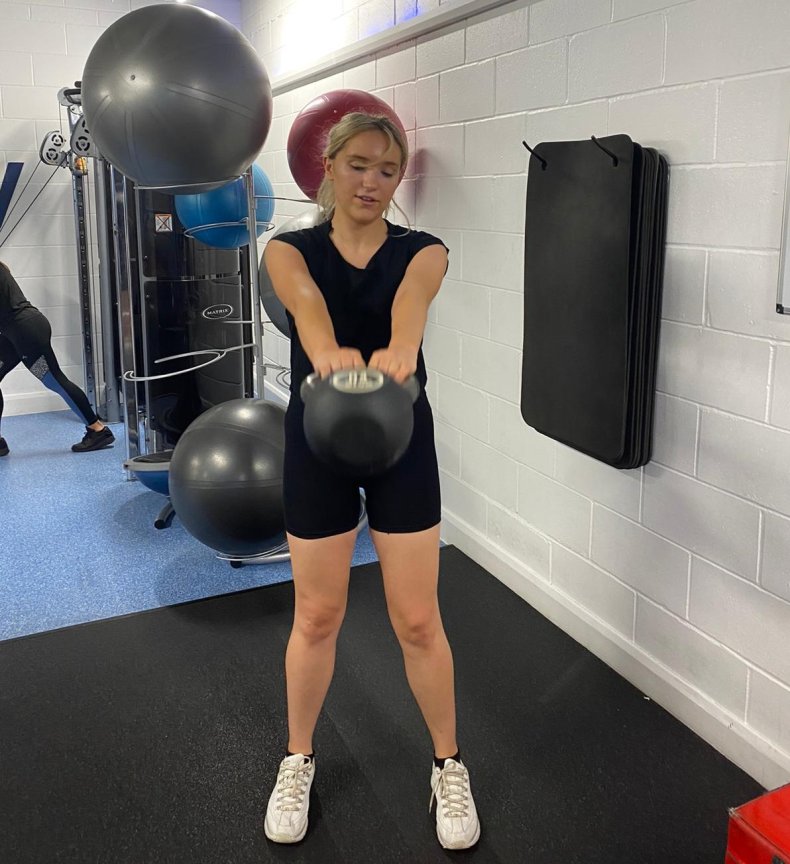 6AM: Treadmill sprints
This was definitely my favorite part of the morning routine. At least I know how to run. Getting up earlier actually gave me a lot more energy for cardio than I would have after an entire day of work. I found doing short sprints was making me work a lot harder and kept things much more interesting than just running or walking on a steep incline.
6.30AM: Leave gym to start my work day
By this time I actually feel really good and surprisingly ready for the day. Working out this early has definitely woken me up and is something I might consider for the future, albeit with a few less weights.
12AM: Reformer Pilates class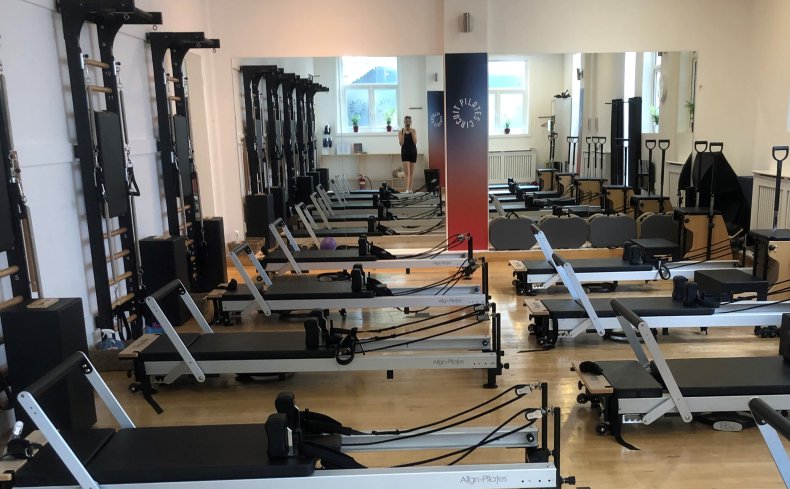 Apparently, Kim likes Reformer Pilates, so I gave it a go. I went down to the Pilates Circuit studio in Wandsworth, London, and arrived early so the instructor could take me through how the slightly terrifying machines work.
The instructor was really warm and welcoming, but looked genuinely afraid for me when I said that not only had I never done Reformer Pilates before, I have never done Pilates full stop. She asked if I had at least tried yoga. I lied and said yes.
The workout itself is hard. I was mildly embarrassed by my performance, which looked something like Bambi attempting to walk for the first time with the flexibility of an old wooden chair.
The moves weren't exactly complex but they were tough, and I had to be corrected by my very kind instructor several times. Writing this the following day, every muscle in my body hurts, but, in saying all this, I really, really enjoyed the class and felt amazing afterward.
It is something I would consider adding to my routine and have actually ended up booking another class for next week. However, as my instructor suggested, I've gone for beginners this time.
5PM: Collapse onto sofa
I am totally exhausted. No surprise here, but a Kim Kardashian-style fitness routine is hard. I do feel great and very much like I've achieved something, but the thought of doing this all again tomorrow fills me with nothing but dread and fear.
Honestly, I think if your full-time job includes looking a certain way, then this workout is great—it's intense, relatively interesting and I'm sure over time would get some great results.
However, for someone who works a full-time job, attempts to have something resembling a social life, and sadly hasn't a personal trainer or private chef to her name, I don't think doing this six times a week would be sustainable in the long term.
---
Newsweek may earn a commission from links on this page, but we only recommend products we back. We participate in various affiliate marketing programs, which means we may get paid commissions on editorially chosen products purchased through our links to retailer sites.