Kim Potter, Brooklyn Center Officer Accused of Shooting Daunte Wright, Resigns From Job
Kim Potter, the Brooklyn Center police officer who allegedly fatally shot 20-year-old Daunte Wright during a routine traffic stop on Sunday, resigned from her position effective immediately.
Brooklyn Center Mayor Mike Elliott made the announcement in a statement on Tuesday.
The Minnesota Bureau of Criminal Apprehension identified Potter as the offending officer on Monday night. Until her resignation, Potter had been placed on standard administrative leave.
During a Tuesday press conference, Elliott said the city received a letter of resignation from both Potter and Police Chief Tim Gannon. The mayor said Potter chose to resign on her own accord.
In a letter addressed to Elliott, Gannon and Acting City Manager Reggie Edwards, Potter wrote, "I am tendering my resignation from the Brooklyn Center Police Department effective immediately. I have loved every minute of being a police officer and serving this community to the best of my ability, but I believe it is in the best interest of the community, the department, and my fellow officers if I resigned immediately."
Potter had worked for the department for more than 25 years and is the president of the Brooklyn Center Police Officers Association, where she previously represented other officers in deadly shootings.
Gannon had previously described Sunday's incident as an "accidental shooting," saying he believed Potter inadvertently pulled out her gun instead of a taser at the traffic stop.
The Hennepin County medical examiner said Wright died of a gunshot wound to the chest.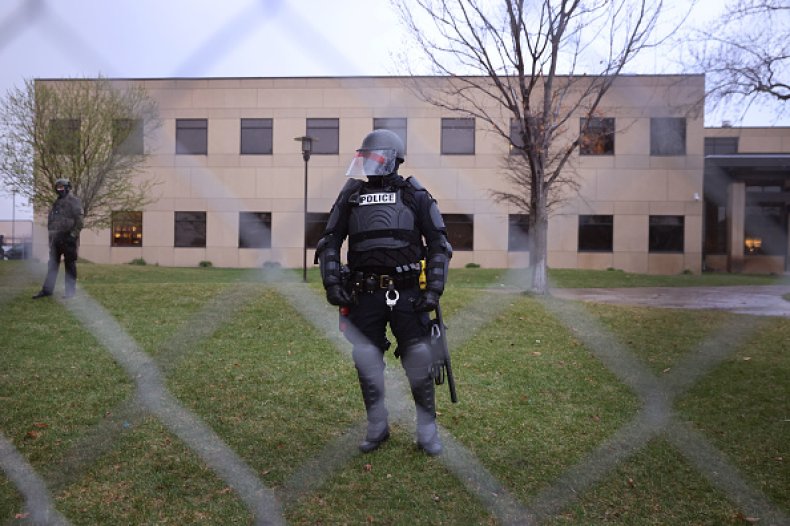 The shooting of Wright has led to widespread unrest and calls for Potter to be terminated. Before Potter was identified, Elliott had stated he believed the officer who shot Wright should step down from their position.
Potter was among one of the first officers to arrive at the scene after 21-year-old Kobe Edgar Dimock-Heisler was fatally shot by police in Brooklyn Center two years ago. An investigative report from the Hennepin County Attorney's Office stated that Potter told two officers involved in the shooting to exit the residence, get into separate squad cars, turn off their body cameras and not talk to each other.
Those officers were eventually cleared of any wrongdoing.
On Tuesday, Elliott announced Commander Tony Gruenig, who has been with the force for 19 years, has been appointed as the department's acting police chief.
The mayor also addressed the "thin blue line" flag that is flying outside the Brooklyn Center police station. Elliott said he has asked for the flag to be removed because he doesn't want the flag to be a "flashpoint that angers people," but was unable to confirm whether or not it had been removed.