One of the jurors in the Kim Potter trial called the guilty verdict the "hardest decision" they've ever had to make but ultimately said they believed the jury "made the right decision."
The juror, who spoke to KARE 11 and whose identity was verified by one of the outlet's courtroom reporters, said that the 27 hours of deliberation became tense over the course of the four days, adding that there was a time "where just about every juror cried."
Last week, the jury handed down guilty verdicts for first-degree manslaughter and second-degree manslaughter in the death of Daunte Wright, the 20-year-old Black man who was fatally shot by Potter, a former Brooklyn Center police officer, last April.
Body camera footage showed Potter yelling "taser, taser, taser" before shooting Wright in the chest with a gun she alleged she mistook for her taser.
"We did an initial vote, then we did temperature checks throughout," the juror said. "Initially for both counts we were predominantly 'guilty.'"
"The day that we asked the judge what would happen if we can't reach a decision, we were evenly split on Manslaughter 1 at four guilty, four not guilty and four 'I have no idea,'" he added. "And at that point, we were just arguing semantics and kind of in circles."
The juror emphasized that the jury didn't base their decision on past crimes of other Minnesota police officers and said those suggestions "cheapens the verdict and the seriousness" of the trial.
"This was strictly about Daunte Wright, Kim Potter and the law," the juror said. "I think you couldn't have asked for a better group of jury members—the fact we didn't concern ourselves with those big picture things really speaks volumes to me and tells me we did a good job. I really think we made the right decision."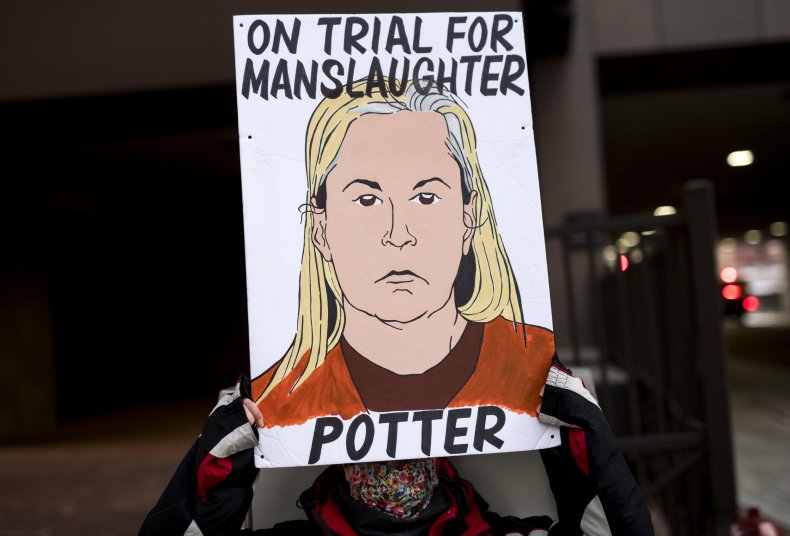 The juror said that while there had been accusations made about Wright being "not a good person," those claims didn't impact the jury or change his "opinion on the tragic loss of life that happened."
"I feel really bad for Daunte's family," he said. "It was hard having them on the witness stand. You can tell Daunte meant a lot to them. And it's hard to think about Daunte's son. I think that's the hardest part for me."
But the juror also said he considered how Potter's family would take the verdict.
"That last hour and a half, I was finally allowing myself to think of the consequences of this tragedy," he said. "Obviously we had been thinking about what this meant for Daunte Wright's family, but now I started to think about what this meant for Kim Potter's family."
"I hope for a lighter sentence [for Potter]. But when you factor in the vehicle that got hit and also the injury Daunte's passenger sustained, I am of the belief that Kim Potter's responsible for that harm as well and that should play into her sentence," he added. "It just hurts for me to say that because I do think this was a mistake. I also think that does not absolve you from responsibility for your actions."
The juror said "the key turning point" in the trial was when the jurors were handed Potter's gun and taser to feel a difference in weight, with the gun being twice as heavy.
Another major factor in the jury's decision was Potter's 26-year history with the force.
"Because of her years of experience, we weren't really looking at this through a lens of what would a reasonable person do, but rather, what would a reasonable officer do," he said. "That was something some of us struggled with because we were thinking of ourselves in that situation, like, 'I could make that mistake.' And then it's like, 'Well, you're not a 26-year veteran.'"
Potter is expected to be sentenced in February. The more serious charge of first-degree manslaughter carries a maximum penalty of 15 years in prison.