Kim Potter Trial Live Updates: Potter Will Testify in Her Own Defense
Ex-Minnesota Police Officer Kim Potter is charged with first and second-degree manslaughter in the death of Daunte Wright during a traffic stop in Minneapolis in April 2021
The incident occurred miles away from the trial of former Minneapolis Officer Derek Chauvin, who was later convicted in the death of George Floyd
Defense attorneys argue Potter made an innocent mistake, as she mistook her gun for a taser
Juror selection started Tuesday November 30
Opening statements are set to begin December 8
The live updates for this blog have ended.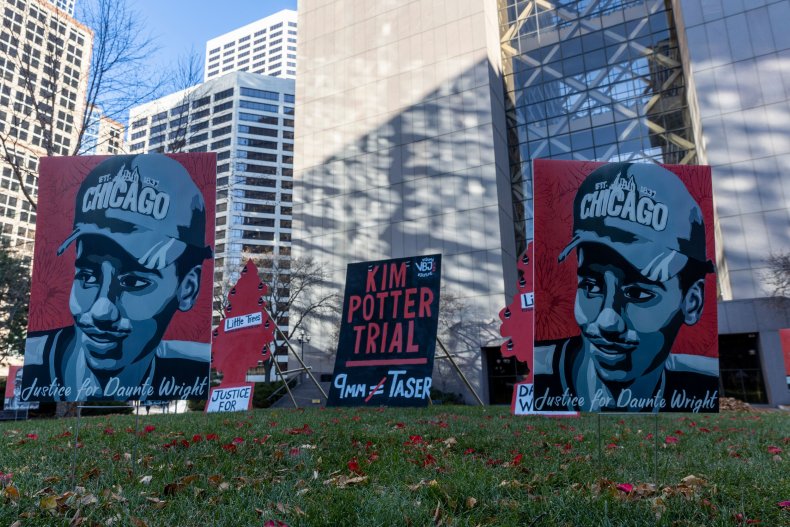 Similar questions from Chauvin trial asked to jurors
Potential jurors in the trial of former police officer Kim Potter were asked questions that were similar to those asked to jurors in Derek Chauvin's trial in the murder of George Floyd.
Jury selection began Tuesday, November 30 and jurors will have opinions on Black Lives Matter and Blue Lives Matter protest and opinions on policing
One question asked was if they or any of their close relatives participated in any marches or demonstrations related to policing that took place in the twin cities area in the last two years.
A questionnaire was given to a pool of around 200 potential jurors, according to the Associated Press. The questions in it resembled questions asked of potential jurors in Chauvin's trial in the murder of George Floyd.
FULL STORY: Potential Jurors in Kim Potter Trial Asked Similar Questions as Those From Chauvin Case
One juror selected, two excused
The attorneys in the Kim Potter case begin questioning potential jurors Tuesday.
So far, potential juror 2 has been selected to sit for the trial and potential jurors 4 and 5 have been excused.
Potential juror 4 seemed to be sympathetic to Duante Wright and have a strongly negative opinion of Potter.
Potential juror 5 told the court he had read a lot about the case before he was called for jury duty. He said he would try his best to set aside his prior knowledge and opinions if selected.
He said he had a positive view of police and respect for the law. When asked about Black Lives Matter "rioters" and calls to defund the police, he shared a negative view. He added that if Wright would have listened to directions at the traffic stop "he still would be with us."