Former U.S. Envoy Says Kim and Putin Talks Should Be a Concern and He's 'Worried' About What Trump Does Next
Former U.S. ambassador to the United Nations Bill Richardson warned on Thursday that Russian President Vladimir Putin and North Korean chairman Kim Jong Un are "probably up to not very good" following their first summit on Thursday.
Richardson, a Democrat who previously served as the governor of New Mexico, appeared for an interview on Fox News' America's Newsroom to comment on the talks between the two U.S. adversaries. In addition to expressing his concern about the possible "strategy" the two leaders may have discussed, the former envoy also said he was "worried" about President Donald Trump's future negotiations with Kim.
"I think this was showing that Kim was hurt by the last summit [with Trump in February], by not coming back with something in terms of sanctions relief with his own people," the governor said. "So, he's speaking to his own people, saying: 'Look, I'm here with Putin, a major power. I'm trying to get the president of the United States to give me some sanctions relief. We're not going to give up our nuclear weapons.'"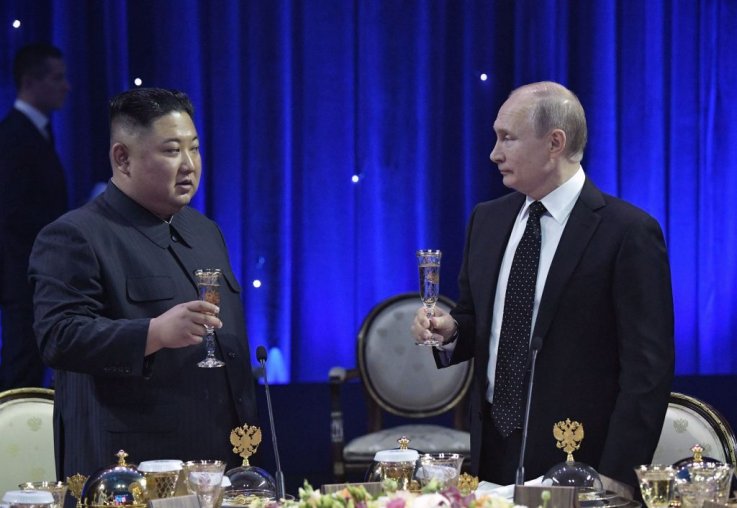 "They've got a strategy, and they're probably up to not very good," Richardson added. When asked by host Sandra Smith about the next steps for the Trump administration and its efforts to push North Korea to denuclearize, the former ambassador said: "I'm worried."
"I hope the president is not too hasty in saying: 'Ok, let's have another summit,'" he said. "He's got an able team … they want to narrow the differences."
Kim described his Thursday talks with Putin as a "very meaningful one-on-one exchange." Putin reiterated that he hopes to see full denuclearization of the Korean peninsula. But the Russian leader appeared to take aim at Washington's hardline approach, saying: "We need to restore the power of international law, to return to a state where international law, not the law of the strongest, determines the situation in the world."
In a later segment on America's Newsroom, Republican Representative Lee Zeldin from New York's 1st district offered a different take on Kim's meeting with Putin, suggesting it actually fit into Trump's efforts toward denuclearization.
"This is something that is beyond a bilateral issue," Zeldin said. "Throughout this entire process, the United States has said that all the good options are on the table."
"Russia is also a permanent member of the United Nations Security Council," he pointed out. "So, when you look back at August of 2017, a unanimous vote of the U.N. Security Council that effectively cut off over one-third of North Korean exports, that included a 'yes' vote from Russia. And [Russia] is a nation with veto power."
"Having them involved in the process is nothing new," the congressman said, suggesting that the rhetoric coming from Russia surrounding the Thursday meeting "could actually potentially help the process" of denuclearization.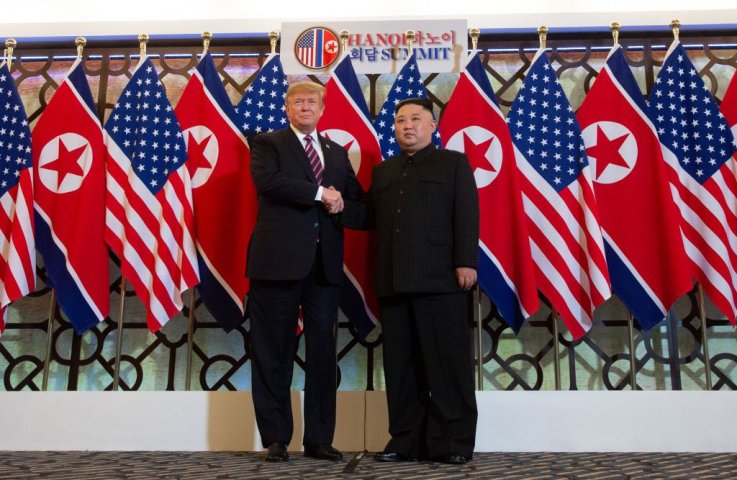 Trump has now held two meetings with Kim. The first took place in Singapore last summer, and marked the first time a sitting U.S. president met with a top North Korean leader. While that meeting led to a string of positive comments from Trump and Kim, with the president even saying later that he and the North Korean chairman "fell in love," Their follow-up meeting in February, which took place in Vietnam, ended abruptly without any meaningful progress toward denuclearization.
While the Trump administration has voiced optimism about the possibility of denuclearizing the Korean peninsula, the president's intelligence community has expressed skepticism as have numerous independent analysts. At the end of January, Director of National Intelligence Dan Coats, who was appointed by Trump, said: "We currently assess that North Korea will seek to retain its WMD capabilities and is unlikely to completely give up its nuclear weapons and production capabilities because its leaders ultimately view nuclear weapons as critical to regime survival."
Former U.S. Envoy Says Kim and Putin Talks Should Be a Concern and He's 'Worried' About What Trump Does Next | World