Kim Wall Trial Update: Peter Madsen Says Dismembering Body On Submarine Was Too 'Horrible' to Describe
Prosecutor Jakob Buch-Jepsen questioned Danish inventor Peter Madsen about the way he disposed of the body of Swedish freelance journalist Kim Wall during the second hearing of the murder trial held in Copenhagen on Wednesday.
Madsen, who denied killing the woman, said he dismembered her body in the bathroom of the UC3 Nautilus submarine. He refused to describe the way he did it.
"I was in an insane situation and used what was around," he told the court, according to reporter Julie Astrid Thomsen. "It's something so horrible that I do not want to go into detail. I will just say, that it was horrible."
He admitted removing her clothing, including her underwear, before mutilating her body.
The charges against Madsen include murder, dismemberment and indecent handling of a corpse. The prosecution described him as a "perverted polymorph, and highly sexually deviant" and alleged the crime was premeditated and sexually motivated.
Madsen invited Wall to tour his submarine after she approached him for an interview. She sent her boyfriend a few texts after boarding the submarine in the evening on August 10, and then went missing.
Her torso, weighted down with pieces of metal, was found in the waters near Copenhagen's Amager island nearly two weeks after her disappearance. Divers discovered other body parts and clothing on separate occasions weeks later, wrapped in plastic bags also weighted down with metal object. Post-mortem analysis revealed stabbing wounds around her genitals, suggesting a sexual motive.
At the hearing on Wednesday, Madsen admitted to stabbing her body but claimed he did so for a practical purpose.
"I considered where gases build up inside dead people when they decompose. They do so in different places. Therefore I tried to puncture that region," he told the prosecutor, according to Agence France Presse. "There is nothing sexual in the stabs hitting her vagina. I know you would like to think so, but to me, there is nothing sexual to that."
Madsen, who was rescued from his sinking submarine before being arrested on August 11, repeatedly claimed the journalist died of suffocation when the submarine's air pressure suddenly dropped, releasing toxic fumes—the third version he has given of Wall's death. He first said he dropped her off before the submarine sank, but then changed his story, saying she died in a "terrible accident" and he buried her body at sea.
"I wanted to spare her family and the world the details ... about what actually happened when she died," he said earlier this month during the first hearing of the trial.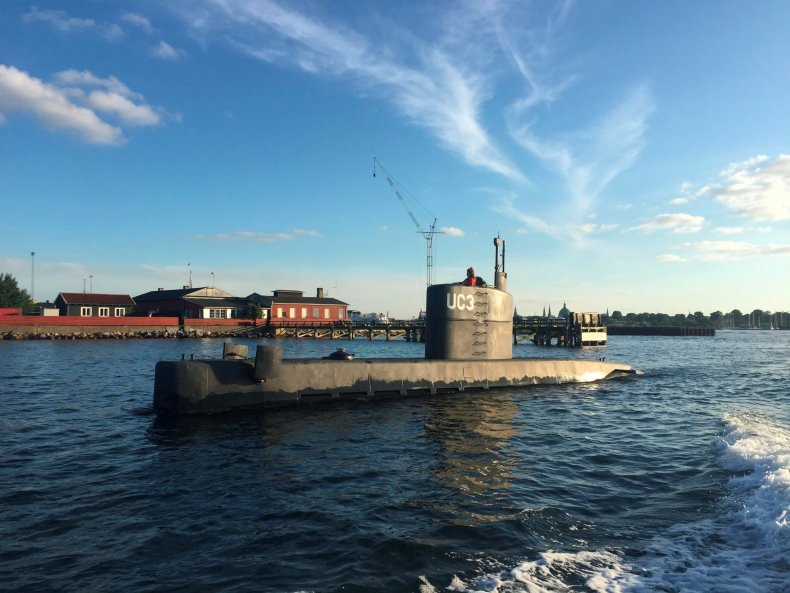 The prosecutor showed the court one of the gruesome videos found on Madsen's hard drive. The two minute animated video showed a man slicing a woman's throat several times before beheading her. Another video was only shown to the judge, the one he allegedly watched the night before meeting Wall after searching "beheading, girl, agony" on Google.
The 54-second long video reportedly showed the real decapitation of a woman. The court could hear the sound of the video, which one journalist for the Danish public broadcast DR described as "terrifying. And that is an understatement."
Madsen denied any relations between the videos and Wall's death. When asked why he watched the clips, he asked the prosecutor: "Why have you watched Seven?", referring to the 1995 film starring Brad Pitt about a serial killer.
In the afternoon session, Madsen's defense lawyer Betina Hald Engmark questioned her client about his personal life and relationships with women. A verdict is expected on April 25.