A Danish prosecutor in the Kim Wall murder trial has called for the country's harshest penalty for suspected killer Peter Madsen—life in prison.
Wall, a young journalist, accompanied Madsen on a journey aboard his self-built submarine for a story last year. Wall's boyfriend reported her missing after she hadn't returned at the agreed upon time. Madsen initially said he dropped Wall off on shore safely, but her body was discovered without her head, legs or arms less than two weeks later.
Madsen's story of what happened has shifted over time: the inventor at various points said she was killed by a hatch hitting her on the head, then after her head was discovered without evidence of being hit, that she died due to fumes.
Madsen admitted to dismembering Wall's body and stabbing her, but has denied killing her, pleading not guilty to murder. Jakob Buch-Jepsen, the prosecutor on the case, said that Madsen's credibility is "not only low, it is non-existent" Monday, according to The Guardian.
Prosecutors have also asked that the submarine be destroyed.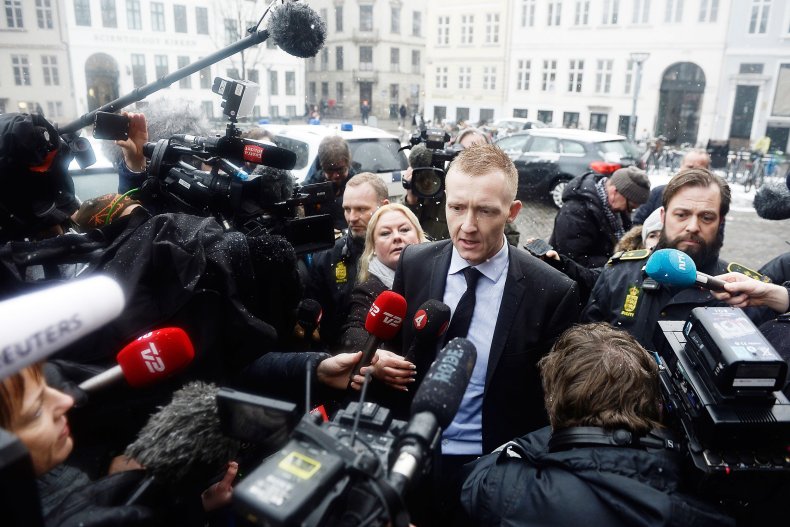 Prosecutors alleged Wall's death was sexual in nature. Investigators discovered videos of women being killed on his laptop and Madsen was also charged with sexual assault.
"There is no doubt that he murdered Kim Wall on purpose and that he had a sexual motive," said Buch-Jepsen, according to Sky News.
Buch-Jepsen said that if the judge does not institute a life sentence, that Madsen should be placed in "safe custody," which allows Denmark to detain a person indefinitely until they are deemed no longer a threat to society. Murder charges in Denmark typically result in shorter than a 16-year sentence, according to the Canadian Broadcasting Corporation.
Madsen's defense has maintained while his behavior was strange, prosecutors have not proven that he had killed Wall and pointed to photographs of Wall on the sub as evidence that he was very open about the voyage.
"If you were planning to kill a woman, would you show the whole world? 'Hey, look at me and my submarine and this woman standing in the tower. You know who I am, and now here we are sailing out,'" said Madsen's lawyer Betina Hald Engmark.
Madsen said that he was "very sorry" Monday. The verdict in the case is slated to be handed down Wednesday.