Kim Zolciak-Biermann Claims 'Police Are Involved' After Delta Airlines Kicked Reality Star's Family Off of Flight
Kim Zolciak-Biermann and her family faced an upset with Delta Airlines over the weekend, and now the former Real Housewives of Atlanta star is reportedly getting authorities involved.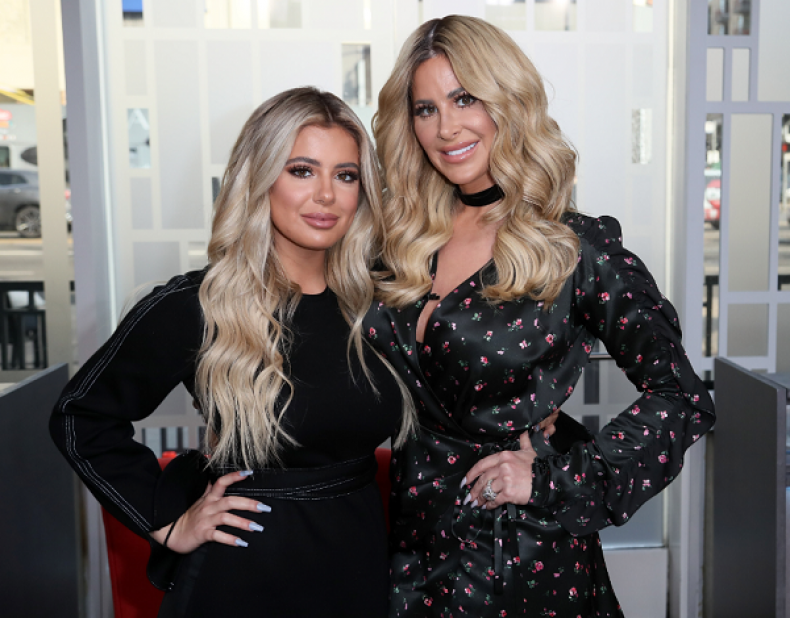 Zolciak-Biermann and her daughter Brielle Biermann accused the airline of unjustly kicking their entire family off of a plane at Los Angeles International Airport (LAX). The reality duo was traveling from Los Angeles back home to Atlanta with Zolciak-Biermann's youngest children, 8-year-old KJ, 6-year-old Kash and Kaia, 5. The family was reportedly waiting for Zolciak-Biermann's husband Kroy Biermann to board the plane. However, they alleged they were all removed from the flight when Kroy Biermann arrived at the gate after the aircraft door was shut.
Apparently, Kroy Biermann was held at a security checkpoint in the airport while working out flight clearance for the family's emotional support dog. It is unclear who the service dog was for
Brielle Biermann was first to comment on the incident in a series of tweets. "If I f**king miss my flight home I swear to God," she wrote on Saturday.
In a follow-up tweet—which has since been deleted—Brielle Biermann slammed the airport for kicking the family off the flight and causing her younger siblings to cry. "Tommy at gate 27 delta LAX just kicked my WHOLE FAMILY OFF the flight to ATL bc [sic] we were waiting on my dad with our service dog to finish going thru [sic] security & kJ & kash started crying bc [sic] they thought we left him and Kaia was literally S****ING AND HE KICKED US OFF !!!!! WTF," she continued.
Zolciak-Biermann later confirmed Brielle Biermann's claims in a response tweet, in which the 41-year-old noted she had contacted airport police. "Unacceptable," she wrote on Saturday, "@Delta but police are now involved.
Delta offered a different version of the incident and claimed the family chose to deplane the aircraft and wait for Kroy Biermann. In a statement to Newsweek, Delta said Zolciak Biermann "and family elected to board their flight while her husband remained behind to provide proper paperwork for an emotional support animal."
The airline attempted to rebook the family on another flight to Atlanta, however, they chose to make their own travel arrangements. Brielle Biermann announced her family was finally leaving Los Angeles on Sunday.
In a statement to Newsweek, LAX police confirmed officers responded to a dispute at Terminal 2, gate 27 at approximately 4 p.m. local time on July 20. "Upon arrival and investigation officers found the incident to be a business dispute, which was being worked out by the parties involved. Officers determined no crimes had been committed and cleared the scene with no further action," the department said.
Zolciak-Biermann and her family members aren't the first famous folks to experience airport drama. Celebrities like Tara Ried, James Kennedy, Alec Baldwin, Naoimi Campbell and even Ivanka Trump have faced debacles with airlines that have resulted in getting booted from a flight.
This article has been updated to include comments provided by Los Angeles Airport Police.
Kim Zolciak-Biermann Claims 'Police Are Involved' After Delta Airlines Kicked Reality Star's Family Off of Flight | Culture