Kim Zolciak-Biermann Says Delta Attendant Removed Her Young Children From Plane Without Her Permission
Kim Zolciak-Biermann shed more light on her recent incident with Detla Airlines. Speaking on her podcast, House of Kim, Thursday, the reality star accused a Delta gate attendant of removing her youngest children from the plane while she was in the aircraft's bathroom.
In a series of tweets—some of which have since been deleted— Zolciak-Biermann's oldest daughter Brielle alleged Delta attendants kicked their family off of a plane in late July. Zolciak-Biermann followed up with a tweet claiming airport police were contacted over the debacle.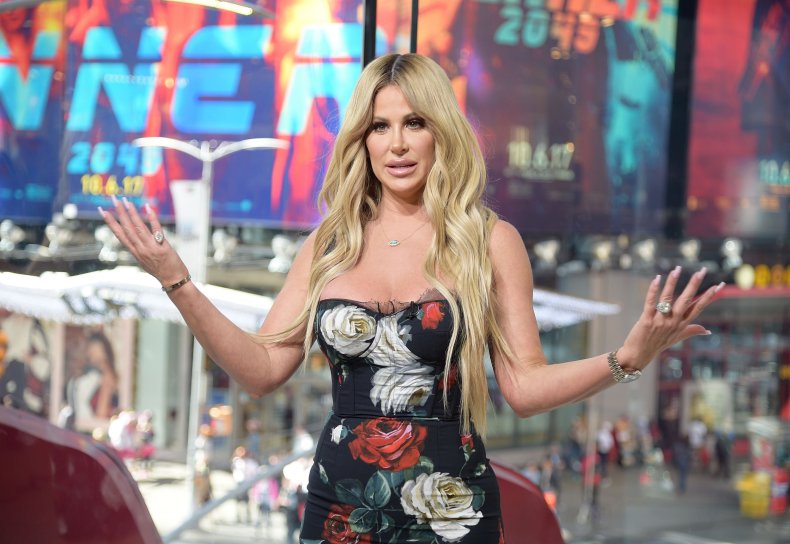 On her podcast, Zolciak-Biermann further shared her side of the story and said she was in the bathroom with her 5-year-old daughter, Kaia, when her sons KJ, 8, and Kash, 6, were removed from the plane by a gate attendant. Zolciak-Biermann claimed Kaia's twin brother Kane was left alone at the flight gate as Delta workers proceeded to escort her other children from the flight as well as all of her family's belongings.
"I didn't know what was going on," the 41-year-old said. "Who the f**k touches my children, removes my bag, and removes my kids from a plane without a parent? Are you out of your f**king mind? It's a criminal thing when you're taking kids off a plane and people's bag."
The former Real Housewives of Atlanta star noted it wasn't the fact that her family was kicked off the flight that upset her but rather knowing her children were taken off the plane without a parent present.
"It wasn't that I wasn't on this flight. It wasn't that I was entitled cause I was in first class. Yeah, we paid thousands of dollars for these tickets, that's irrelevant. My biggest problem is that you removed my children," she said.
According to Zolciak-Biermann, the family arrived at the airport with more than enough time to spare, plus the flight was delayed 45 minutes from it's scheduled departure time. However, they were required to fill out new paperwork for a service dog, which Kroy Biermann volunteered to handle. So Zolciak-Biermann and the rest of their family headed through security and boarded the plane without him.
Zolciak-Biermann claimed a Delta representative assured her husband the plane would wait for him and he would be allowed on the aircraft. Miscommunication—or an "insubordinate decision" as Kroy Biermann put it—led to an agent removing the family from the plane when he failed to arrive before the gate's closing time.
Zolciak-Biermann said she was in the first class bathroom when she heard her kids crying. Her eldest daughters were seated in the bulkhead row behind first class.
"I heard my kids getting kind of emotional but then they seemed to get far away. It was really weird," Zolciak-Biermann explained. "So...I stop and look and my kids are off the plane and so are my bags! I had left my big makeup bag full of product on my seat, that was gone. The bins were open, which were closed, and my kids were gone—at least KJ and Kash, I couldn't see Kane because he's much smaller than them. ... And a gentleman is in Kaia's seat [who] had moved up from the main cabin."
Upset by the way her children were handled, Zolciak-Biermann said she went "bananas" when she discovered her kids with an attendant in the jetway. "I am livid. I'm like, 'I need answers!" Kash is hyperventilating, he's so upset. These kids are 8, 6, and 5, and they're taken off a plane by a man they don't know. They're devastated," she said.
In the midst of her confrontation with the attendant, Zolciak-Biermann claimed stewards inside the plane closed the aircraft's gate. Moments later her husband arrived.
Zolciak-Biermann and her entire family, including 17-year-old daughter Ariana and husband Kroy Biermann, were traveling from Los Angeles to Atlanta when the reality star first made headlines regarding the flight incident on July 20.
At the time, Delta issued a statement to Newsweek explaining the family opted to deboard the aircraft while they waited for Kroy Biermann, who was held behind at security check to fill out additional paperwork for an emotional support animal. The airline claimed it offered to rebook the family on another flight to Atlanta, but the Biermann's chose to make their own travel arrangements.
Zolciak-Biermann disputed Delta's statement on her podcast. "I was flabbergasted," she said. "To see a large corporation say that I elected to remove my family off the plane, that they offered to rebook us on another flight because we took it upon ourselves to book our own tickets, was insane to me."
She added: "I definitely gave no indication whatsoever that I wanted off this flight, other than saying to my boys [when we first got on the flight], 'Don't worry, we're not going to leave without daddy' to calm them down—because they were getting emotional and crying, and what else are you going to say to your children?"
The reality star said she was continuing to speak with Delta to rectify the situation.
Delta did not respond to Newsweek's request for additional comment at time of post.