Kimberly Guilfoyle Calls COVID Diagnosis 'Blessing From God,' Says She 'Can Understand What Others Going Through'
Kimberly Guilfoyle, a top fundraising official for President Donald Trump's reelection and the girlfriend of his eldest son, described her COVID-19 diagnosis as a "blessing from God" that can help her "understand what other people are going through."
Guilfoyle tested positive for the novel coronavirus after traveling to South Dakota ahead of Trump's July 4th weekend event at Mount Rushmore. The campaign official was reportedly not in close contact with the president and immediately isolated.
Speaking on the Trump campaign's online show The Right View on Wednesday evening, Guilfoyle said she was still asymptomatic.
"I mean personally I'm doing my best and following my doctor's orders," she said. "So far I am asymptomatic and have been feeling really pretty good."
Newsweek subscription offers >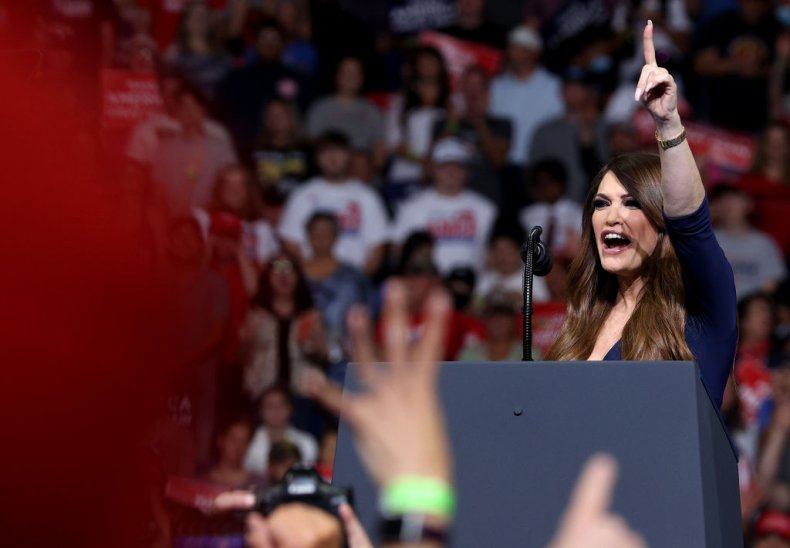 "I accept this as a blessing from God so that I can understand what other people are going through and those who have lost loved ones," Guilfoyle added.
"And so I know it's a blessing in my life, and thank you once again to each and every one of you for reaching out as well. I really appreciate it."
Newsweek reached out to the Trump campaign for further comment on Guilfoyle, but did not receive a response by the time of publication.
Guilfoyle, 51, said that the president called right away after he found out about her diagnosis to check on her well-being.
"I know personally that the President is doing everything he possibly can for all American families and to usher along a vaccine while balancing the safe reopening of America," she said. "And I have the greatest belief and faith in our President and his competence and his skill set to be able to usher us through this difficult time."
The campaign official's remarks came as the U.S.is seeing a surge in new infections from the novel coronavirus, while the country remains to have the highest number of cases and deaths of any nation. As of Thursday morning, the U.S. had confirmed more than 3 million infections and over 132,000 deaths – representing about one-quarter of the global totals. On Wednesday, the country recorded another single-day high increase in new cases, reporting 59,453 infections.
Guilfoyle and Donald Trump Jr. were first reported to be dating back in May 2018. She was previously married to California's Governor Gavin Newsom, a Democrat who has often clashed publicly with the president, when he was mayor of San Francisco. The Trump campaign official also worked at Fox News from 2006 until July 2018, when she left to work for a Super PAC backing the president.
Kimberly Guilfoyle Calls COVID Diagnosis 'Blessing From God,' Says She 'Can Understand What Others Going Through' | U.S.