Who Is Kimberly Guilfoyle? Possible Sean Spicer Replacement, the Fox News Host Has Praised Vladimir Putin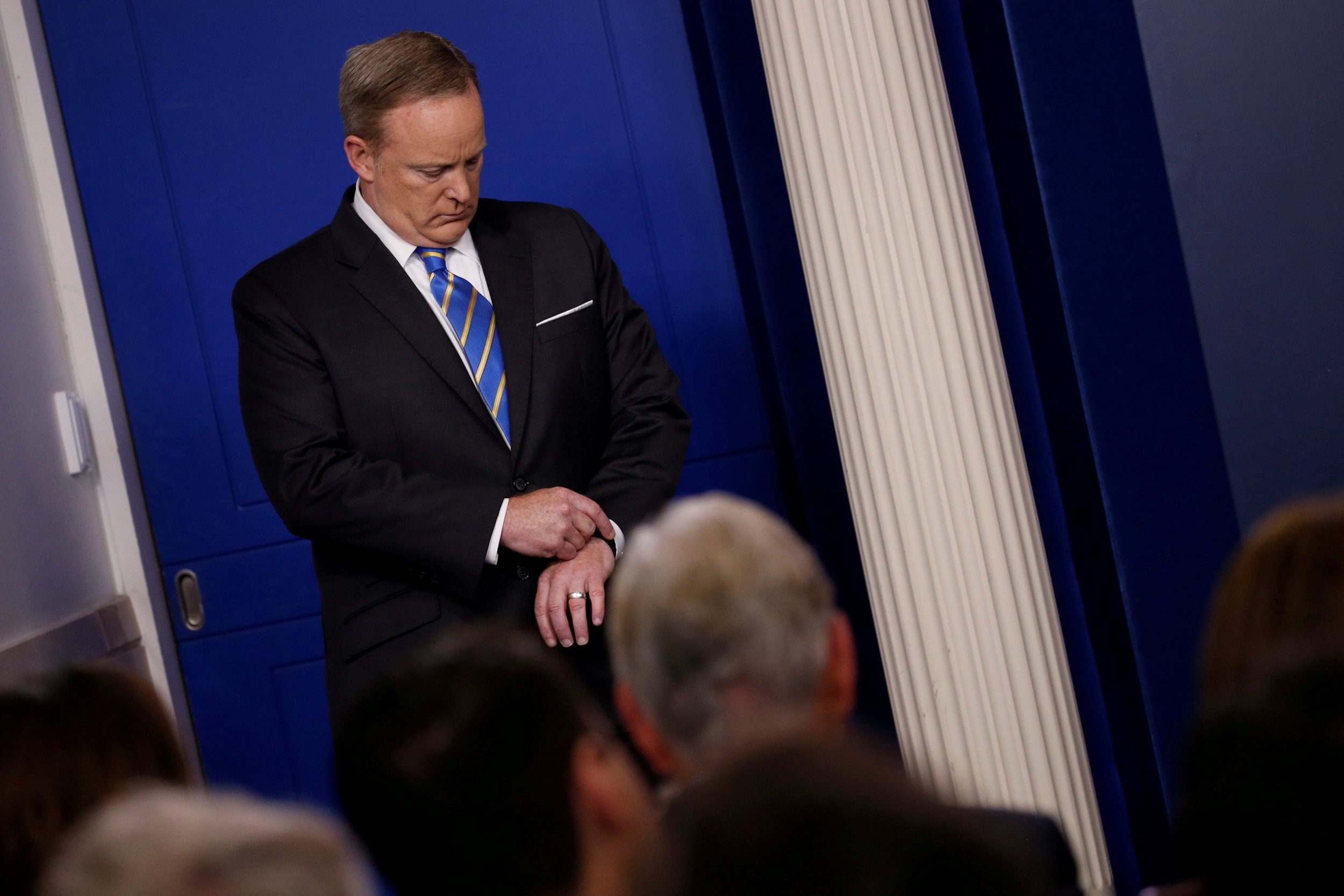 Fox News host Kimberly Guilfoyle said she has held conversations about replacing Sean Spicer as White House press secretary. Guilfoyle, one of the hosts of the Fox News show The Five and the former wife of the lieutenant governor of California, Democrat Gavin Newsom, told the Bay Area News Group Monday that the possibility of her taking the job or another press role at the White House had been "raised by a number of people."
Related: Is Sarah Huckabee Sanders better than Sean Spicer? Her old tweets may be as controversial as his briefings
"I'm a patriot, and it would be an honor to serve the country," Guilfoyle said. "I think it'd be a fascinating job, it's a challenging job, and you need someone really determined and focused, a great communicator in there with deep knowledge to be able to handle that position."
Through a spokesperson, Guilfoyle later stressed she was in no rush to leave Fox News.
"As I stated in the interview, I really love what I do and my job co-hosting The Five is tough to beat," she said.
In an emailed statement to Newsweek, a Fox News spokesperson added that she remained under contract with the network.
"Kimberly is a valued member of the FOX News primetime lineup, and is under a long-term contract with the network," it read.
Guilfoyle's comments come amid repeated speculation that President Donald Trump is looking to shake up his communications team amid the fallout from his firing of FBI Director James Comey last week. Trump reportedly attached to Spicer much of the blame for the outcry surrounding the decision. The press secretary also became the butt of social media and—not for the first time—Saturday Night Live jokes after reports emerged that he was taking shelter from the media storm "among bushes."
Spicer was gone from the press briefing room for two days last week while he fulfilled his Navy reservist duty at the Pentagon. In his place stepped Trump's deputy White House press secretary, Sarah Huckabee Sanders. There was subsequent speculation that Sanders could take over the role permanently from Spicer.
But a New York Times report Friday claimed that Trump had suggested Guilfoyle as a possible replacement in conversations with allies. Guilfoyle said Monday that she wished Spicer well.
"Sean Spicer is a very nice man and a patriot; he's dedicated himself to this public service," she said. "Very tough position he's in—I wish him the best, and I know he puts a lot of effort into it."
Her appointment would not likely quell the grumbling over alleged links between Trump's team and Russia. When Barack Obama was president, Guilfoyle said she would welcome an authoritarian leader in the mold of Russian President Vladimir Putin.
"I mean, can I just make a special request in the magic lamp?" she said. "Can we get like [Israel Prime Minister Benjamin] Netanyahu and like Putin in for 48 hours, you know, head of the United States? I don't know. I just want somebody to get in here and get it done right."
Guilfoyle, who joined Fox News in 2006, interviewed Trump multiple times on the cable news network during his 2016 campaign. Her son Ronan went to school with Trump's granddaughter Kai, the daughter of Donald Trump Jr. and his wife, Vanessa.
Before giving birth to Ronan, Guilfoyle spent five years married to then-San Francisco Mayor Newsom. As California's lieutenant governor and a man widely seen as a future governor, Newsom has been one of the most vocal critics of Trump, particularly on immigration, calling California the "nation-state antidote to the vitriol and vindictiveness that is infecting our federal politics."
Guilfoyle joked that her past and current relationship with Newsom—the two remain friends, she said—would not be an issue.
"If I had to go after him, I would, but I'd be fair," she said.
Similarly, she added that she would not have a problem with the significant pay cut she would likely have to take in leaving The Five, one of cable news's most-watched shows, and one that only last month moved into a prime-time slot.
"I've never been someone who's motivated by financial interests," she said. "I really don't think of that in terms of any obstacle, if you're passionate about it and you feel like you have a calling for anything in life."
This story has been updated to include statements from Fox News and Kimberly Guilfoyle .