Kimberly Guilfoyle Explains Her and Tiffany Trump Wearing White to SOTU, Tells Democrats 'You Don't Own' the Color
President's Donald Trump youngest daughter Tiffany Trump has not commented publicly on wearing white like Democrats supporting women's suffrage to her father's State of the Union address but Donald Trump Jr.'s girlfriend Kimberly Guilfoyle, who also wore white, had something to say about it.
"Memo to Democrats: You don't own the votes of all women and you don't own wearing the color white!" Guilfoyle tweeted Thursday afternoon, two days after the address in the House of Representatives.
Guilfoyle added, "@realDonaldTrump is fighting everyday to advance the interests of women across the country and I'm proud to stand with him," and included the hashtag #WGDP for the Women's Global Development and Prosperity Initiative that was announced that day.
Social media lit up Tuesday with images and speculation around whether Tiffany Trump, in particular, was rebelling against her father President Donald Trump by dressing in white like House Speaker Nancy Pelosi and other Democrats showing solidarity for women's suffrage.
The president's eldest daughter Ivanka Trump wore a black suit with a touch of red, first lady Melania Trump wore a long black coat and the president's daughter-in-law Lara Trump wore a dark patterned dress. The Trump family men, sons Donald Trump Jr. and Eric Trump and the president's son-in-law Jared Kushner, wore dark suits.
Florida Representative Lois Frankel, who chairs the House Democratic Women's Working Group, hours before the president's address tweeted: "At State of the Union tonight, @realDonaldTrump will look out at the House Chamber and see a sea of #Suffragette white sending the message loud&clear that @HouseDemWomen are fighting for the economic security of women & families."
Guilfoyle's explanation of her and Tiffany Trump's fashion choice was not out of character. Guilfoyle became Trump Jr.'s girlfriend late last year and left her job as a Fox News host to become vice chair of the pro-Trump advocacy group America First Policies. She has since been a frequent and vocal advocate of the Trump administration and attacked opponents on social media.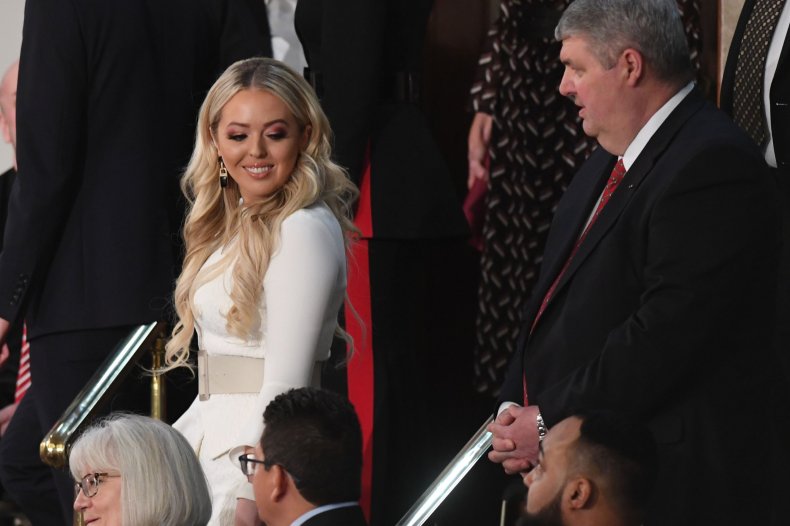 Meanwhile, Tiffany Trump, a Georgetown Law student, has remained the quietest of the president's adult children. She does not appear at her father's events nearly as often as her siblings and has appeared to disagree with his public positions on various occasions.
Tiffany Trump celebrated LGBT Pride Month with friends at a photo booth in New York City last year, though her father did not acknowledge the observance and has worked to ban transgender individuals from serving in the military. Last spring, the first daughter caused a stir when liking an Instagram post that called for voting Republicans out of office in the midterm elections.