Donald Trump Jr.'s girlfriend Kimberly Guilfoyle touted part of a poll Monday that showed the president with record support in Iowa—from Republicans who do not plan to participate in the state's Democratic caucuses.
Guilfoyle, a Trump campaign senior adviser, shared a Des Moines Register story focused on a Des Moines Register/CNN/Mediacom poll released Saturday. According to the poll, more than three-fourths of registered Republican voters would definitely vote for President Donald Trump in 2020.
"Great poll showing the popularity of @realDonaldTrump, but anyone paying attention (& willing to breakaway from the DC cocktail circuit) doesn't need a poll to know that," Guilfoyle tweeted. "Americans love this President because this President loves America!" She included the hashtag #KAG2020, meaning Trump's reelection slogan "Keep America Great," along with an American flag emoji.
In addition to Trump's popularity among Republicans reaching its highest yet at 76 percent, up 9 percentage points from March, the poll showed that Trump's job approval rating increased 4 percentage points to 85 percent.
"A majority of every demographic group say they will definitely vote to reelect the president, with the exception of moderates" at 47 percent, J. Ann Selzer, president of Selzer & Co. which conducted the poll, told the Register. "All other groups stand with President Trump with strong majorities, not surprising given it is 76 percent overall."
The poll involved 502 registered Republican voters who do not intend to attend the Democratic caucuses in the state where the first votes of the 2020 election will be cast. It was conducted from November 8 to 13 and had a margin of error of plus or minus 4.4 percentage points.
Notably, the poll also found that South Bend Mayor Pete Buttigieg had the greatest support of Democratic candidates at 25 percent, a solid lead over former Vice President Joe Biden and senators Elizabeth Warren and Bernie Sanders, all in second place with 15 percent.
The majority of registered Republican voters, 71 percent, said they were confident Trump could beat Buttigieg. However, 15 percent of respondents said they were not sure of the result if Buttigieg and Trump face each other in the 2020 presidential election.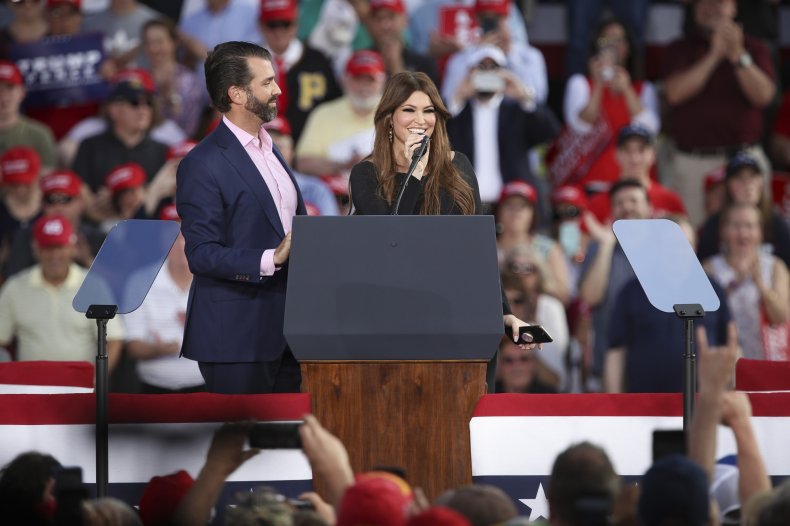 Guilfoyle, a former Fox News host, has become a vocal supporter of Trump, both alongside Trump Jr. in recent events promoting his new book as well as on her own. On Tuesday, Guilfoyle and Katrina Pearson, also a Trump campaign adviser and formerly with Fox News, will host a Women for Trump "empower hour" event in Sandy Springs, Georgia.