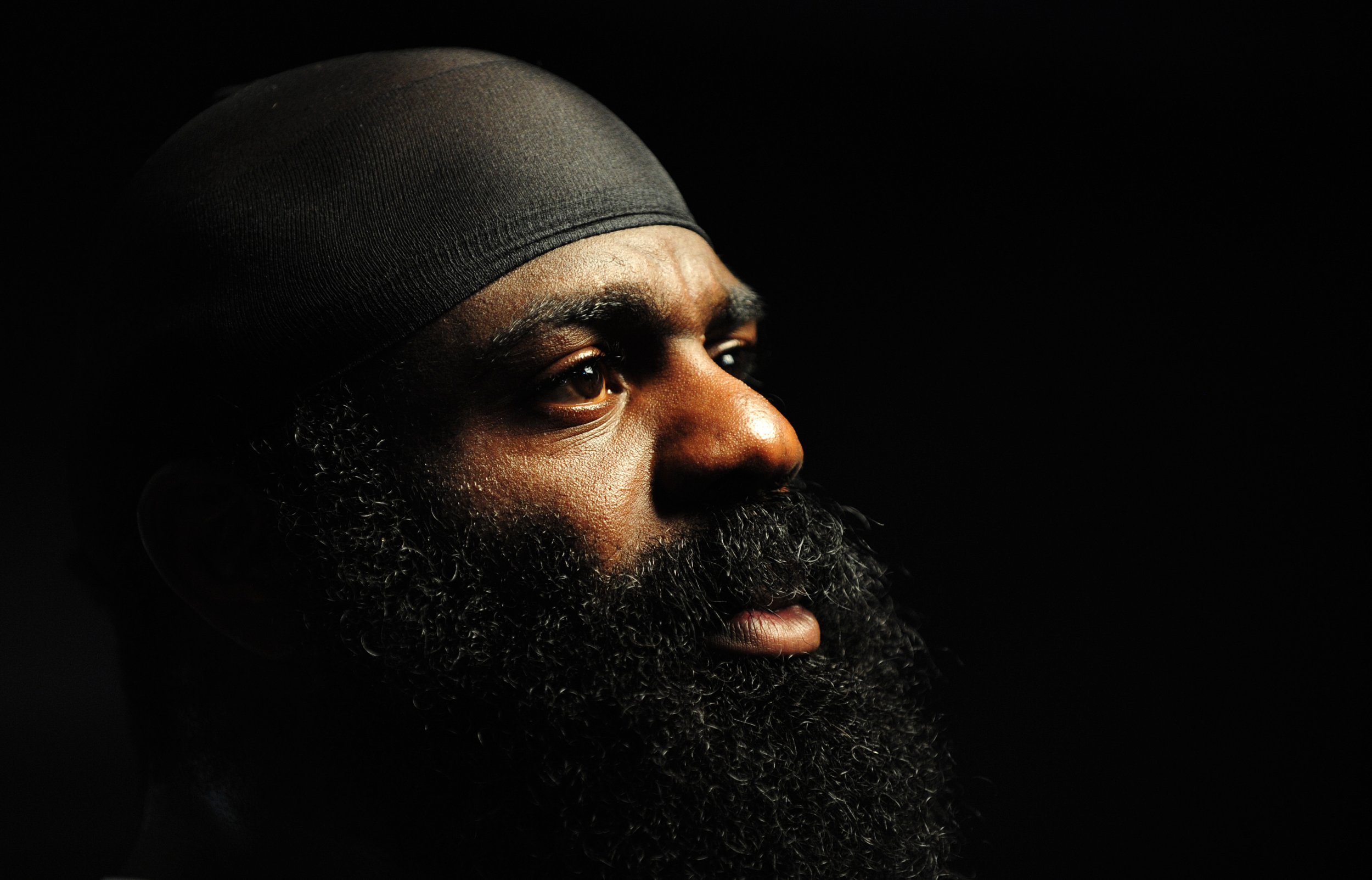 Kimbo Slice wasn't a great professional fighter. He appeared in only one pay-per-view UFC fight and was knocked out in the second round. But technical skill isn't why you know his name or why we're remembering him following his death on Monday. Fighting record aside, Slice was a cult hero, and no one appreciated his uncompromising style and unconventional path to the top more than the hip-hop community.
A former strip club bouncer, limo driver and bodyguard, Slice made a name for himself as a backyard fighter. After Rolling Stone called him the "King of the Web Brawlers" in 2006, he pursued an MMA career, which led him to star in the UFC reality series The Ultimate Fighter: Heavyweights. But Slice's subsequent career as an actual UFC fighter was a disappointment, which is when most of America stopped paying attention. He continued to fight, but the hill had been crested.
Throughout his rise and fall, Slice became an icon for anyone who had fought his or her way out of obscurity. Much like Scarface's Tony Montana, he used charisma and nontraditional means to pull himself up from the dregs of South Florida scuzz and did so with the aggression and flair typically reserved for outsiders. He hustled and he made it. More than anything, though, at least as far as rappers were concerned, his name was cool as hell—and also pretty damn easy to rhyme, whether it is with limbo or price or bimbo or ice.
It's not surprising, then, that a search for "Kimbo Slice" on lyrics compendium Genius yields 187 results. This is two more than the 185 results that come up after a search for "Floyd Mayweather," whose career length, monetary success and historical significance far surpass that of Slice.
Slice, though, was no pretty boy. He was burly and intimidating and relentless—just the sort of icon enterprising MCs wanted to identify with. Here are the ways in which they did so.
Inflicting Physical Damage
Rappers have used Slice's name to deliver two principal messages. The first, of course, is wrecking haters, often through some form of slicing.
Jae Millz on Young Money's "Where's Wayne"
He slick and he cocky but he gon' get sloppy
When we come across him I'mma Kimbo Slice his body
Lil Flash on Gucci Mane's "Brick Phone"
I slice you just like Kimbo
I taste Xans just like Mentos
Murkman on "What's Dead Should Stay Dead"
Holding hands, pu**y-ass Kumbaya-singing ni**az
I'd rather Kimbo yah, slice all y'all faces off
Flay them off like Leatherface.
Or the fighter's name can signal general violence. On "Straight Music," Sean Price mashes up Kimbo Slice and 1970s martial artist Jim Kelly to create his vision of the perfect warrior:
Kimbo Slice and a slice of Jim Kelly
Thing go pop and it enter your thin belly
On "I Just Can't," Los Angeles rapper Hopsin says simply, "Hit a ni**a like I'm Kimbo Slice." Kamare Haze actually has a song titled "Kimbo," the hook of which is "I'mma come swinging like I'm Kimbo."
There's also Slice's origins as a D.I.Y. backyard brawler, which a few rappers have touched on.
Apathy on "The Recipe"
I'm a magician like Egyptians think of Imhotep
I slice backyard bullies, let Kimbo step
Blakskino on "Wax On, Wax Off"
Then I go hard
Like Kimbo Slice in the backyard
Whether it be in the octagon or in the backyard, Slice goes hard, and stepping to him (or whoever is invoking him) will not end well.
Inflicting Lyrical Damage
The second way rappers equate themselves to Kimbo Slice is in the media of writing, rapping and general carnage behind a microphone. Just as Slice was brutal and unconventional and unpolished—but, at least in the idealized version of him, the fracas always ended in a knockout—so too are some rappers' bars. For fellow Floridian Rick Ross, who famously held a job as a correctional officer, it starts on the page. From "Mafia Music": "Kimbo Slice on the pad when I write/That Mayweather money looking funny in the light."
High-Grade Drugs
What does the illest of the ill do? It knocks you out. Who else did a lot of knocking out? Kimbo Slice. Rappers have made the comparison to everything from weed to heroin.
Wiz Khalifa on "Extra Credit"
And all my weed strong like Kimbo Slice
Money's the only thing I do twice
Frenchie on "Power Moves"
Me don't lie, he don't fight
I got that glow white, knock 'em out like Kimbo Slice
Sammy Yi on "Donald Glover"
And that yay gon' hit you hard
Harder than a punch from Kimbo Slice
Sexual Prowess
What else can get metaphorically beaten up? Well...
Gucci Mane on "Cartel Talk"
No crossover make you fade away like Michael Jordan
Beatin' that pu**y, I'm Kimbo Slice I'm shawty daughter
Snoop Dogg on "You're Gonna Luv Me"
Hold me down, be my ride or die bitch
We f*ck then we fight, we fight then we f*ck
I'ma beat it up tonight like Kimbo Slice
Kendrick Lamar on "Bitch I'm in the Club"
Guarantee yo girl, get sliced like Kimbo
Bitch I'm in the club, homies blowin' indo
Tiffany Foxx on "Twisted"
He wanna UFC this Kitty
Beat the beat the pu**y up like Kimbo Slice
Bass in the Trunk
If you're loading up your trunk with subs, the harder they hit, the better.
Dorrough on "Ice Cream Paint Job"
Rearview mirror, jumbo dice
Trunk hit hard like Kimbo Slice
Sir Michael Rocks on "Cell Dope"
Don't talk me to death man I'm saying it nicely
Trunk sound like Kimbo so however you slice it
Slices of Things (Mostly Baked Goods)
When Slice's popularity was at its peak, it was common to tag on a "Kimbo" any time a (usually metaphorical) slice of something could be taken. These references to the street brawler aren't necessarily tied to his attributes; sometimes lyricists just need a clever way to cop a portion. Often it was a portion of pie.
Trey Songz on "Comfortable (Remix)"
Like a fiend for the indo
Don't act all low like limbo
My pie your slice like Kimbo
The Game on "Cats and Dogs"
Or we can hit South Beach, f*ck with Ross and Timbo
The world is cherry pie, and we can slice it up like Kimbo
Yung Berg on "Derrick Rose"
Now everybody want a slice out of my pie, Kimbo
I'm number one from the Chi, you ain't get the memo?
Craig Hop the KinG on "Ya"
Life of pie, finna get a slice like Kimbo
Staying out at night, going round, breaking all the neighbors windows
Other times, it was cake.
Yung Rudd on "Paxxin' Out"
Hoes show me their cake, and want me to cut a slice like Kimbo
But I have a girl, I'll stay with my Missy like Timbo
Danny Seth on "Remember"
I'm in it for the whole cake not a slice like Kimbo
And most my bars go over heads just like you doing limbo
And, of course, it was pizza.
Nikko Dator on the Blaqueout's "Trust Me"
I'll cut you off like a slice of pizza
I slice it up like a Kimbo feature
Being Ugly
Let's be honest: Kimbo Slice was a pretty gnarly-looking dude, and years of street fighting didn't make him look any younger either. Some took notice.
Prince Ea on "Manifest Destiny"
I'm a sick low-life, with a chick that looks like Kimbo Slice
When will this shit go right?
German rapper Pretty Mo also knocks Slice's appearance. A lyric on his song "Crystal Meth" translates roughly to "Your mama looks similar to Kimbo Slice."
(Side note: A lot of foreign rappers have name-dropped Slice in their lyrics, a testament to his international appeal. Strangely, many of these rhymes have also focused on Slice's appearance. On his song "Muscular Takeover," German rapper Majoe references being "as wide as Kimbo Slice," while on "Bloody Path," Germans PA Sports & Kianush threaten to "come with people who are wider than Kimbo Slice.")
Coming Up Short
For all of Slice's triumphs, he was viewed as a disappointment by many. Fighting fans wanted him to succeed on the sport's largest stage, the UFC, so badly that nothing other than dominance would suffice. He didn't even last two rounds. On "Call My Nga," Los Angeles rapper Blu takes it to the extreme, saying Slice choked under the spotlight.
Even haters can't deny that I'm nice
Gotta be grimy to receive my flow, kinda like headlights
Spent all this time building ya buzz
But then get to the big times and choke like Kimbo Slice
Others have also mentioned Slice's shortcomings as a way to claim that they're capable of performing under pressure.
Bugzy Malone on "Watch Your Mouth"
I'm not talking about Kimbo Slice
When I say with gloves on, I will split a man's wig
Kid Abyss on "More Fire"
UFC no Kimbo Slice
So I'll be professional and still rocking ni**as
Suffering From Cancer
You better believe it.
Wit and Dre Murray on "I Miss You"
Gazing out the window, but listening for your heart
Like I'm searching for the tempo, thinking to the start
Before the cancer sliced you up like Kimbo
Tryna stay calm but inside I want to vent though
Dominating at Classic Super Nintendo game Chrono Trigger
God bless Richie Branson. From his track "Regular Life":
I just called in sick to work so I can play Super Nintendo
I'm playing Chrono Trigger that Masamune slice like Kimbo
The Holy Spirit Vanquishing Evil
You know you've made it as an MMA fighter when a Christian-focused rap group equates your power with that of the Holy Spirit.
PRo on "Power to Die"
To equate your life with worth without the Lord is absurd, sir
Sin will try to put you in a backyard fight
But the Spirit God'll right like, Kimbo Slice
Rest in peace, Kimbo. We know you'll be suplexing demons for the rest of eternity.
This article has been corrected to reflect that Kimbo Slice only competed in one pay-per-view UFC fight.