Jimmy Kimmel's Powerful Indictment of Bill Cassidy and the Latest Republican Effort at an Obamacare Repeal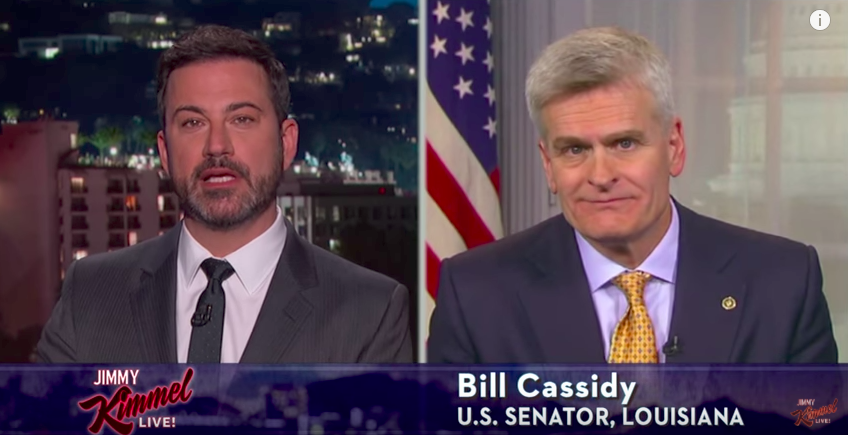 In a remarkable Tuesday night monologue, Jimmy Kimmel delivered a powerful indictment of the latest Republican effort to repeal the Affordable Care Act, legislation known as Graham-Cassidy for its two main sponsors, Lindsey Graham of South Carolina and Bill Cassidy of Louisiana.
"This is not my area of expertise," the Brooklyn-born host of ABC's Jimmy Kimmel Live said in the midst of the seven-minute segment. "My area of expertise is eating pizza, and that's about it." Nevertheless, the comedian managed to distill why the 11th-hour effort by congressional Republicans would be, as The New Yorker put it, a "potential disaster" robbing millions of coverage.
Kimmel would not be in the category of those left without insurance, as he acknowledged on Tuesday night (his contract with ABC nets him a reported $13-$15 million per year). And yet the host became intimately acquainted with the vagaries of the American healthcare system when his son Billy was born with a heart condition known as Tetralogy of Fallot with pulmonary atresia. Billy underwent successful surgery, but the costs of that treatment led Kimmel to reflect on the state of healthcare in an early May monologue, as Republicans vowed to finally overturn President Obama's signature legislation.
Newsweek subscription offers >
"If your baby is going to die," Kimmel said, "and it doesn't have to, it shouldn't matter how much money you make. I think that's something that, whether you're a Republican or a Democrat or something else, we all agree on that, right?"
It was Cassidy, the Republican from Louisiana, who later that same week coined the notion of a "Jimmy Kimmel Test" for any new healthcare law. "I ask, does it pass the Jimmy Kimmel test? Will a child born with congenital heart disease be able to get everything she or he would need in the first year of life? I want it to pass the Jimmy Kimmel test."
"I want to make sure folks get the care they need."
Newsweek subscription offers >
Yet as Republicans moved towards a repeal-and-replace effort engineered by Majority Leader Mitch McConnell, Republican of Kentucky, Kimmel went on Twitter to remind Cassidy of his vow: "Reminder for Sen @BillCassidy: Kimmel test is 'No family should be denied medical care, emerg or otherwise, because they can't afford it.'"
Cassidy did end up voting for the Senate bill, which failed. The new bill seems intended to placate Sen. John McCain of Arizona, the unpredictable Republican whose dissenting vote helped kill McConnell's legislation. Lending cross-chamber support, House Speaker Paul D. Ryan called the Graham-Cassidy bill "our best, last chance to get repeal and replace done."
Kimmel appears to have dealt that effort a blow, judging by the reaction on social media. Speaking calmly yet passionately, Kimmel accused Cassidy of lying when he'd seemingly promised, on Jimmy Kimmel Live, that he'd only vote for a bill that included features like protection for pre-existing conditions and essential health benefits.
The Graham-Cassidy bill would mangle the Affordable Care Act while ceding power to individual states. The New York Times described the legislation in a withering editorial:
It is hard to overstate the cruelty of the Graham-Cassidy bill. It would eliminate the mandate that even healthy people buy health insurance, end the subsidies that help people purchase coverage and stop the expansion of Medicaid. It would offer states block grants they could use to help people get insurance but would leave people at the mercy of individual state legislatures and, over all, would provide $239 billion less than what the federal government would spend under current law between 2020 and 2026, according to the Center on Budget and Policy Priorities.
Kimmel did not wade into particulars of the bill, though he did estimate that it would lead to 30 million people losing coverage (the legislation has not yet been scored by the Congressional Budget Office). He also noted that the single hearing would be in the Senate's Committee on Homeland Security and Governmental Affairs.
"They want us to treat it like an iTunes service agreement," Kimmel said of the legislation. His monologue performed a complicated feat, with Kimmel criticizing the effort without either moralizing or mocking. There was a quiet, nasal outrage to his voice, which proved far more effective than the manic anger of his late-night competitor Stephen Colbert, or the feeble political jabs of Jimmy Fallon.
"Healthcare is complicated. It's boring," Kimmel admitted, in the kind of admission a late-night host rarely has to make. "I don't want to talk about it. The details are confusing. And that's what these guys are relying on. They're on counting on you to be so overwhelmed with all the information you just trust them to take care of you. But they're not taking care of you, they're taking care of the people who give them money, like insurance companies."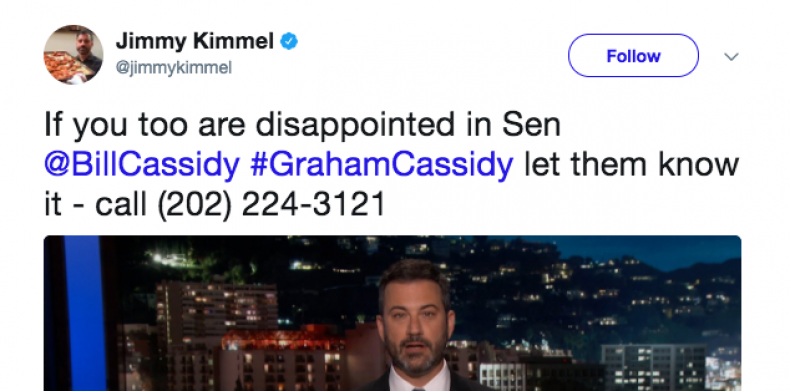 Kimmel argued that Americans want more healthcare, not less. His audience agreed. He could have referenced the rising support for single-payer health insurance among congressional Democrats, led by Vermont's Bernie Sanders.
At one point, an image of Cassidy appeared behind Kimmel, with the phone number for the Senator's office on Capitol Hill.
"Nobody outside of your buddies in Congress wants this bill," Kimmel told Cassidy.
It is likely the Senator's phones will be busy this morning.
Jimmy Kimmel's Powerful Indictment of Bill Cassidy and the Latest Republican Effort at an Obamacare Repeal | U.S.