A Timeline of the Drama Around 'Kim's Convenience' Ending
Kim's Convenience fans across the world were devastated to learn the sitcom would not be returning for its planned sixth outing. The series came to an end after five seasons in April 2021 on CBC and recently landed on Netflix worldwide, drawing new attention to the show's cancellation and the drama surrounding the show.
A Timeline of the Drama Around 'Kim's Convenience' Ending
1. Show's cancellation
In March 2021, the news broke Kim's Convenience would not be returning for a sixth series.
Originally, the series was renewed for both seasons five and six in Spring 2020 but Canadian broadcaster CBC reversed their decision in March 2021.
Confirming season five would be the last, the producers in a statement to Deadline said: "Authenticity of storytelling is at the center of the success of Kim's Convenience. At the end of production on Season 5, our two co-creators [Ins Choi and Kevin White] confirmed they were moving on to other projects.
"Given their departure from the series, we have come to the difficult conclusion that we cannot deliver another season of the same heart and quality that has made the show so special".
2. Simu Liu's Facebook post
Simu Liu starred as Jung Kim since Kim's Convenience began in 2016. Shortly after the show's cancellation, Liu hinted there was some drama behind the scenes of Kim's Convenience.
He posted on Instagram: "For reasons that I'm sure we will get into someday, we must prematurely bid farewell to Kim's Convenience."
Earlier this month, Liu posted a lengthy post on Facebook, addressing the lack of East Asian and female representation in the show's writers room.
In his statement, Liu said: "Aside from Ins, there were no other Korean voices in the room. And personally, I do not think he did enough to be a champion for those voices (including ours).
"When he left (without so much as a goodbye note to the cast), he left no protege, no padawan learner, no Korean talent that could have replaced him."
Liu also criticised the direction of his character: "I can appreciate that the show is still a hit and is enjoyed by many people... but I remain fixated on the missed opportunities to show Asian characters with real depth and the ability to grow and evolve."
He also took issue with the upcoming spin-off show, Strays, which will star Nicole Power in the role of Shannon.
Liu added: "I love and am proud of Nicole, and I want the show to succeed for her... but I remain resentful of all of the circumstances that led to the one non-Asian character getting her own show."
Liu also criticized the low pay the cast received, describing it as "horsepoop rate."
3. John Doyle's column
John Doyle, a columnist for Canada's Globe and Mail dissected Liu's lengthy Facebook post, describing it as including "mean-spirited drive-by insults."
However, he also agreed with Liu's reference to the lack of diversity in the writer's room, writing: "Yes, it would have been noble and pro-active for the producers to hire more Asian writers."
Newsweek contacted John Doyle directly for comment, who declined.
4. Jean Yoon's tweets
Jean Yoon has weighed in, following on from the points raised in Simu Liu's post and Doyle's column. Yoon starred as the Kim family matriarch, Umma, from the very beginning of the show.
A representative for Jean Yoon told Newsweek: [Jean] doesn't feel the need to comment further for the moment."
Yoon took issue with Doyle's column, replying directly in a series of tweets.
She wrote: "As an Asian Canadian woman, a Korean-Canadian woman with more experience and knowledge of the world of my characters, the lack of Asian female, especially Korean, writers in the writer's room of Kims made my life VERY DIFFICULT and the experience of working on the show painful."
Yoon continued: "Your attack on my cast mate Simu Liu, in the defense of my fellow Korean artist [and series creator] Ins Choi is neither helpful nor merited.
"Mr. Choi wrote the play [and] created the TV show, but his co-creator Mr. Kevin White was the showrunner, and clearly set the parameters."
Reflecting on the series, Yoon concluded: "There is so much I am proud of. But S3 & S4 in particular had many moments of dismissal & disrespect as an actor, where it mattered, with the writers. And the more successfully I advocated for my character, the more resistance, and suspicion I earned from the Writers/Producers."
5. Anita Kapila
Shortly after Yoon's tweets, a post was made via Kim's Convenience official Twitter page from writer and co-executive producer of the show, Anita Kapila.
Kapila wrote: "I became a writer because while I love telling stories, I hate being the centre of attention. But not wanting to be in the spotlight is not the same as being erased.
"I loved working with every single writer who came into the Kim's Convenience room, but today I want to publicly acknowledge the women and BIPOC I was honored to work alongside. I'm sorry if I've forgotten anyone – please blame it on Vaccination mind fog"
Kapila then listed 26 names before concluding her statement with the sentence: "We were not perfect. But we were there. I will forever be proud of what we accomplished."
Newsweek has contacted representatives for Nicole Power, Ins Choi, Kevin White, Anita Kapila, and Thunderbird Productions.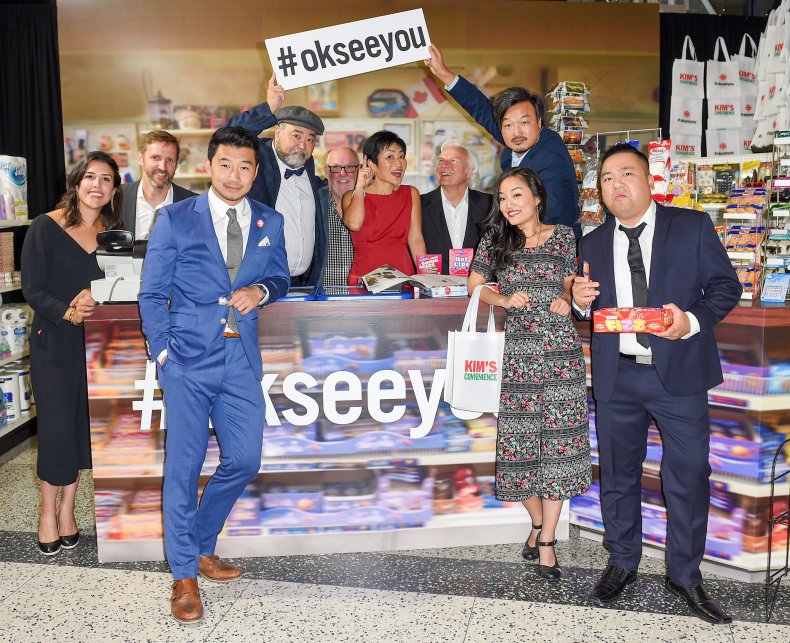 Kim's Convenience is streaming on Netflix now.