Kincade Fire Map: Sonoma County Flames Destroy 86 Homes, Grow to Almost 80,000 Acres
In the seven days since it started, the Kincade Fire in Sonoma County, California, has grown to almost 80,000 acres and destroyed at least 86 homes.
The Kincade Fire ignited in Northern California on October 23, prompting mandatory evacuation orders and a large-scale firefighting response. Narrow roads and steep terrain made for a difficult firefighting situation and on Tuesday evening, the fire spread to 76,138 acres.
Along with the topography of the area, strong winds complicated firefighting efforts. Wind fanned flames and increased the oxygen available to the fire, causing it to burn more rapidly. Combined with low humidity and warm temperatures, the conditions are ideal for fires spreading.
In Healdsburg, California, a town that was evacuated due to the Kincade Fire, wind speeds reached up to 44 miles per hour Wednesday morning, according to the National Weather Service (NWS). Strong winds were expected to continue through Wednesday night and the area was under a Red Flag Warning.
The California Department of Forestry and Fire Protection (Cal Fire) said the firefighters who responded to the flames were still working to mitigate structure threats and identify opportunities to establish control lines.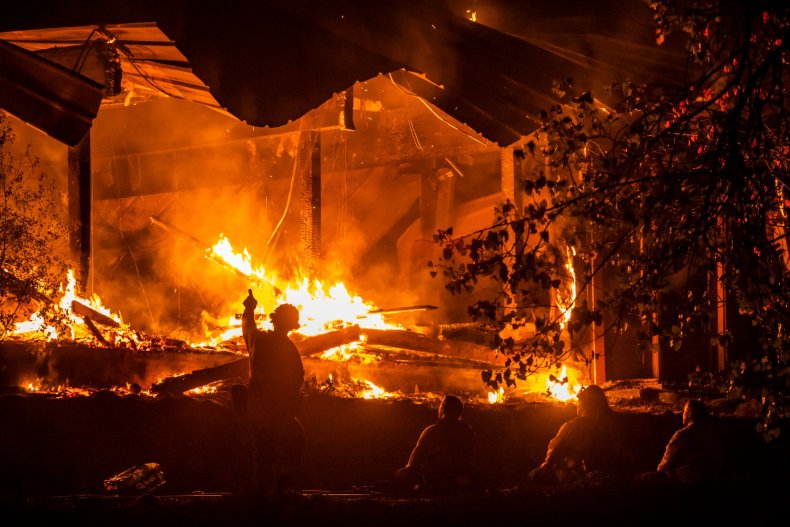 As of Tuesday evening, the Kincade Fire destroyed 189 structures, including 86 homes and seven commercial buildings, and an additional 39 structures were damaged. At 15 percent containment, the flames threatened more than 90,000 structures, including 80,435 homes.
In the seven days since the fire began, the flames claimed no lives and two first responders were injured. However, many people were displaced from their homes under mandatory evacuation orders. Cal Fire identified those areas as:
Ida Clayton Road
North to Highland Ranch Road at Campbell Road
East of the 101 between Asti Road & Alexander Valley Road
Highway 128 North Knights Valley Area to the Napa County Line
Healdsburg
Windsor
Highway 101 Corridor from Geyserville through Windsor, including all areas east to Chalk Hill Road area
South of Westside Road to Mill Creek Road
Larkfield and Mark West Drainage
Calistoga Road/Petrified Forest Road to the Sonoma & Napa County Line
North of Occidental Road
Santa Rosa
All areas within in the city North of Highway 12 West of Highway 101
Additional areas were under an evacuation warning, meaning they should be ready to leave if they're ordered to get out of the area. To help residents who had to leave their homes, 15 evacuation centers were established in Santa Rosa, Petaluma, San Rafael, San Francisco and Napa. Three of those centers were at capacity as of Tuesday evening.
Cal Fire reported that full containment of the Kincade Fire was expected to be achieved on November 7.