California Wildfire Map: Where Kincade Fire, Waterman Canyon Fire, Palisades Fire Are Burning
California firefighters battled multiple flames Thursday morning and with high Santa Ana winds expected, it's possible the situation could turn dangerous very quickly.
Wildfire season in California runs from mid-May until mid-November, although a combination of weather conditions, including the amount of rain, can change the season's span. So far this year, California has had more than 5,800 incidents, according to the California Department of Forestry and Fire Protection (Cal Fire), and at least nine were burning at once on Thursday morning.
The Kincade fire, Old Water fire and Palisades fire were all actively burning on Thursday morning, raising concerns among officials that strong winds could cause them to spread rapidly. The threat of the flames prompted officials to order mandatory evacuations for some residents and urge others to prepare to leave quickly.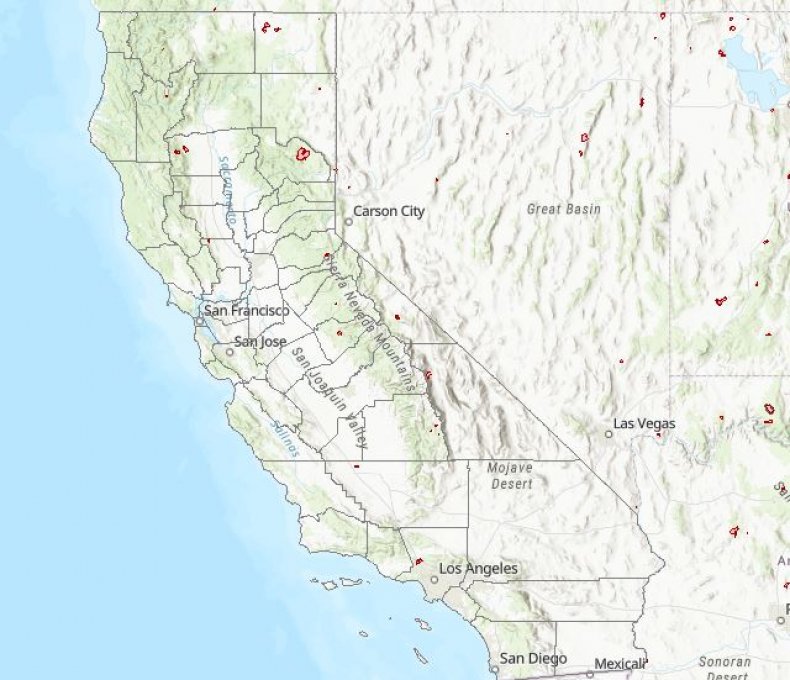 Kincade Fire
On Thursday morning, a wildfire dubbed the Kincade fire broke out northeast of Geyserville in Sonoma County, California. As of 8 a.m. EDT, the fire burned through 10,000 acres, according to Cal Fire, and officials ordered evacuations for:
Red Winery Road
Alexander Mountain Road
Highway 128 from Geysers Road to River Road
All Roads off River Road
Evacuation centers were set up at Windsor High School and the Healdsburg Community Center. Northern unincorporated Healdsburg and Geyserville were also under an evacuation warning and anyone who felt unsafe was encouraged to leave.
As of 8 a.m., the fire was zero percent contained and officials warned it was dangerous and fast-moving.
Old Water Fire
On Thursday morning, a vegetation fire broke out near Old Waterman Canyon Road in San Bernardino, California. Compared to other fires in the area, the Old Water fire was relatively small at 50 to 100 acres, as of 7 a.m. However, the San Bernardino National Forest explained it had the potential for "large growth" if the Santa Ana winds picked up speed.
Firefighters from the San Bernadino National Forest put structure protections in place for about 20 or 30 homes in the area and closed Highway 18 between 40th street and Highway 138 in Crestline, California. They also ordered mandatory evacuations for part of north San Bernardino near Mariposa Drive and David Way and Arrowhead Road. An evacuation center wasn't set up as of 8 a.m., but one was being determined.
The fire was burning about six miles from the California State University, San Bernardino campus, but the school announced it would be closed on Thursday. At the time of the announcement, the reason for closing was due to high winds that could reach up to 75 miles per hour and the possibility that power could be cut due to the threat of wildfires.
Palisades Fire
The Palisades Fire in Los Angeles broke out on Monday morning and in the days since has grown to 45 acres, according to the Los Angeles Fire Department (LAFD). The flames, which began as a brush fire, injured one civilian and three first responders. As of Wednesday evening, eight structures were damaged, although, none were destroyed.
Nearly 250 personnel were assigned to the fire and the LAFD credited their "relentless work" for why the fire was at 55 percent containment. However, the strong winds and increased temperatures were expected to bring "critically low relative humidity" to vegetation that may not have burned since 1938, so the LAFD encouraged residents to be prepared, including packing an emergency kit in the event an evacuation is ordered.