California Wildfire Evacuation Map: Kincade, Getty Fires Force More Than 150,000 Residents From Homes
Firefighters are battling multiple fires in California and two of the flames, the Kincade Fire and Getty Fire, forced at least 163,000 people from their homes.
On Wednesday morning, there were at least nine wildfires burning across the Golden State, charring more than 90,000 acres of land. In contrast to the Kincade Fire, which burned more than 76,000 acres, the Getty Fire was only 656 acres in size, but both fires caused the destruction and damage of homes and required people to leave the area quickly, unsure of what they would find when they returned.
The destruction brought on by California's wildfire season is largely dictated by weather conditions and on Wednesday, hot temperatures, low humidity and strong winds created a fire spreading trifecta. A large portion of the state was under a Red Flag Warning, cautioning residents that there was an increased risk of wildfires.
Given the risk the Kincade and Getty Fires posed to people in their paths and the forecasted high winds, thousands of people were under a mandatory evacuation order and instructed to remain away from their homes.
Kincade Fire
The Kincade Fire began Oct. 23 and has since burned through more than 76,000 acres of Northern California. As of Tuesday evening, the California Department of Forestry and Fire Protection (Cal Fire) reported at least 86 homes were destroyed and KGO reported an estimated 156,000 people were under a mandatory evacuation order. The areas that were still under a mandatory evacuation order on Tuesday evening were identified by Cal Fire as:
Ida Clayton Road
North to Highland Ranch Road at Campbell Road
East of the 101 between Asti Road & Alexander Valley Road
Highway 128 North Knights Valley Area to the Napa County Line
Healdsburg
Windsor
Highway 101 Corridor from Geyserville through Windsor, including all areas east to Chalk Hill Road area
South of Westside Road to Mill Creek Road
Larkfield and Mark West Drainage
Calistoga Road/Petrified Forest Road to the Sonoma & Napa County Line
North of Occidental Road
Santa Rosa
All areas within in the city North of Highway 12 West of Highway 101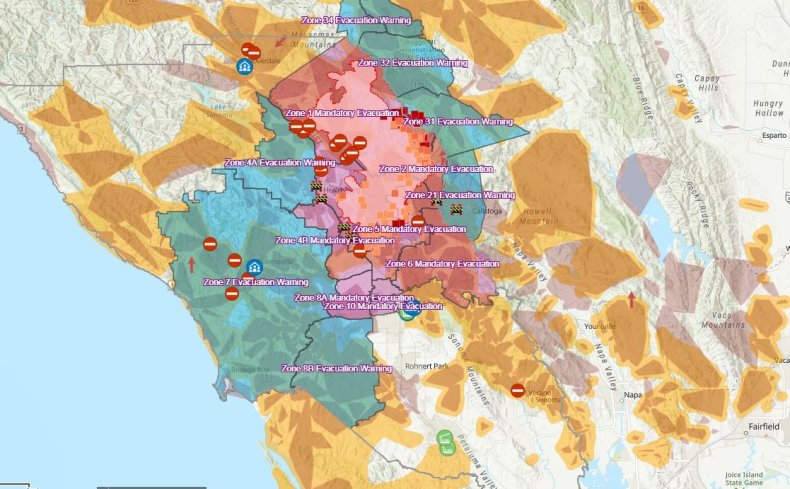 On Tuesday afternoon, the Sonoma County Sheriff's Office allowed some people who left the area under mandatory evacuation orders to return home. However, they were cautioned to do so at their own risk, because the fire could still impact the area and many people were without power.
Other areas of Sonoma County, Napa County and Lake County were under an evacuation warning, meaning residents should remain vigilant and be prepared to leave.
Fifteen evacuation centers were established for people who had to leave their homes and 12 had vacancies as of Tuesday evening.
Getty Fire
Farther south of the Kincade Fire, the Getty Fire ignited early Monday morning near the 405 Freeway in Los Angeles. The fire rapidly spread from about 70 acres when it broke out to 656 acres on Tuesday evening, according to the Los Angeles Fire Department (LAFD), and 12 homes were destroyed.
With a forecast of strong winds, which could reach up to 80 miles per hour in certain areas of Los Angeles on Wednesday and Thursday, the LAFD placed more than 7,000 homes under a mandatory evacuation order. People were barred from entering the area within the borders of Temescal Canyon Road, Sunset Boulevard, Mulholland Drive and the 405 Freeway.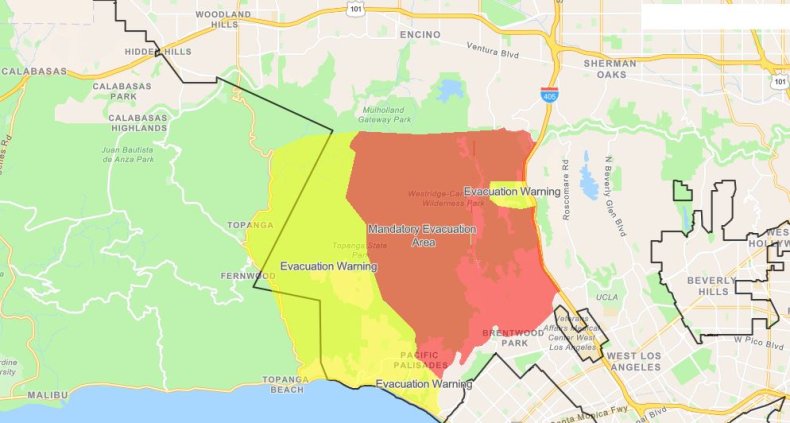 The exception to the evacuation order was the Mountaingate community, which was under an evacuation warning. Also included in the evacuation warning were people within the border of Topanga Canyon, Sunset Boulevard, Mulholland Drive and Temescal Canyon Road.
Two shelters and centers were established at the Palisades Recreation Center and Westwood Recreation Center for humans and small animals. Two shelters were also open to additional animals at the West Valley Animal Shelter and West Los Angeles Animal Shelter. People could bring large animals, such as horses, to the Hansen Dam Recreation Area.
Although firefighters were battling tough weather conditions, Ryan Walburn, a National Weather Service Meteorologist, told KGO that after the current wind event, the next five to seven days looked like they would bring a favorable weather pattern.