California Wildfire Photos: Images Show Kincade Fire, Getty Fire, Tick Fire Destruction
Photos from the northern and southern parts of California showed the Kincade, Tick and Getty fires burning the Golden State.
Weather conditions dictate California's wildfire season, which usually runs from May to November. In the past week, those conditions, including high winds and low humidity, were ripe for fires igniting and firefighters battled more than nine blazes at one time.
As fires burned more than 60,000 acres in California, Gov. Gavin Newsom declared a statewide emergency Sunday. He told the public in a statement that the government was deploying "every resource available" and called it "critical" that people, especially those in evacuation zones, heed warnings from officials.
Among the Kincade, Getty and Tick fires—just three of the multiple incidents being fought on Monday morning—hundreds of thousands of residents were ordered to evacuate and at least 160 structures were damaged or destroyed.
Kincade Fire
The Kincade fire broke out in Sonoma County, California, last Wednesday and has since burned through 54,298 acres, according to the California Department of Forestry and Fire Protection (Cal Fire). It forced about 180,000 people from their homes, as reported by the Sonoma County Sheriff's Office, destroyed 94 structures and damaged 17 additional structures.
As of Monday morning, Cal Fire reported the fire was five percent contained and more than 3,441 personnel were assigned to battling the flames. Photos from Healdsburg and Santa Rosa, California, showed structures ablaze and firefighters battling flames and heavy smoke.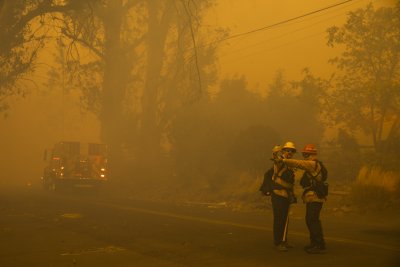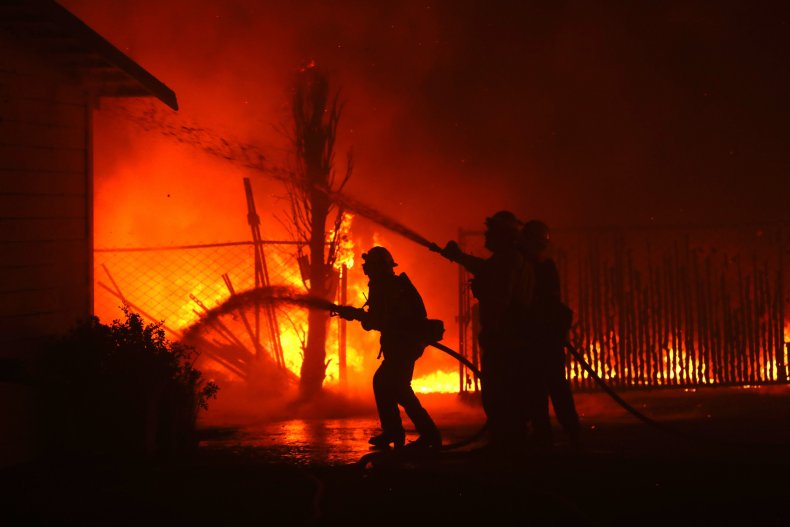 Tick Fire
On Thursday, farther south, in Canyon Country, California, the Tick fire ignited. In the days since it began, the fire destroyed 26 structures and damaged 32, according to the County of Los Angeles. It forced 50,000 people from their homes. However, by Sunday evening, all evacuation orders were lifted and people were able to return home.
Photos showed some residents would be coming back to their neighborhood to find the charred remains of their homes.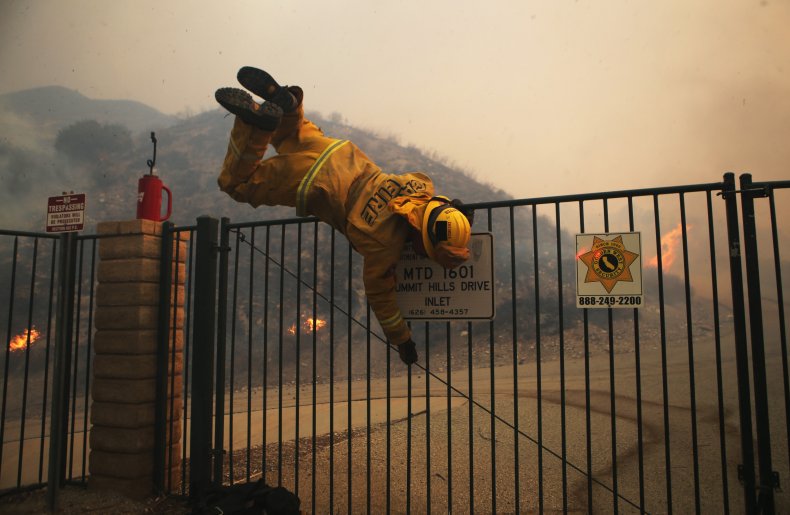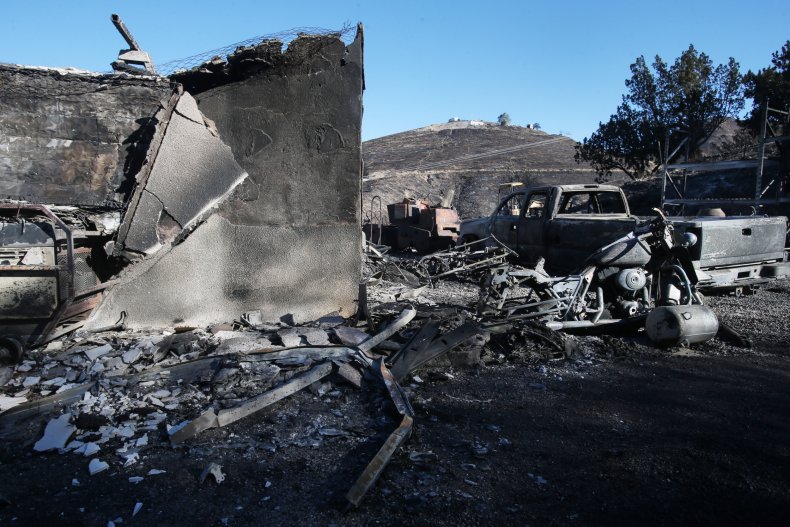 As of Sunday evening, the fire burned 4,615 acres and was 70 percent contained.
Getty Fire
As firefighters battled fires throughout the state, in Los Angeles Monday morning, they were tasked with putting out yet another blaze. The Getty fire erupted in the early morning west of the 405 Freeway, near the Getty Center museum in Los Angeles. Officials immediately ordered areas near the flames to evacuate and put additional residents under an evacuation warning, meaning they should be prepared to leave.
Within hours of igniting, the Los Angeles Fire Department (LAFD) reported two structures were on fire, although the Getty Center, a large campus that contains the Getty Museum, was safe, according to the museum.
A photo from the Los Angeles County Fire Department Air Operations Section showed the flames burning alongside the 405 Freeway.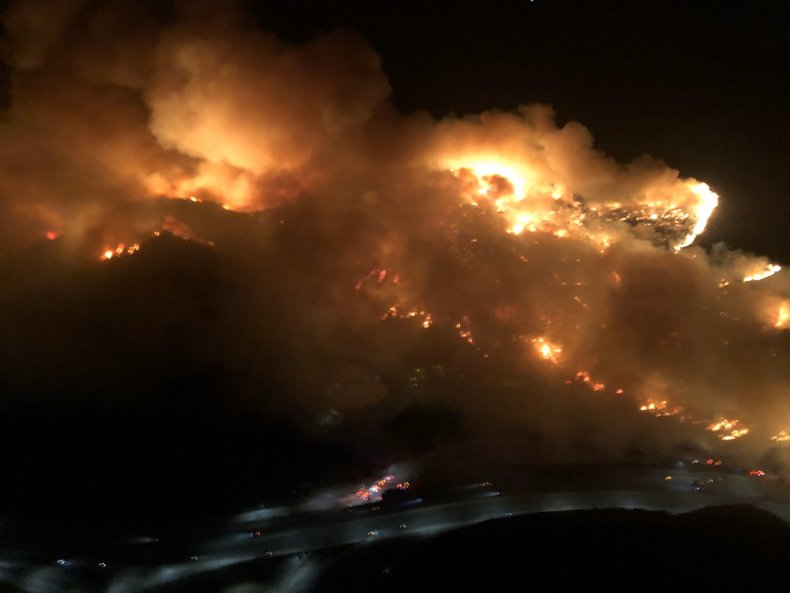 As of 9:30 a.m. EDT, the LAFD reported the fire grew to over 400 acres and southbound lanes of the 405 Freeway was fully closed from Valley Vista Boulevard to Sunset Boulevard.