As wildfires burn through California, officials have ordered thousands of people to leave their homes.
As of Friday morning, at least nine wildfires were burning in the Golden State, parts of which were under a red flag warning, which indicates that weather conditions were prime for wildfires starting. Firefighters urged all residents, even those apparently not in danger, to remain vigilant because the high Santa Ana winds could cause the flames to spread rapidly.
"It's always these fall months. They are the most damaging, the most destructive," California Department of Forestry and Fire Prevention (Cal Fire) Battalion Chief Amy Head told CBS News.
At least three of the blazes—the Kincade, Tick and Old Water fires—posed enough of a threat to residents' safety that officials ordered them to get out of the area.
Kincade Fire Evacuations
The Kincade Fire in Northern California has caused officials to order residents to evacuate. Cal Fire identified the areas under mandatory evacuation orders as:
Geyserville, California
Cloverdale Geysers Road
Geysers Road
Red Winery Road
Alexander Mountain Road
Pine Flat Road
All roads east of Highway 128 to Geyserville
An evacuation center was established at the Healdsburg Community Center in Healdsburg and the Sonoma County Fairgrounds in Santa Rosa. However, as of Friday morning the Healdsburg evacuation center was at capacity, so residents were urged to go to the Santa Rosa Veterans Memorial Building instead.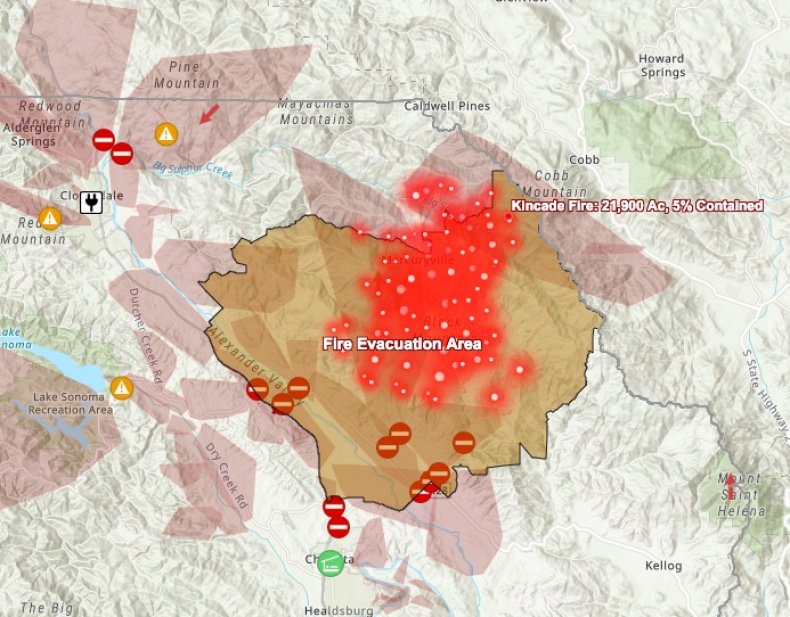 Evacuation orders affected an estimated 2,000 people, according to the Weather Channel, although more people were under an evacuation warning, meaning they should be prepared to leave.
The fire broke out on Wednesday and quickly spread to 16,000 acres, according to Cal Fire. Almost 50 structures were destroyed, but fortunately there were no injuries reported as of Friday morning.
Tick Fire Evacuations
Farther south, the Tick Fire, which ignited on Thursday afternoon, forced an estimated 40,000 residents to leave their homes, according to the Los Angeles County Fire Department. Mandatory evacuation areas, as identified by the city of Santa Clarita, were:
Sand Canyon from the 14 Freeway to Placerita Canyon Road
South of the 14 Freeway
Sand Canyon Road
North of Placerita Canyon Road
West of Agua Dulce Canyon Road
Davenport Road
East of Sierra Highway
South of Vasquez
North and east of Plum Canyon
North and east of White Canyon
North of Soledad Canyon Road
Soledad Canyon Road to Shadow Pines Boulevard along the 14 Freeway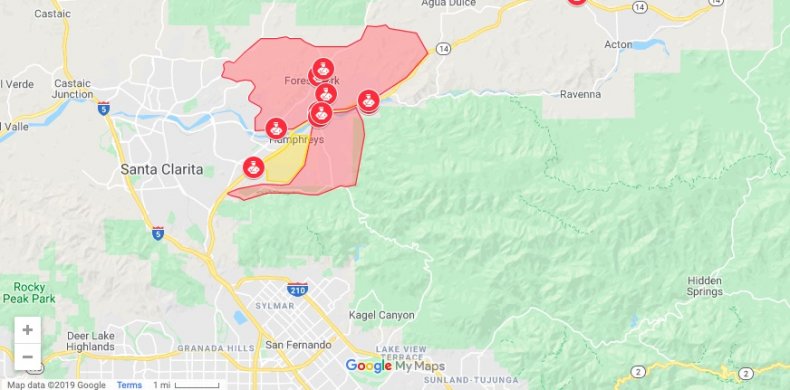 In addition, the Fair Oaks Ranch area was under a voluntary evacuation order, and residents who felt unsafe in their homes were encouraged to leave. Overnight stays, cots, showers and food were available at the College of the Canyons gymnasium in Santa Clarita, which the Red Cross set up as an evacuation center.
As of Thursday evening, the fire had burned about 3,950 acres and was 5 percent contained, according to the Los Angeles County Fire Department. The department was uncertain how many structures were damaged or destroyed but said 10,000 were threatened.
Old Water Fire Evacuations
The Old Water Fire, which also broke out on Thursday, is relatively small in size, burning only about 100 acres. However, the presence of high Santa Ana winds mean it has the potential for significant growth, and residents were told to leave. Those living on Mariposa Drive, David Way and Arrowhead Road were under a mandatory evacuation order, but it was lifted Thursday night.
Residents returning to their homes were required to show identification that proved they lived in the area and were urged to exercise caution.