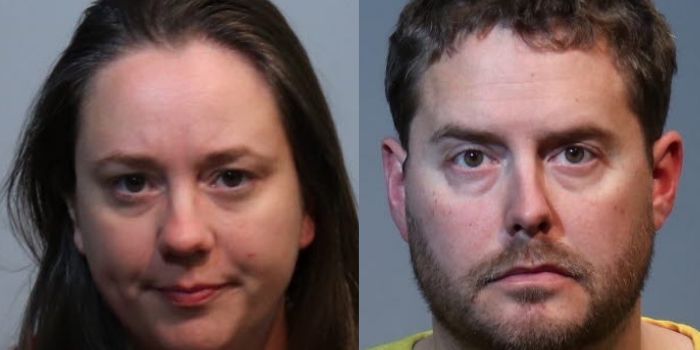 A case that initially started with the arrest of her ex-boyfriend landed a kindergarten teacher behind bars on charges of producing and distributing child pornography.
The U.S. Marshals Office arrested Audra Mabel, 34, on Thursday, after investigators allegedly found sexually explicit content involving her and a 1-year-old child on her ex-boyfriend's cell phone, according to a criminal complaint.
Before her arrest, her ex-boyfriend, Justin Ritchie, 36, was arrested for allegedly sexually assaulting his 4-year-old daughter.
On March 5, Sanford, Florida, Police Department officers responded to a home in Seminole County, after receiving a call from a mother of a child. While bathing her three children, the woman's young daughter told her that Ritchie, her father, touched her "vulva," according to police records.
The woman recorded the rest of the conversation with her daughter, during which the child, whose age was redacted from the record, said her father performed oral sex on her and "it feels good."
An investigator interviewed the child the next day and she said her father sexually assaulted her with his hand and an electric toothbrush. On several occasions, the child said her father instructed her to record the sexual encounter with his cell phone.
On March 8, when Ritchie returned home from a business trip, officers arrested him on charges of sexually assaulting a victim under 12. His arraignment is scheduled for April 23.
After obtaining a search warrant of his electronic devices, authorities found about 10 sexually explicit videos that allegedly showed Mabel and her 1-year-old son, according to the complaint. The child's face was rarely shown and focused predominately on the child's penis. Another video allegedly showed Mabel masturbating while breastfeeding. Another video, as described in the criminal complaint, showed Mabel exposing herself in her classroom in Michigan and then turning the camera toward her elementary students.
When she was contacted by authorities, she allegedly admitted to producing the videos and sent them to her boyfriend because they fantasized about child sex abuse.
"Mabel and [Ritchie] also read stories to each other about sex between children and adults," the complaint stated.
When the videos were made, Mabel was employed in Michigan but later moved to Florida and was employed as a kindergarten teacher at Spring Lake Elementary School in Altamonte Springs.
Seminole County Public Schools Communication Officer Michael Lawrence told Newsweek that Mabel was fired once the school learned of the accusations against her. He added that before her arrest, there were no red flags about Mabel and the school runs extensive background checks on all of their teachers. The school also reported the incident to the Bureau of Professional Practices.