King Charles Labeled 'Anti-Racist' as Royals Move Past Prince Harry's Book
King Charles III is "attuned to the communities of this country" and engaged with "the anti-racism movement," according to the leader of a British Bangladeshi organization.
On February 8, Charles and Queen Camilla drew crowds reportedly of around 1,000 in Brick Lane, east London. The area is famous across Britain for its curry houses.
The crowd cheered, sang the British national anthem "God Save the King," and waved union flags as well-wishers greeted the monarch.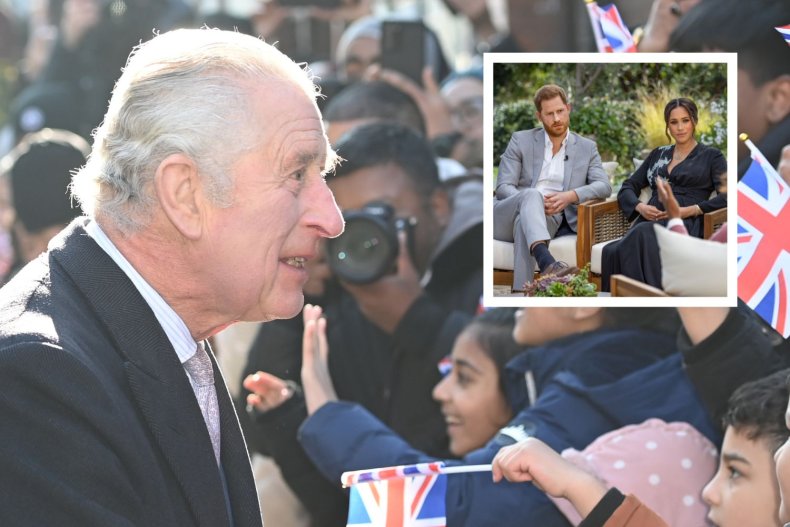 Quoted in U.K. newspaper The Times, Ayesha Qureshi, co-founder of British Bangladeshi Power & Inspiration, said the visit and the welcome showed "how engaged His Majesty is... with multiculturalism and the anti-racism movement."
Her comment marks a stark contrast to some major international debates about the royal family since Prince Harry and Meghan Markle's Oprah Winfrey interview in March 2021.
Meghan told CBS at the time that an unnamed family member had expressed "concerns" about how dark her unborn child's skin might be.
Winfrey asked whether that meant it would be a "problem" if her child's skin was "too brown." The duchess replied: "If that's the assumption you're making, I think that feels like a pretty safe one."
However, since then, Harry and Meghan's account has become less clear after Prince Harry denied they had accused the royals of racism. He said Meghan never used the word, during interviews with ITV and 60 Minutes.
Harry said "unconscious bias" would be a better characterization. He also appeared to drift away from Meghan's account of concern when he said, for many mixed-race couples, "the White side of the family would wonder" what "their kids are gonna look like."
Qureshi said: "There is racism within British society. But what this [the crowds greeting Charles] demonstrates is the fact that the king is very attuned to the communities of this country, and wants to reign in a way which is inclusive and supportive of those communities.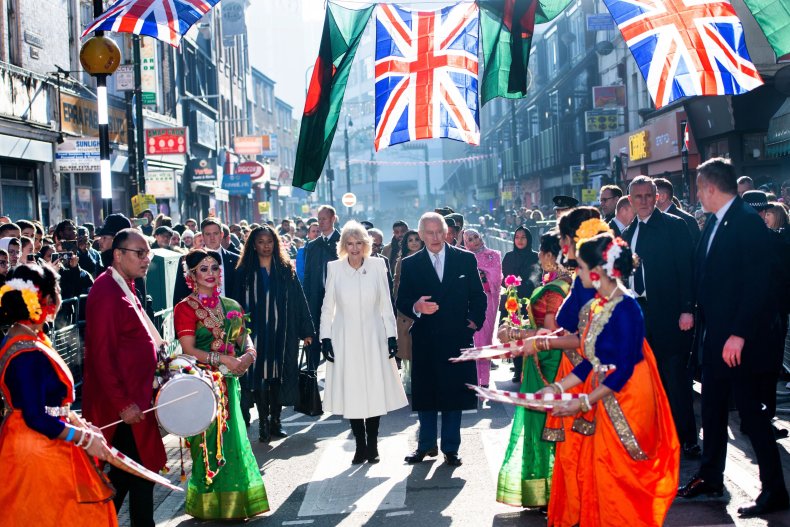 "The fact that he has come here today is very demonstrative of the fact that he listens to people's concerns, and that he supports and understands.
"If you listened to the cheers here today, to the national anthem being sung by children who are representative of the multicultural community—the streets were packed 10 deep—that is demonstrative of how well respected he is within the community here," Qureshi added.
"I am ecstatic. The fact that we walked Brick Lane in the footsteps of our fathers with the king is unbelievable. It feels surreal."
Qureshi's comments come at a time when opposition to the British monarchy is growing among 18- to 24-year-olds, but the crown remains popular among older Britons.
At the same time, Harry and Meghan's popularity has slumped deep into negative numbers, with both disliked by around two-thirds of U.K. residents.
Their standing with Americans has also taken a hit, with Harry dropping 45 points in his U.S. approval rating, leaving him on -7, while Meghan dropped 36 points to -13.
There are still significant voices standing up for the couple internationally. Civil-rights leader Rev. Al Sharpton went on Good Morning Britain this week to say: "I think, when they were married, it was a beautiful day.
"And people were celebrating how, you saw this woman of color now in the royal family, gospel songs [were] sung at the ceremony, and the queen sitting there," Sharpton said.
"And the reaction was so, so much acrimony. And just looking to treat her differently. And people who, whether you were in the U.K. or around the world, they are always treated differently, understood what Meghan was going through.
"It was somebody Black working in the C-suites for the first time and they treat you differently," Sharpton added.