King Charles Gives Awkward Response When Asked to 'Bring Back' Prince Harry
King Charles III was caught in an awkward moment with a member of the British public this week, when he was asked if there were any plans to "bring back" his estranged son Prince Harry.
The monarch's relationship with his younger son has become decidedly strained in the most public of ways, following Harry's criticism of his dad in his new memoir, Spare. Harry and his wife, Meghan Markle, also made damning comments about the royal family in their Netflix documentary Harry & Meghan.
As public opinion remains divided on the family quarrel, one man expressed enthusiastic support for Harry to be welcomed back into the family fold as Charles took part in a royal engagement in London on February 8.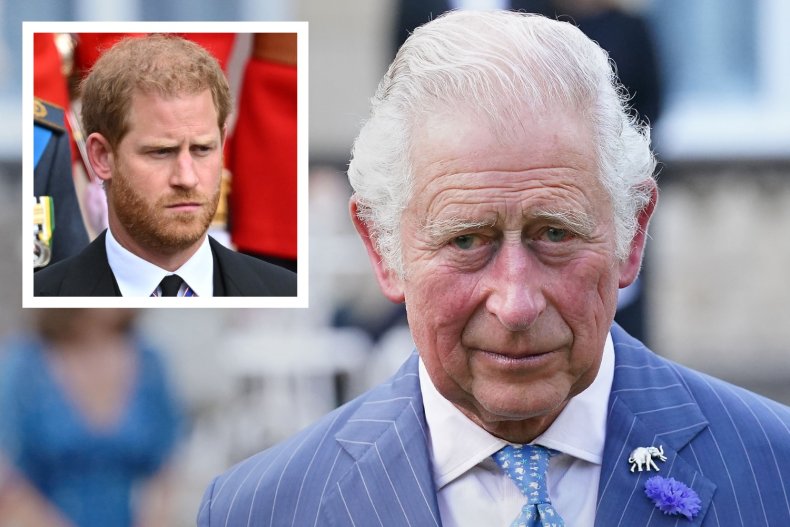 In video footage shared on Twitter, Charles could be seen meeting with students at the University of East London and shaking their hands, as he told them: "You're all working incredibly hard."
"Bring back Harry, please sir," one person could be heard loudly pleading off camera. "Can you bring him back, please?"
"Who?" Charles asked, apparently not having heard who the person was referring to.
"Harry, your son," the person responding, prompting Charles to briefly chuckle and quip while moving on: "It would be nice."
In a number of public statements, Harry has shared that his relationship with his father and brother became strained after he embarked on a relationship with former Suits star Meghan. The two subsequently stepped down from their roles as senior working royals in January 2020 and relocated to Meghan's native California.
Harry most recently spoke about the royals in his hit book Spare, which was published globally on January 10 and swiftly became the fastest-selling non-fiction book in history. It earned a Guinness World Record and a spot on the bestseller charts around the world.
Along with commercial success, Harry's debut literary project saw him pass a series of less-welcome milestones, including seeing his popularity sink to its lowest-ever levels in both the U.K. and the U.S.
Much of the negative press surrounding the book criticized Harry for the numerous bombshells launched at the royal family. He wrote that Prince William physically attacked him in a 2019 argument at Kensington Palace in London; that Kate Middleton was cold to his wife, Meghan; that Queen Camilla leaked negative stories about him; and that Charles was an emotionally distant parent.
Both Buckingham Palace (representing Charles and Camilla) and Kensington Palace (representing William and Kate) have adopted hardline "no comment" positions about Harry's book and its claims.
In their six-part Netflix series Harry & Meghan, which premiered in December, the couple spoke about everything from the start of their romance, to Meghan's treatment by the British press, and claims of racial bias within the royal family.
Harry and Meghan also sat down for a bombshell interview with Oprah Winfrey back in 2021. During the TV show, it had been claimed that an unknown member of the royal family had made racially insensitive comments about the potential skin color of Harry's future children with Meghan.
However, since then, Harry and Meghan's account has become less clear after Prince Harry denied they had accused the royals of racism. He said Meghan never used the word, during interviews with ITV and 60 Minutes.
Harry said "unconscious bias" would be a better characterization. He also appeared to drift away from Meghan's account of concern when he said, for many mixed-race couples, "the White side of the family would wonder" what "their kids are gonna look like."