King Charles III's coronation has led to a high-profile lawsuit against British police over the arrest of anti-monarchy campaigners.
Graham Smith, chief executive of anti-monarchy pressure group Republic, is among those suing the Metropolitan Police after they were detained during the coronation, denying them the opportunity to protest.
The case, to be heard at the High Court in London, will not only examine the actions of individual officers on the day but will also be received as a major challenge to new protest laws introduced by the country's Conservative government.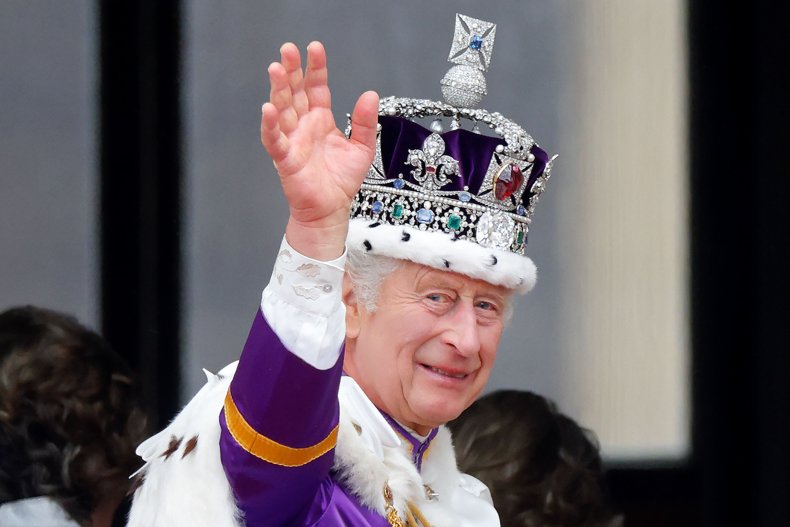 Smith told Newsweek: "We think there's a public interest in challenging this attack on the freedom to protest and there are eight of us altogether who were arrested.
"I think there's a need for some kind of natural justice and an acknowledgment from the police that they got it wrong.
"So far they say they didn't get it wrong and while they regret us not being able to protest on the day they defended their officers' decisions. I think that needs to be addressed."
He said the case could heap pressure on the king's own reputation as the palace has been silent over police action on Coronation Day in May of this year.
"There is a view that pressure was put on the police to try to disrupt and diminish the protests and regardless of who put that pressure on, Charles has said nothing since," Smith said.
"He hasn't defended the right to protest or commented or anything. He hasn't been shy about commenting on human rights elsewhere in the world but he doesn't seem concerned that this happened in his name on his big day.
"There should be a response from him and hopefully, if we get the right result then we might see if we can get something out of the palace."
Smith's organization, according to a court filing seen by The Guardian, viewed the coronation as a once-in-a-generation opportunity and had been in talks with police about the planned protest for four months.
Republic's lawyers say they told officers the location and even what would be written on their banners but as they attempted to unload a van they were interrupted by cops.
He was arrested on suspicion of "going equipped to lock on," a reference to a common practice among some protesters of fixing themselves to objects in public places so they cannot be removed.
However, the locking devices cited by officers were luggage straps, which the group say were simply to help carry placards.
Smith and the rest of the group were later released without charge but only after the coronation was already over, meaning they missed the opportunity to protest against it.
He told Newsweek: "This is predominantly to do with the police's actions against us on the day but there is a need to address that particular legislation and whether it is acceptable and whether it is being applied correctly."
Jack Royston is Newsweek's chief royal correspondent based in London. You can find him on Twitter at @jack_royston and read his stories on Newsweek's The Royals Facebook page.
Do you have a question about King Charles III, William and Kate, Meghan and Harry, or their family that you would like our experienced royal correspondents to answer? Email royals@newsweek.com. We'd love to hear from you.