King Charles Did Not Want Meghan Markle to Be a Working Royal, Harry Says
King Charles III suggested Meghan Markle might "carry on working" as an actor as Prince Harry was preparing to propose, according to the Harry's book Spare.
Harry and Meghan would later ask the royal family for the chance to start a new life in America while working part-time for Queen Elizabeth II, a proposal which came to be known as "half in, half out."
However, back in 2017, when Harry was preparing to propose to Meghan, Charles suggested she continue with her existing career as an actress.
Had the couple taken up the idea, Meghan would have been earning money independently, as the couple would later request and the royals would later reject.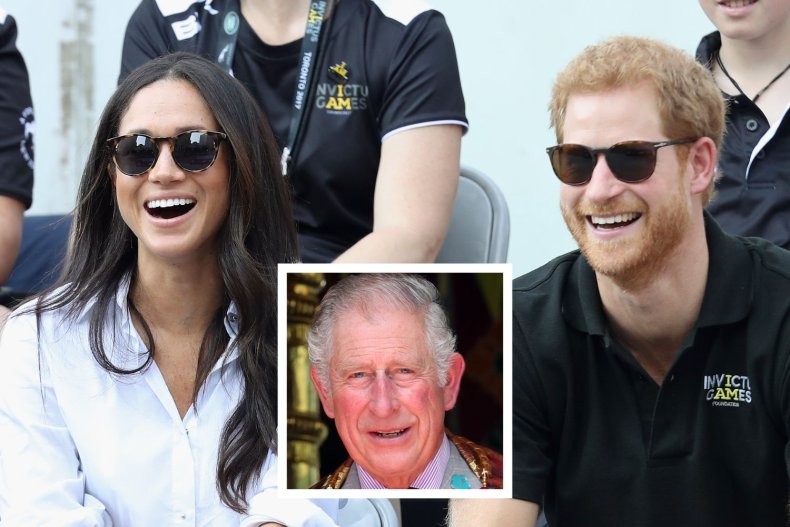 Meanwhile, there was no suggestion Harry would give up being a full-time working royal.
Spare describes how Charles asked: "Does she want to carry on working?"
Harry writes that he replied "Say again?" before Charles repeated: "Does she want to keep on acting?"
"Oh. I mean, I don't know," Harry told his father. "I wouldn't think so. I expect she'll want to be with me, doing the job, you know, which would rule out Suits…since they film in… Toronto."
Charles is quoted as replying: "Hmm. I see. Well, darling boy, you know there's not enough money to go around."
Spare reads: "I stared. What was he banging on about? He explained. Or tried to. 'I can't pay for anyone else. I'm already having to pay for your brother and Catherine.'"
The passage is interesting in light of negotiations over Harry and Meghan's status after they announced they wanted to step down as working royals in January 2020.
In the years that followed the conversation with Charles, Harry and Meghan's relationship with Prince William and Kate Middleton deteriorated, their private office became beset by a "poisoned" atmosphere and their dealings with the media became ever more toxic.
By the time Harry and Meghan's royal exit was being thrashed out at Sandringham in January 2020, he was no longer talking casually with his father during a family shooting trip, as he had done in 2017.
The negotiations involved Queen Elizabeth II, as well as a number of senior palace staff, some of whom Harry appears to treat with considerable animosity, and one of whom he nicknamed "the Bee."
Harry presents the summit as a mere formality but the royal household had decided without him that his own plans would be impossible.
Spare reads: "Option 1 was continuance of the status quo: Meg and I don't leave, everyone tries to go back to normal. Option 5 was full severance, no royal role, no
working for Granny, and total loss of security.
"Option 3 was somewhere in between. A compromise. Closest to what we'd
originally proposed. I told everyone assembled that, above all, I was desperate to keep security. That was what worried me most, my family's physical safety."
"But the family," he continued, "of course, pushed me to take Option 1. Barring that, they would only accept Option 5.
"We discussed the Five Options for nearly an hour. At last the Bee got up and
went around the table, handing out a draft of a statement the Palace would soon
be releasing. Announcing implementation of Option 5.
"'Wait. I'm confused. You've already drafted a statement? Before any
discussion? Announcing Option 5? In other words, the fix was in, this whole
time? This summit was just for show?' No answer."
In Spare, Charles does not make it clear whether he imagined Meghan receiving police protection while working as an actor and any decision on that question would have been taken in conjunction with the Home Office and Metropolitan Police.
However, assuming Harry's account in Spare is correct, he did appear to feel before the wedding, and the disintegration in relations that followed, that it was possible for Meghan to work outside the institution while Harry worked inside it.
It is of course possible though that, even back in 2017, the queen would not have agreed.