King Charles III Could Face Monarchy Revolt by These Nations
The death of Queen Elizabeth II could speed up efforts to abolish the monarchy in former colonies that still recognize the British monarch as their head of state.
Many former British colonies remain bound together as part of the Commonwealth, a voluntary association of 56 states. But 14 remain constitutional monarchies with King Charles III now their head of state after the death of Elizabeth at the age of 96 on Thursday.
Those are: Antigua and Barbuda, Australia, the Bahamas, Belize, Canada, Grenada, Jamaica, New Zealand, Papua New Guinea, Saint Kitts and Nevis, Saint Lucia, Saint Vincent and the Grenadines, the Solomon Islands and Tuvalu.
But the death of the much-loved Elizabeth and accession of the less popular Charles could boost pro-republic campaigns in countries where debate has long rumbled about severing ties to the British crown.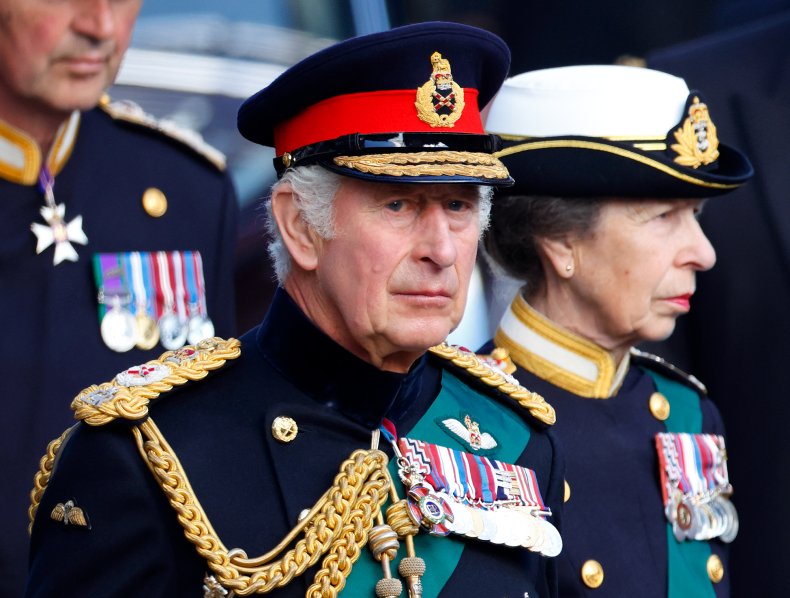 "The reason why so many countries have remained within the group [is that] they didn't want to offend her," Elisabeth Braw, a senior fellow at the American Enterprise Institute, recently told Politico.
"Countries have stayed on, remained with the status of having her as head of state much longer than they would have because they felt so much loyalty to her personally."
Over the weekend, Antigua and Barbuda's prime minister Gaston Browne said that the country will hold a referendum on whether to become a republic within three years.
"It does not represent any form of disrespect to the monarch. This is not an act of hostility, or any difference between Antigua and Barbuda and the monarchy," Browne told ITV News. "It is a final step to complete the circle of independence to become a truly sovereign nation."
But some countries have indicated they were ready to become republics even before the queen's death.
In November 2021 Barbados became the first country to drop the queen as its head of state since Mauritius in 1992.
In March, Jamaican Prime Minister Andrew Holness told the Duke and Duchess of Cambridge that his country wants to be "independent" during their official visit to the Caribbean nation, part of a tour of the region. In June, Jamaica's Minister for Legal and Constitutional Affairs Marlene Malahoo Forte said the process for transitioning to a republic had "formally commenced."
After the now Prince and Princess of Wales visited Belize during that same tour, Belize's Minister of Public Service, Constitutional and Political Reform, and Religious Affairs, Henry Charles Usher, said the issue of becoming a republic should be put to the people of his country.
"The decolonization process is enveloping the Caribbean region," he said. "Perhaps it is time for Belize to take that next step in truly owning our independence. But it is a matter that the people of Belize must decide on."
In July, Ralph Gonsalves, the prime minister of Saint Vincent and the Grenadines, also proposed a referendum on whether to keep the British monarch as head of state.
According to Foreign Policy, the Bahamas, Grenada, and Saint Kitts and Nevis have also signaled their interest in removing the monarch as their head of state.
In Australia, the debate has rumbled on for decades.
"We need to become a Republic," Adam Bandt, leader of the Australian Greens, tweeted shortly after the queen's death, sparking criticism.
The Australian Republic Movement was also criticized for a statement issued soon after the queen's death was announced, which referred to her comments surrounding a 1999 referendum that saw the British monarch retained as Australia's head of state.
The country's prime minister Anthony Albanese began laying the groundwork for Australia to become a republic after he was elected in May, and appointed the first-ever minister to lead the transition to become a republic. But in a recent interview with Sky News, he said he would not hold a referendum on the issue in his first term, meaning a vote is likely years away.
This period is a "time to pay tribute," not to pursue "questions about our constitution," he said.
New Zealand's leader Jacinda Ardern said her government will not pursue any moves to drop the monarchy following the queen's death.
However, talking about the possibility of her country becoming a republic in the future, she said: "I do believe that is where New Zealand will head, in time. I believe it is likely to occur in my lifetime."