King Charles III May Now Be Immune From Prosecution in Charity Cash Probe
King Charles III may be exempt from prosecution under Britain's legal system despite an ongoing police investigation into one of his charities.
The Metropolitan Police has been investigating after the chief executive of The Prince's Foundation was accused of offering to help a Saudi Tycoon secure a knighthood and citizenship in exchange for cash donations.
Anti-monarchy campaign group Republic reported Charles as an individual when the accusation first emerged in British newspapers The Sunday Times and The Mail on Sunday in 2021.
Detectives have never suggested Charles was personally under investigation and do not routinely reveal the identity of suspects prior to any decision to charge. There is nothing to suggest Charles has been arrested or interviewed nor is there any publicly known evidence linking him personally to the allegation.
However, should the evidence pose any tough questions for Britain's new king he may well be exempt from prosecution anyway, according to a rule known as "Sovereign Immunity," under which Britain's Crown Prosecution Service cannot pursue charges against the country's head of state.
The situation is not completely clear, however, as Republic argues Parliament may be able to bring its own prosecution, citing the execution for treason of King Charles I.
The king's team declined to comment when approached by Newsweek.
King Charles III and Sovereign Immunity
Historically, the ruling king or queen, known as the sovereign, was the source of legal power and authority in Britain and therefore could not be subject to that same power.
The royal family's official website reads: "In the earliest times the Sovereign was a key figure in the enforcement of law and the establishment of legal systems in different areas of the UK. As such the Sovereign became known as the 'Fount of Justice'.
"While no longer administering justice in a practical way, the Sovereign today still retains an important symbolic role as the figure in whose name justice is carried out, and law and order is maintained.
"Although civil and criminal proceedings cannot be taken against the Sovereign as a person under UK law, The Monarch is careful to ensure that all their activities in a personal capacity are carried out in strict accordance with the law."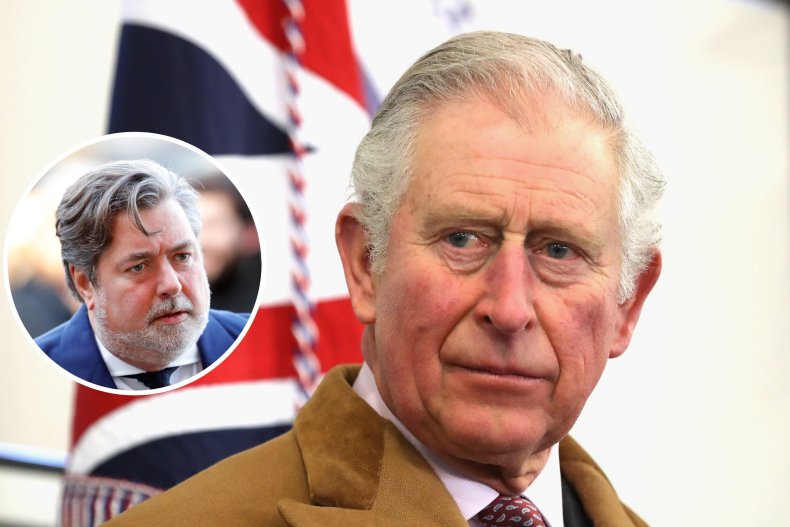 However, Republican campaigners argue that Parliament could bypass this rule and bring its own prosecution, if the police felt the evidence had led back to Charles. There is currently nothing to suggest detectives are seeking a prosecution of the king.
Graham Smith, chief executive of Republic, told Newsweek: "It is a constitutional principle and interpretation of the fact that the crown is the source of all power and that people are prosecuted effectively by the king and he can't prosecute himself.
"That's the theory, but I don't think it's ever been tested in law. We're going to be writing to the Metropolitan Police and asking them to confirm that they are still continuing with this investigation and will seek advice on how to prosecute if they find that there is a case to answer."
He added: "We will see what the police say if anything and then we will be lobbying politicians to intervene to ensure that everybody including Charles is subject to the law."
Cash for Honors Allegations Against King Charles' Charity
Charles' foundation has been the subject of repeated leaks, predominantly to The Sunday Times but also to The Mail on Sunday.
The most significant among them is the allegation that chief executive Michael Fawcett promised Saudi businessman Mahfouz Marei Mubarak bin Mahfouz help securing a knighthood and British citizenship in return for charity donations.
In a letter to an aide of Mahfouz, Fawcett wrote in August 2017: "In light of the ongoing and most recent generosity of His Excellency, Sheikh Marei Mubarak Mahfouz bin Mahfouz I am happy to confirm to you, in confidence, that we are willing and happy to support and contribute to the application for Citizenship.
"I can further confirm that we are willing to make [an] application to increase His Excellency's honour from Honorary CBE to that of KBE [knighthood] in accordance with Her Majesty's Honours Committee.
"Both of these applications will be made in response to the most recent and anticipated support of the Trust and in connection with his ongoing commitment generally within the United Kingdom. I hope this confirmation is sufficient in allowing us to go forward."
An internal investigation by the charity found: "With respect to the allegation of securing honours for a donor in exchange for donations, there is evidence that communication and co-ordination took place between the CEO at the time and so-called 'fixers' regarding honorary nominations for a donor between 2014–18.
"There is no evidence that trustees at the time were aware of these communications."
There is also no publicly known evidence to suggest Charles knew about the alleged offer or was involved in making it.
Scotland's charity regulator and the Metropolitan Police are still carrying out their own inquiries into the matter.
King Charles I's Trial and Execution for Treason
Republic suggested Parliament could step in to order a trial if evidence were to emerge that linked Charles to the scandal.
Smith said: "Of course, Parliament can prosecute the king as they did 350 years ago, so there is that precedent.
"It's very much up in the air. The theory is the theory and it may well be sound but we want to push for it to be tested and challenged."
King Charles I was tried for treason after the second English civil war, waged between royalists and parliamentarians, and executed on January 30, 1649.
The current Charles does, however, get on somewhat better with Parliament than his namesake and new British Prime Minister Liz Truss got off to a warm start during a first official meeting on Sunday, September 18.
The website of Britain's Parliament recounts Charles I's fate: "The King appeared before his judges four times, charged with tyranny and treason. The exchanges always took a similar form with the King challenging the court's authority and its right to try him.
"The peculiar nature of the trial reflects not simply the fact that a King was on trial but that both the King and his judges took their stand on what are still crucial principles—the King on his right to trial by a properly constituted court acting on the basis of established law, and his accusers on the need to call to account a King they had described as a tyrant who shed the blood of his people.
"The King's persistence disconcerted the judges, but there was little doubt about the outcome, and the death sentence was proclaimed on January 27."
Whatever the outcome of the current police investigation, the new monarch's fate is unlikely to be quite so dramatic as the first King Charles.