King Charles Loses It Over a Pen Again: 'Every Stinking Time'
King Charles III has found himself in the second pen-related internet storm of his reign, after footage of his frustrated reaction to a leaking fountain pen went viral on Tuesday.
The new monarch described the offending pen as a "bloody thing" after it leaked during the signing of a guest book in Northern Ireland. Four days earlier, Charles was criticized for a similar outburst during his proclamation and accession council in London.
Charles was in Northern Ireland on Tuesday with Camilla, the Queen Consort, for audiences at Hillsborough Castle—the monarch's official residence in the country—and a service of reflection for the life of Queen Elizabeth II at St Anne's Cathedral, Belfast.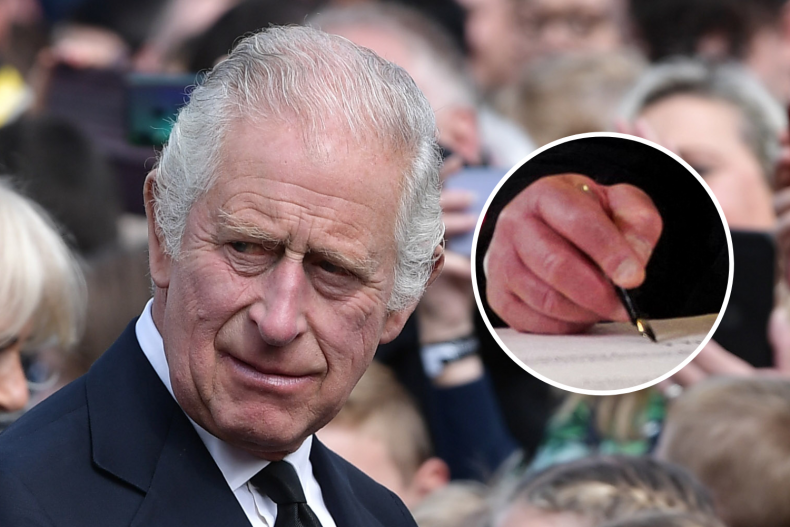 Elizabeth died on Thursday at the age of 96, at her Scottish home Balmoral Castle. A state funeral will be held on Monday, September 19.
On Tuesday, after a series of audiences at Hillsborough Castle and receiving a message of condolence from the speaker of the Northern Ireland Assembly, Charles and Camilla were signing the castle's visitors book.
In news footage, Charles is shown asking an aide what the date was. After realizing the pen he was using had leaked, he said in frustration: "Oh God, I hate this pen!"
He handed the pen to Camilla, who replied, "It's going everywhere," before taking her turn signing her name.
Charles is then heard to say, "Can't bear this bloody thing!" while walking away, before adding: "[It's] what they do every stinking time."
News outlet NowThis uploaded a clip of the scene to TikTok, where it has been watched more than 4.5 million times in less than 12 hours. Posts about his comments are also going viral on other social networks.
A number of TikTok commenters expressed criticism of Charles' outburst, with one user writing: "He's known for being bratty, dudes like 70+ been that way his whole life. Shouldn't be a surprise."
Another added: "He's always been this way...can only imagine what kind of king he'll be."
Other commentators called for understanding. Writer and food poverty campaigner Jack Monroe tweeted that the brief expression of emotion from Charles was not the "gotcha everyone wants it to be."
Monroe wrote: "I'm a multifaceted human being + admit to being conflicted about the Royals discourse at the moment. But Charles getting frustrated over a leaky pen, days after the death of his mother where he's had no space + time to grieve, doesn't feel like the gotcha everyone wants it to be?"
Broadcaster Sophie Corcoran also expressed support for the king on Twitter, writing: "Charles has lost his mother and has had to become king and mourn in full public view. Who cares if he got upset over a pen. He's done incredible."
On Saturday, Charles was criticized for chastising an aide about the placement of a tray of pens and inkwell on a desk at St James's Palace.
In news footage from the event, the king is seen waving his hand in a frustrated manner at the pens, whereupon his equerry Major Jonathan Thompson removed them.
"Manners cost nothing!" wrote one Twitter user after the clip had been viewed more than 19 million times in 24 hours. Another added: "Took him more effort to wave his hand a dozen times than to move it himself."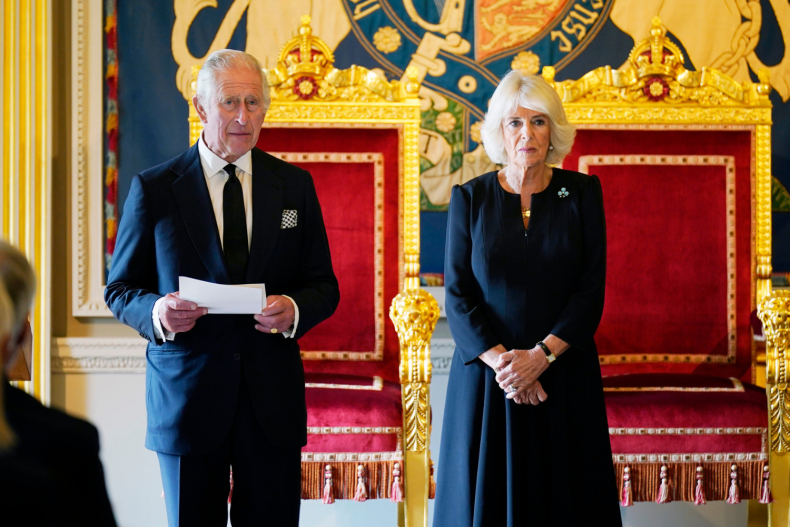 When he was Prince of Wales, Charles gained a reputation for his demands on staff. Reports circulated that his valet would squeeze the toothpaste onto his toothbrush from a silver crested dispenser each evening.
Charles and Camilla returned to London later on Tuesday, greeting the queen's coffin as it arrived at Buckingham Palace. The official lying-in-state begins on Wednesday evening.