King of Comedy: Newsweek's 1986 Profile of Robin Williams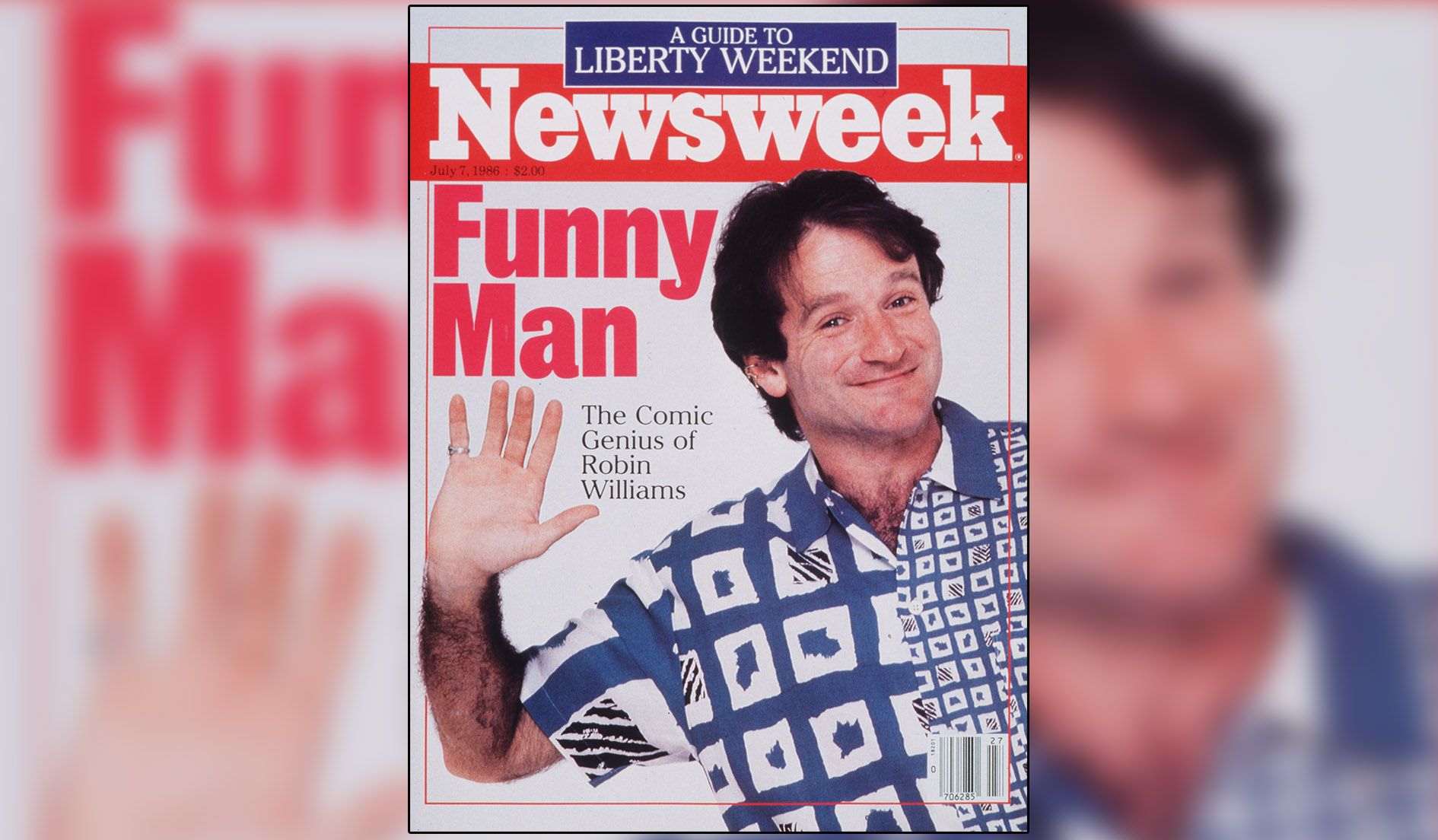 This story originally appeared in Newsweek's July 7, 1986 issue.
It's a warm Sunday night at the Irvine Meadows Amphitheatre, and under the Orange Country, Calif., sky a stocky, furry, rubber-faced imp named Robin Williams is talking about beer in front of 7000 roaring fans. Why aren't there any realistic beer commercials? (Adopting a manly TV announcer's voice: ) "It's 7 o'clock in the morning, I've just pissed on a Dumpster. It's Miller time!" Now he's a coked-out black outfielder staring longingly at the enticing white line going all the way to home plate; now an umpire who's been given acid. "I'm a turtle! I'm a turtle! Wait. Don't steal home. Share it!" Suddenly he's inside Ronald Reagan's head, and the real world has turned into the movies. "Tip" O'Neill speaks to him in a perfect John Wayne voice. Caspar Weinberger is Bela Lugosi, Kissinger talks like Peter Lorre. When Reagan moves his arm, there's the whirrrr of a mechanical engine about to break down ("Oil can! Oil can!") but Reagan revives, pulls off his face and reveals himself to be Richard Nixon. "Yes, I'm back again. It's 'Halloween Part V'."
Politics leads to pollution, mutants, an environment that results in stereo sushi. In South Africa they show the negative of "The Color Purple" and run it backward. Now he's a terrified Jerry Falwell, having just learned that Christ has returned and is mighty angry. "Bob, get the plane. Oh hi. Good to see you. There's no place like Rome." The horrors mount. Colonel Kaddafi and his chain of terrorist chicken stores. Chernobyl. "The whole world makes you feel like a hemophiliac in a razor factory." A piercing scream erupts. An anguished moan: "Scaaaary stuff!"
Robin Williams is a little bit…intense tonight, and the fun is just beginning. Before the night is over, he will cover not just drugs and politics but sex, birth and raising a child. He will personify his own sexual organ, a buccaneering one-eyed pirate who bears a suspicious resemblance to Popeye. He will become a large black female sex therapist named Doctor Rufe. He'll do perfect-pitch impressions of William Buckley, Jack Nicholson, a sperm who talks like Leon Spinks and Richard Nixon. ("Putting Nixon on the cover of NEWSWEEK is like putting John Hinckley on the cover of Guns & Ammo. Not a good idea.") He'll do Elmer Fudd doing Ike and Tina Turner singing "Pwoud Mary," a sunstruck California dude at a Grateful Dead concert, and describe a porno movie ("It's like an industrial film covered in fur"). Almost two hours later, drenched in sweat, having traversed the comic universe at the speed of light, he stands in amazement as the screaming crowd rushes the stage as if they had just been subjected to a Van Halen concert. He feels like Elvis. It's rock-and-roll comedy!
For your normal red-blooded comic, this performance, at the end of his recent sold-out 23-city tour, would be considered a good night's work. But the metabolism of Robin Williams (not to mention the mind) doesn't play by union rules. On just about every night of his tour, after finishing his show (or sometimes two a night), he would feel compelled to unwind, to kick out that excess energy. How? By finding a local comedy club, taking the stage and improvising for another 40 minutes. "That's fun, that's play," he explains. "I have to go out and make contact…to find something new and get back that playful spirit again." So it went for 10 weeks, from New Haven to Los Angeles, a new town nearly every night, running on three or five hours of sleep, repeating the same cycle of compulsive comic behavior. Is it any wonder the fatigued folks who travel with the comic are looking a bit like stereo sushi themselves?
Welcome to the fast-forward world of Robin Williams, who, at 33, is the unofficial comic laureate of his generation. At a time when live comedy is undergoing a renaissance of popularity in America, Williams reigns as comedy's lunatic king. It is almost a decade since this computer-quick talent exploded into instant stardom as the suspendered alien on "Mork and Mindy," and any doubts about his staying power have long since been erased. This year alone he singlehandedly kept the nation awake with his rude wit on the Oscar slumbercast; he cohosted the successful Comic Relief benefit for the homeless with his pals Billy Crystal and Whoopi Goldberg and made an appearance at the Amnesty International concert as well. His fifth movie, "The Best of Times," came out last winter, and his latest, "Club Paradise," opens in mid-July. Also in the can is his searing, dead-serious performance in Saul Bellow's "Seize the Day," which may get a theatrical release before appearing on PBS in the spring. He's about to film his touring concert show for HBO at the Kennedy Center in Washington. "60 Minutes" is featuring Williams in its new fall season. It's safe to say that if a straw poll were taken of anyone under, say, 45, Williams would likely be voted the funniest man in America.
It's not the he tells the funniest jokes. How many Williams one-liners can you quote? Maybe "Cocaine is just God's way of telling you you have too much money." No, what Williams evokes in people is not simply laughter but a sense of amazement at the spectacle of a brain on constant spin-cycle. Class stand-up comics from Bob Hope to George Carlin to Jay Leno are stars, but Williams is a shooting star. The mystery is in the motion: what miracle of the synapses got him from point A to point Z? At once a satirist, a comedian and a superb actor, this one-man repertory company dashes from mask to mask, voice to voice, like a man possessed by comic demons. And none of his material is written—he doesn't even like to listen to tapes of his show afterward. Watching Williams share a stage at Comic Relief with such deliberate old pros as Sid Caesar and Henny Youngman is a lesson in the aerodynamics of comedy: with Williams, comedy entered the jet age. No small part of his excitement is the daredevil appeal: how high can this pilot fly before he spins out of orbit entirely?
Improvisational comedy came to the forefront in the heyday of existentialism and action painting—the era of Lord Buckley and Lenny Bruce and then of William's idol and great antecedent, Jonathan Winters. While comedy had always been a risky business (a comic doesn't fail, he "dies"), improve upped the ante. No one has played this dangerous game with more reckless grace than Williams. "There's no filter between his brain and his mouth," says Larry Brezner, a partner in Rollins Joffee Morra & Bresner, his managers. When other performers share a stage with Williams, you can often detect fear and intimidation in their eyes. Fellow comic and friend Billy Crystal is one who can keep up with him. "I love the challenge. He has this glaze in his eyes, you know he's in another place. It's like being in the ring with Sugar Ray Leonard. You just hang on to the ropes and hope to counterpunch."
To meet "the real" Robin Williams off-stage hold a share of anxiety, too. Which voice will he greet you with? Is there a there there? But the man one encounters in his comfortable but hardly opulent apartment in an old Hollywood chateau is soft-spoken, serious, and modest. You feel you are in the presence of a benign but not easily known soul. He's a guy who reads a lot, who loves computers and music, who worries about the rise of racism in the country. A guy who jogs and goes to the gym and drives around town in a white four-wheel-drive Toyota with his kayak strapped to the roof. There's an odd clipped quality, faintly English, to his speech and a shyness about his manner, as if he were not entirely comfortable speaking without a mask. Which is not to say that he won't suddenly turn on a private voice or vanish inside a Marin County Yuppie for a spell. His friends describe his warmth and openness but acknowledge that he can be with you one moment and gone the next. One-on-one he can be sober to the point of earnestness; add another person and you become an audience. Sweet Doctor Jekyll turns into a hilarious Hyde, and the law of the comedian's jungle overrides all else: he must make you laugh.
It would be convenient if one could trace his boundless need to amuse to a wretched, deprived childhood, but no such luck. The son of a Ford Motor Co. executive, Williams was born into money and spent a quiet, solitary childhood (his two half-brothers are considerably older) in affluent suburbs such as lake Forest, Ill., and Bloomfield Hills, Mich. He has often described himself as a fat kid, but his mother, Laurie, begs to differ. "Never in his life was he fat. Why does he say that?" Perhaps for the same whimsical reasons he used to say he was born in Edinburgh, Scotland, when Chicago was his real birthplace. Along with Jonathan Winters, whose records he memorized as a kid, Williams cites his mother as a source of his itch to perform. "She wild and funny, a former Southern belle. She always wanted to be in show business." His father is "like an English general. I call him 'Lord Posh.' But he's real funny in a dry way." His mother describes him as a fantastic student, an obedient kid with "beautiful manners" who showed no signs of his madcap side around the house.
Then the family moved to Tiburon, in Marin Country. Confronted with the madness of California in the late '60s, the button-down teenager started to loosen up. "Someone gave him a Hawaiian shirt," his mother recalls, "and suddenly there were girls." At this point in his life young Robin thought his future was in the Foreign Service. "I loved languages and thought I'd be attached to an embassy. By now I'd probably be a hostage." Then, while he was studying at Claremont Men's College near Los Angeles, Williams went to a class in improvisation taught by Dale Morris, a member of a comedy group called The Synergy Trust. He was 18, and he discovered that improvising was more fun than anything he had ever done. "I started flunking all my classes at college."
His new passion led him to Juilliard in New York, where he studied drama with John Houseman. Among his fellow alumni are Kevin Kline, Mandy Patinkin and Christopher Reeve. Reeve, who became one of his closest friends, recalls that it took some time for Robin to unbend his funny-bone. "At first he wasn't comfortable in New York," he told Newsweek's Katrine Ames. "He was a California kid who wore karate clothes and a beret and was out of sync with people." But his comic gifts eventually erupted and got him criticized. "You're mimicking people," one teacher complained." Where is your voice?" He never graduated from Juilliard but returned to the West Coast and started to perform in comedy clubs—"because the woman I was living with had left me, and i had to do something to break my depression," he once explained.
In California he met Valerie Velardi, a dancer, and got married. He was an obscure comic playing San Francisco and L.A. clubs and doing occasional TV work in Hollywood until the day he went to audition for the part of an alien in an episode of "Happy Days." Asked to sit down like a man from space, he promptly sat on his head. The part was his, the episode was a smash and the notion of "Mork and Mindy" was born. Talk about sudden success. "It was zero to sixty," Robin explains. "'Dance, white boy. Move around in those suspenders, you cute little bastard.'"
The TV world was stunned by this boldly original content. The Mork writers could barely keep up with their ad-libbing star. Instead of a script, they were once reduced to simply writing, "Mork does his own thing," Howard Storm, the show's principal director, said in 1978: "Everybody here is aware that this is really 'The Robin Williams Show.' My job is to make sure Robin doesn't go so far off the wall that only seven people in the audience understand what he's doing."
America had no trouble getting "nano, nano." But Williams, like many before him, had his share of trouble coping with life in the Hollywood fast lane. "Mork" was going into its second season and then third season, he was making $40,000 a week, the movie offers were coming in—"Popeye" was the first—and the parties and drugs were endless. For a man whose wife once described him as a "stimulus junkie," a comic with an insatiable appetite for input, excess proved irresistible. "It was just a madhouse. A time when you didn't want people to stop. It got to the point where people said I'd go to the opening of an envelope. I felt like the top of a roulette wheel."
Booze and cocaine were his drugs of choice. "With alcohol I blew up to 40 pounds overweight—I was bloated." But even when he was strung out, he knew that he couldn't use cocaine for performing. "I could never do that. One time I did. It's a nerve deadener. You basically withdraw into yourself. It basically removes your ability to make connections, your synapses are frying… Now I realize it was the most boring time in the world. I was doing so many things I could never really stop and enjoy one moment."
There was also John Belushi. Williams had been with him briefly the night in 1982 he died of an overdose. To see another young comic cut down in his prime was a message that could not go ignored. What finally made him put on the brakes was the birth of his son Zachary, now three years old, a pivotal event in his life. He had retreated from the hurly-burly of Hollywood to a 600-acre ranch on the border of Napa and Sonoma counties in northern California, where he felt at home. ("It's a very peaceful place, a sanctuary. I love that place so much," he says.) The remade Robin Williams doesn't touch alcohol and has in fact turned against drugs with equal zeal. "Cocaine is one of the most selfish drugs in the world," he says. "The world is as big as your nostril." An entire segment of his concert show is an inspired skewering of the chemically altered personality (misunderstood, of course, by certain pockets of the audience). But living as a teetotaler on his Napa Valley ranch, surrounded by wine country, does offer its temptations. "All those wine tastings… it's like being Gandhi in a delicatessen. But I can't go anywhere near that shit. Next I'd start doing all those other things, start doing blow again."
There is only one true addiction in his life: to performing. It's 1:30 in the morning in The Comedy Store on L.A.'s Sunset Strip, and Williams is standing alone in the deserted entranceway, waiting to go on. He's making one of his many free, unscheduled appearances, and he doesn't want to bump any of the regular acts. Earlier, while sitting inside at a table, a drunken, pretty blond girl had stepped on his toes in the dark, falling and breaking her glass. Realizing whom she stumbled into, she became mortified with embarrassment but roused herself to vow: "One day we're going to be in a movie together." As always, the star was unfailingly polite. Now, as he paces outside, he seems a driven, forlorn figure.
For the past two months, in fact, he has been a man in pain. His eight-year marriage is on the brink of collapse, and he has spent the afternoon with his wife and child pleading his case. "Things are rough," he acknowledges. "Maybe that's why there's a certain vehemence in my show, an intensity. One of the foundations of your life is about to change and you're going, 'Yeah, let's play, ladies and gentlemen, let's have a GOOD TIME!'" On his concert tour, he's cut down on his interaction with the audience, afraid that he'll snap at people. "I'm just going to have to try and stay very calm. The tendency is to overact at this point and just get crazy. It's a pretty raw time for me. I feel like a snail on a grill" (he becomes a screaming snail). "Aw! Aw!" (sounds of sizzling flesh). "I'm slow to boot and there's 50 feet to go! (soft-voice, serious again. It's bad."
Williams is not at the point yet where he can convert his personal experiences instantly into his act, as his friend Richard Pryor does. "Maybe that's the next step, to talk about really personal things," he says. "Soon I think I'll be ready to do that. Because I've never been able to do that in my life. I'm in a transitional phase. I feel like I'm 16 or 17 in terms of the way it's about to mature." He is equally intent on maturing as an actor. Williams has had mixed luck in the movies—Hollywood has yet to discover a way to fully utilize his unique comic gifts. Because he's such a mercurial performer, he hasn't settled into an easily recognizable screen persona the way that a Bill Murray or Chevy Chase has. But playing it safe is not his style: what could be more of a stretch than to go from the cartoon stylization of Popeye to the lead in the 1982 "The World According to Garp," a role which would have taxed the most seasoned pro? His most brilliant performance was at the defecting Russian musician in Paul Mazursky's "Moscow on the Hudson," which revealed the warmth and gentleness under the manic energy.
In his newest comedy, "Club Paradise," he is delightful but hampered by a spotty script and gaping holes in his character's motivation. He plays a Chicago fireman who drops out and retreats to a Caribbean Island, where he ends up opening a funky resort hotel. The film is at its best when Robin cuts loose with one of his zany non-sequiturs—as when, at one point, he's thrown in jail and allowed one call. "A blue jay," he suggests, and proceeds to do a bird call. (the bit was not in the script.)
Williams is far more interested in being a good character actor—his own favorite is Peter Lorre—than parlaying his funnyman reputation into box-office gold. He made Saul Bellow's '50s classic "Seize the Day" for a meager salary because he loved the book and relished the chance to work in an ensemble with the likes of Jerry Stiller and Joseph Wiseman. His corrosive portrayal of a desperate, out-of-work salesman, rejected by his cold, success-worshipping father, is haunting in its pathos. Whatever he does, he is not likely to repeat himself—either in the movies or onstage. "Robin refuses to have an act. He refuses to do anything he's done before," says David Steinberg, of Rollins Joffe. Steinberg (not the comedian by the same name, though a very funny man in his own right) is the most hands-on of Robin's managers, the guy who goes out on the road with him, the guy Robin bounces new ideas off before each show. They worked up the current stage show from scratch, Steinberg explains, the themes just happening organically. "Most comics have a set act, they do maybe 20 new minutes a year. No one else is secure enough to do what he does. It's a release for him. And he needs a lot of release, says Steinberg.
Release, yes, but it is crucial to remember that comedy is playtime for Williams. It's not surprising when he says that "the most precious times are those I spend with Zachary. At least then I know there are no games. All he wants to do is play, and so do I." "When you see Robin play with any child, you see the child immediately understand him," says Chris Reese. "The child in Robin is so open and approachable and immediately apparent." For Reeve, Williams's humor is rooted in his childhood, when he played alone in his attic with toy soldiers and made up stories. "throughout his life, he's always felt alone with his imagination. He's very aware, real grown up, but still in touch with the child in him. He looks at the world without any censorship. That's where his humor is: he doesn't edit anything."
Ask Williams to locate the source of his volcanic imagination, and you'll get a more modest answer. "It's a bouillabaisse. God, where does it come from? I don't know. I wish I knew, so I could find more."