Thailand: New King Celebrates Huge Birthday as Junta Chief Urges Loyalty From Thais
Authorities in Thailand are going all out to mark the birthday of new King Maha Vajiralongkorn this week as part of wider moves to consolidate his power and build his reputation as he emerges from his late father's shadow.
The king, who turns 65 on Friday, has been putting an assertive stamp on his rule since he took the throne in December following his father's death in October.
The monarchy is held in high esteem by the vast majority of Thais and, although the king is officially above politics, few would dare challenge his wishes. That gives him huge influence over politics as the country waits for an election the junta has tentatively set for 2018.
This month, Thailand amended a royal property law to formally give King Vajiralongkorn full control of the agency that manages the multi-billion dollar holdings of the monarchy.
That followed the transfer in April of various royal agencies from the government to the king's supervision.
The king has also been reshaping the palace staff and style—noticeable in the more robust language of some announcements: one official was fired for "extremely evil" misconduct.
"A lot of people would not have expected of him what he has done so far," said Pavin Chachavalpongpun of Kyoto University, a vocal junta critic who lives in exile.
"But it turns out that we have seen him moving towards consolidating his own political power... This is just the beginning."
Members of the Privy Council, a body of appointed advisors to the king, were not available for comment. The government declined to comment and the king's palace does not respond to questions from the media.
His father, the late King Bhumibol Adulyadej, known as Rama IX, ruled for seven decades and was widely regarded as the nation's moral compass. His December 5 birthday is a national holiday that was celebrated amid much pomp and ceremony.
Turtles and good deeds
Vajiralongkorn's birthday, July 28, was made a public holiday for the first time this year and promises to be a grand event with celebrations abroad and at home.
Bangkok's city hall will host a mass alms-offering on Friday for more than 600 Buddhist monks attended by junta chief Prayuth Chan-ocha at a public square in the city.
On Tuesday, Prayuth urged Thais to express their loyalty to the new monarch. "The government hopes all people will join to do good deeds," Prayuth told reporters.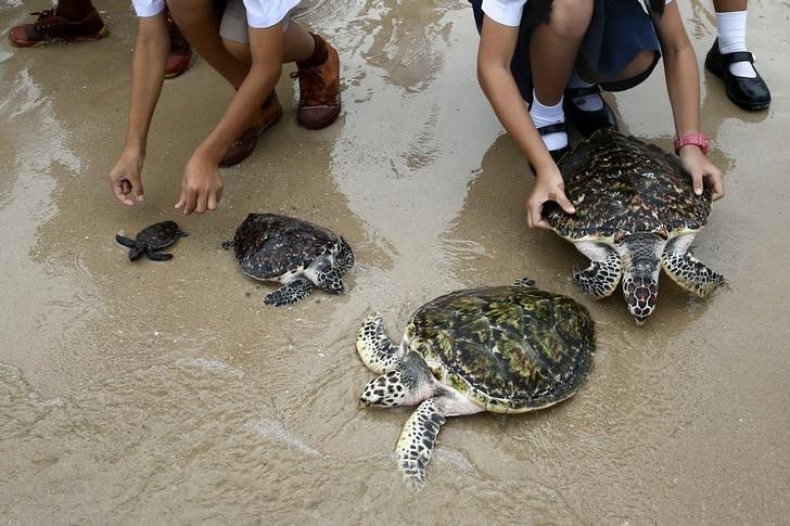 Hundreds of people gathered at a beach in Thailand on Wednesday to release turtles into the sea as part of celebrations to mark the birthday.
At the Sea Turtle Conservation Centre in Chonburi, around 75 km (47 miles) southeast of Bangkok, men and women from the Royal Thai Navy, students and Thai celebrities released the 1,066 turtles into the sea.
The number 1,066 was chosen to symbolize the number 10 for King Rama X, as King Vajiralongkorn is known, and the number 66, one more than his age, to wish the king longevity.
"The main event today is the release of the turtles, which also symbolizes longevity," said Athichanan Srisevok, a Thai actress and nature advocate. "I want to wish long live His Majesty and for him to be healthy."
Some attendees waved white flags bearing the words "Long Live the King".
Thai Buddhists believe that releasing captive animals is one way of gaining good karma.
The turtles released on Wednesday were raised from eggs collected by the navy from nearby Koh Kram island. Some of those released were as young as a week old.
"This birthday is important. It sets the tone for His Majesty's reign so the celebrations must reflect this," said a palace source who declined to be named because of the sensitivity of the matter.
Filling his father's shoes
Preparations for Vajiralongkorn's succession began before his father's death when he took over most of his father's ceremonial duties and was portrayed by state media as a family man and a devoted father.
Still, he has a challenge to fill his father's shoes. Bhumibol was regarded as a demi-god and his development work, promoted with zeal by the palace, endeared the late king to the population.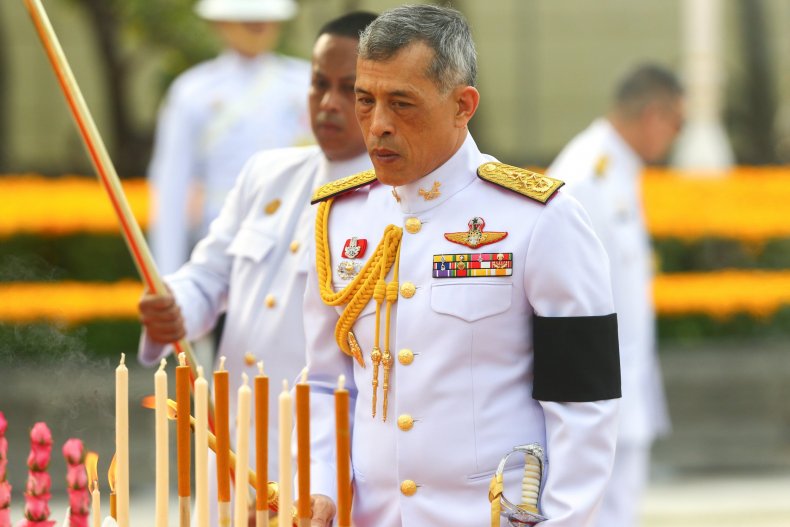 Vajiralongkorn spent much of the last few years abroad and has continued to do so since he took the throne. He owns a home in Munich, where his son is at school.
A request to Thai embassies to say what they were planning for the birthday celebrations came from a "Munich Operations Office" with an address at the 5-star Hilton Munich Airport hotel, according to a document reviewed by Reuters.
It was signed by Pinthep Devakula Na Ayudhaya, a minister at the Thai Embassy in Berlin.
The king's life abroad has also contrasted with his very traditionalist approach at home—filled with ceremonies and where he has instituted weekend band concerts in order to "bring happiness to the people".
German prosecutors last month said they were investigating a boy suspected of shooting plastic bullets from a toy gun at king, who was cycling near Munich.
More colourful stories about the king's life abroad published in foreign media cannot be reported in Thailand because of strict lese majeste laws protecting members of the royal family from insult.
The laws limit what all news organizations, including Reuters, can report from Thailand.