'Kingdom Hearts 3' Director Refused to Make a Game Without 'Toy Story' World
Kingdom Hearts 3 is mere weeks away from its official release, so directors are spilling the beans about its lengthy development cycle. In a recent conversation with Edge Magazine, Tetsuya Nomura touched on his world selection criteria and the importance of Toy Story.
While Kingdom Hearts 3 has been the focus of several great reveals over the years, the biggest of those was the debut of a Toy Story world during D23 2017. Nearly two years removed from that announcement, Nomura admits that world in particular was essential to the project existing at all. "I remember saying, 'If we can't use Pixar, then we can't have a third game.' It's that important to the game series," Nomura told the publication. "The whole world loves Toy Story – everybody feels the appeal of that story and those characters. So yeah, at the very beginning I directly said to them, 'If we can't get this, I don't want to do it.''"
It took several years for spaces like Andy's Bedroom and Galaxy Toys to take shape, but Nomura was particularly glad that Disney and Pixar took the creative process seriously. "Previous to Kingdom Hearts 3, I think these companies kind of saw it more as like, secondary rights permissions. They saw it more as a product, like you would a branded toy or something," he described. "This time, it was creator to creator – it was somebody who had made this animation, and somebody who was making this game. We were communicating with each other, myself and these people, so that added an extra level of complexity, because each creator has their own desires, ideas and concepts."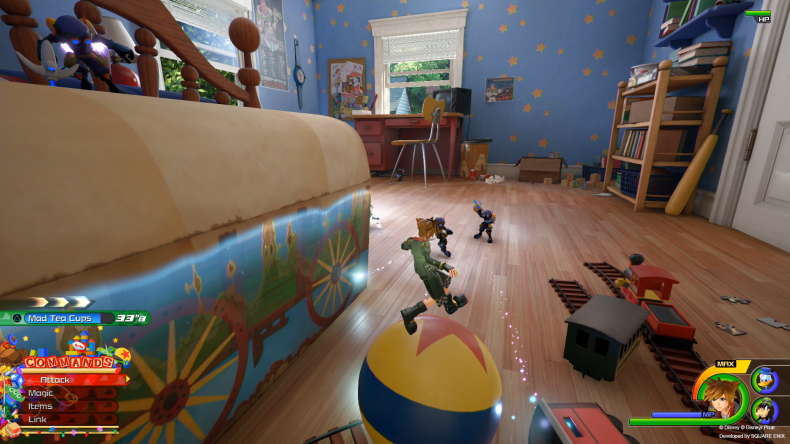 But, at the end of those deliberations, Pixar Story Supervisor Jason Katz left Square Enix with one assignment. As Nomura put it, "he wanted us to make a Toy Story world – a toy store – that they couldn't." As a result, Nomura filled Galaxy with dozens of mechs oozing with trademark Square Enix style.
While the minds behind the Toy Story world focused on narrative, however, the creators of Monsters, Inc. had different aspirations. For them, monster design was most critical. "we'd be told, 'Oh, well, actually there aren't monsters of this color,' or 'There are no monsters that have eyes like that', or 'The monsters in this world wouldn't use that word,'" Nomura recalled.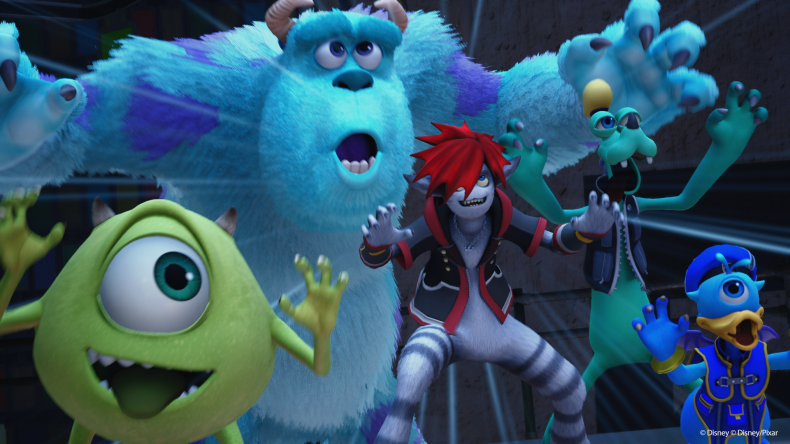 But these were hurdles Nomura was happy to overcome for the sake of making the best possible game. "It really doesn't matter to me whether or not [worlds are] going to be popular," he mused, "it's just about whether the game is going to benefit from adding them. In past Kingdom Hearts games, we've included a number of more minor titles. It's not only about what's interesting, it's also about variety."
This news arrives as part of a recent press run for both directors of Kingdom Hearts 3. For even more information, feel free to read our exclusive Q&A with Co-Director Tai Yasue. In the short chat he discusses the reasons for Kingdom Hearts 3's delays and confirms the list of new Disney-themed worlds.
Kingdom Hearts 3 releases Jan. 29 on PS4 and Xbox One.
Would you still be interested in Kingdom Hearts 3 if it didn't have a Toy Story world? Which worlds do you want featured in possible future DLC? Tell us in the comments section!