'Kingdom Hearts 3' Leak Video Spoils Game a Month Before Release
Kingdom Hearts 3 has apparently been leaked in full about one month before the game's Jan. 29 release date. While the origin of the leak remains unclear, the video footage offers compelling evidence that complete copies of the game are out in the wild.
Game Director Tetsuya Nomura issued a statement on the leak via Twitter early Sunday morning:
"We are aware that a small portion of Kingdom Hearts 3 has been circulating online before its official release. We are also aware of how this all happened. We are sorry this has caused concern amongst our fans who are excited for the release.
"The whole team has been working together since yesterday night (Japan time) to investigate what we can do to better this situation, but first we would like to ask that you do not share these videos.
"The game's epilogue and secret movie, which are the biggest spoilers in this game, are planned to be released at a later date just in case, so they will not be shown before the game's release.
"We want everyone to be able to equally experience the full game after its release, so we ask for your continued support on this matter.
"We are also very grateful that our fans have been warning each other already about the spoilers Thank you very much.
"We're one month out from the release. Let's enjoy the game together when it releases on Jan. 29, 2019."
As with most leaks, the story for how this mistake occurred is more than a little hazy. The current narrative amongst internet circles, though, is that an employee of a shipping and packaging copy stole several copies of Xbox One versions of the game and sold them online as a third-party Amazon seller. One person who ordered a fraudulent copy got his package recently and posted a video of the results.
The current leak footage only covers the very start of the game, but it's only a matter of time before more significant plot details find their way to the internet. Provided Square Enix doesn't stop the offender first, it's believed they might have 50 or 60 copies of the retail product available to distribute. Because this is a developing story with purposefully mysterious evidence, some of the above info may not be entirely accurate.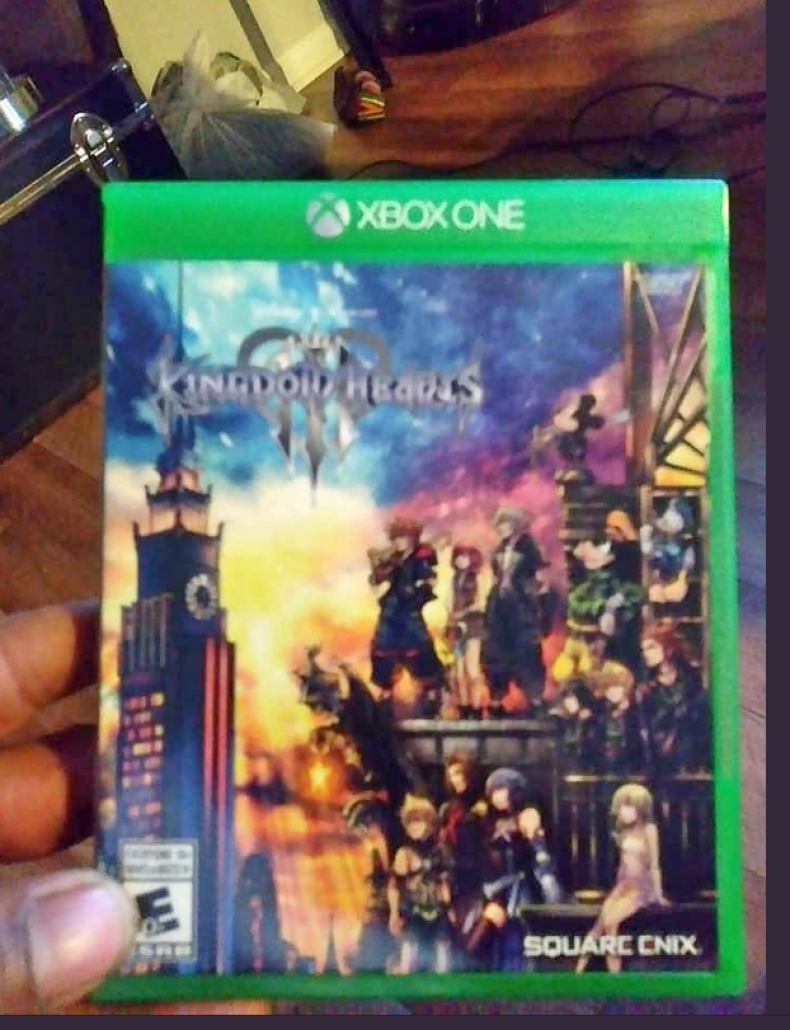 Regardless of the specifics of the situation, this surprising scenario is the last thing Kingdom Hearts 3's developers at Square Enix would have wanted. As inevitable as leaks may be in the modern entertainment industry, having one occur several weeks before launch is about as frustrating as it gets from a creator's perspective. Especially if the process for obtaining the early copies involved theft, it's possible Square Enix might even be pressured to pursue legal action for the alleged crime.
This story mostly serves as a warning to Kingdom Hearts fans that critical plot details may find their way to the internet soon. While Newsweek won't be discussing those tidbits in detail, forums, social media and other less predictable platforms might. In other words, browse subreddits and comment threads with caution if you want to go in fresh.
This Kingdom Hearts 3 leak arrives during what's been a rather eventful week for the upcoming game. On Monday, fans heard the title's new Skrillex-composed theme song in a cinematic trailer. On Friday morning, Limited Edition Kingdom Hearts 3 PS4 Pro bundles were finally made available for pre-order. Another trailer is set to debut around Dec. 18. We'll have more info on those sanctioned developments as they happen.
Kingdom Hearts 3 is available on PS4 and Xbox One Jan. 29.
What are your thoughts on the Kingdom Hearts 3 leak? Are you willing to watch the footage? Tell us in the comments section!
This article previously included a single clip from the aforementioned leak. It has been removed at the request of Square Enix.