'Kingdom Hearts 3' Leaks Reveal Possible Wreck-It Ralph Summon
Kingdom Hearts 3 leaks have arrived courtesy of ongoing preview coverage around the world. As seen in the tweet below from industry insider Nibel, it appears Wreck-It Ralph will have a role in the next installment of Sora's grand adventure.
The leaks tell us the Kingdom Hearts 3 preview demo largely focuses on two areas: the Galaxy Toys world, where players fight a bunch of robots, and the Olympus Coliseum. That being said, it's the former that has the most interesting info to share.
What we see here is that a Fix-It Felix arcade cabinet has prominent placement inside the Galaxy Toys space. Sora can interact with it, and it looks like that allows Wreck-It Ralph himself to summon into the arena. There may be other uses for the cabinet by way of mini-games and such, but it's difficult to confirm that through photos alone. We know Ralph will help Sora on his quest, but it's feasible he might have his own world or sub-world too.
If the assumption that Wreck-It Ralph is a summon is correct, he's the second one we've seen so far. Previous trailers also revealed Ariel from The Little Mermaid as a helper character. Her animations look incredibly detailed compared to summons from prior Kingdom Hearts games, and it appears Wreck-It Ralph has received equally stunning treatment.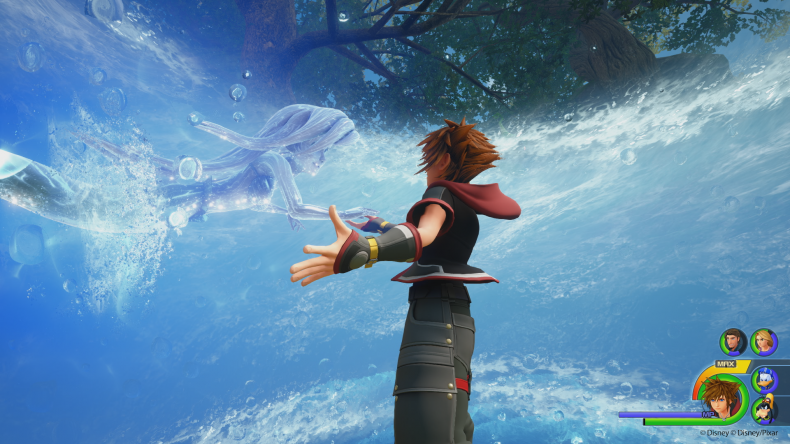 If he's only accessible via these special cabinets in the toy store, questions remain about just how much he'll be used. Will you meet Ralph during the Toy Story sequence, then gain full access to him once the area is cleared of Heartless? Will his arcade cabinets offer additional uses, mini-games and collectibles, like the Hundred Acre Wood?
Whatever the case may be, we imagine this Kingdom Hearts 3 demo will be a huge part of Square Enix's presence at E3 in June. While press has gone hands-on with the vertical slice this week, it seems likely convention attendees will have a chance to play it too. If that's the case, the public demo will probably be preempted by a trailer during the Square Enix showcase on June 11. We may learn more about how Ralph's summon feature works by watching that clip.
In financial documents made public earlier this week, Square Enix reaffirmed that Kingdom Hearts 3 is still slated for a 2018 release on PS4 and Xbox One.
What are your thoughts on this latest Kingdom Hearts 3 leak? Will Wreck-It Ralph be a summon or will he have his own world? Tell us in the comments section!