'Kingdom Hearts 3' Opening Theme Written by Skrillex, Utada Hikaru & Poo Bear
Kingdom Hearts 3 fans are generally passionate about three things: Final Fantasy characters, Disney-themed world designs and the series' iconic theme songs. Thanks to a recent listing from The American Society of Composers, Authors and Publishers, we now know a little more about the last member of that trio.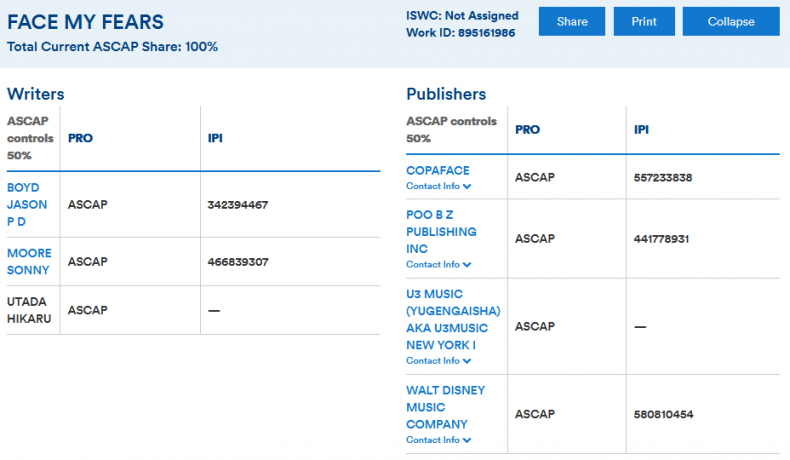 As seen in the image above, Sonny Moore, more commonly known as Skrillex, will team up with Jason "Poo Bear" Boyd and series mainstay Utada Hikaru on a piece called "Face My Fears." Under alternate titles, it's listed as "Opening Theme (Kingdom Hearts 3)." For those who may not be as familiar with the inner workings of the recording industry, ASCAP listings are essentially the musical equivalent to ESRB or PEGI ratings. They're initial legal filings for content that's about to be released. Since Kingdom Hearts 3 is still expected to arrive at the end of January, the development makes sense.
While we know the name of Kingdom Hearts 3's opening theme and the artists involved, however, it's unclear what the song sounds like. "Face My Fears" should not be confused with "Don't Think Twice," the Utada Hikaru song featured in several recent Kingdom Hearts 3 trailers. That's listed as the game's ending theme.
Beyond being one of the world's most accomplished EDM artists, Skrillex has been a longtime fan of the Kingdom Hearts series. As far back as 2011, he called the PS2 entries "my fav thing in the world" and tweeted at Hikaru to tell her she's awesome. We imagine his close connection to Sora's story is what inevitably drove him to work on the project.
While not quite as much of a household name, as Skrillex, Poor Bear's accomplishments include being one of Justin Bieber's favorite co-writers. He also co-wrote the Usher smash hit, "Caught Up."
This Kingdom Hearts 3 soundtrack news arrives amidst a busy week for the popular JRPG franchise. Its Tokyo Game Show presence included a new trailer, interviews with series Director Tetsuya Nomura and the reveal of the game's final cover art.
Kingdom Hearts 3 is expected to release on PS4 and Xbox One Jan. 29, 2019.
What's your take on Skrillex having a role in the soundtrack for Kingdom Hearts 3? Can he ever outdo the classic "Simple and Clean" remix? Tell us your thoughts in the comments section!