'Kingdom Hearts 3 Remind' DLC Release Time: When Can I Download on Xbox?
Xbox players will soon be able to download Kingdom Hearts 3 DLC: Remind on their respective consoles. Released last month on Sony's platform, the adventures of Sora, Kairi, Riku and Mickey are finally making their way onto Microsoft's black box. Here's what you need to know about the Remind DLC ahead of its launch.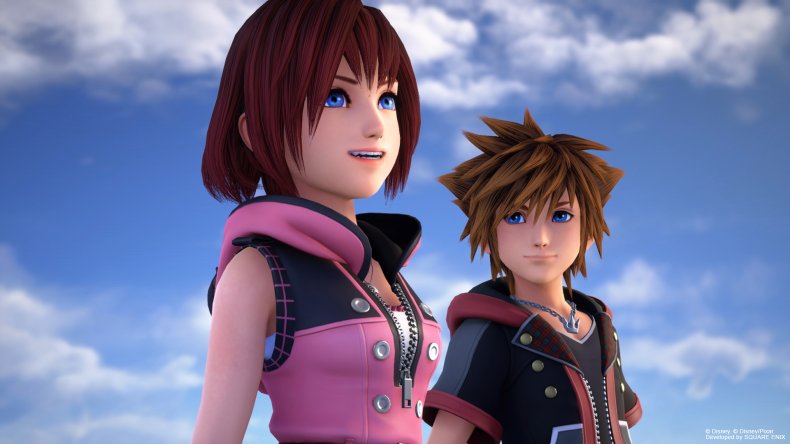 What time does Kingdom Hearts 3 Remind DLC Release?
Kingdom Hearts 3 Remind is expected to go live on Xbox around 12 a.m. EST February 25. At that time, those who've preordered the expansion will be able to access it. Otherwise, individual purchases can be made to get the whole package.
What about Kingdom Hearts 3 Remind DLC preloads?
When you purchase the DLC you'll get a digital key that unlocks the new stuff, but the actual files have already been delivered to all Kingdom Hearts 3 players as part of the released 1.09 title update. To be sure you've got everything you may want to follow the steps below, but you should be able to jump right in when the DLC becomes available.
Automatic updates for Kingdom Hearts 3 may have stopped if it's been a while since you last played the game. To manually fetch the update, press the Xbox button, navigate to the gear icon and select "System." Then choose "Settings" and "Console info & updates" or "Updates." You should see a Kingdom Hearts 3 update listed in the "Games & apps" tab.
To double check your preorder, try this:
Try going to the Remind Microsoft Store page on your console. Whatever unlock key you may need can be downloaded straight from there.
What's in the Kingdom Hearts 3 Remind DLC?
If you're on the fence about purchasing the new Kingdom Hearts 3 DLC, it may help to know what's in it. Here's what players can expect from the new update.
Additional story: Remind
Limitcut episode and 13 boss battles
Secret episode and boss battle
"Data greeting feature"
Slideshow feature for Photo Mode
Premium menu
Diverse difficulty levels and new gameplay challenges
Pre-order bonus: Exclusive theme
Optional Kingdom Hearts 3 concert video + DLC: $39 / Just DLC: $29.
Players will also be able to take control of other characters like Riku and Kairi during the course of the experience. That's all you need to know about the release of Kingdom Hearts 3 Remind.