'Kingdom Hearts 3' Trailer Reveals 'Pirates of the Caribbean' World at Sony E3 Event
A Kingdom Hearts 3 trailer was featured during Sony's E3 press conference on Monday night. The three-minute clip confirmed Pirates of the Caribbean will return for its second appearance in a mainline KH series game.
However, unlike what players saw in the Port Royal world that debuted in Kingdom Hearts 2, the updated human character models of fan favorites like Jack Sparrow, Will Turner and Elizabeth Swan look truly stunning and accurate to their real-world counterparts. From a gameplay perspective, the Pirates of the Caribbean world features massive naval battles, underwater caves and flight combat on the open seas.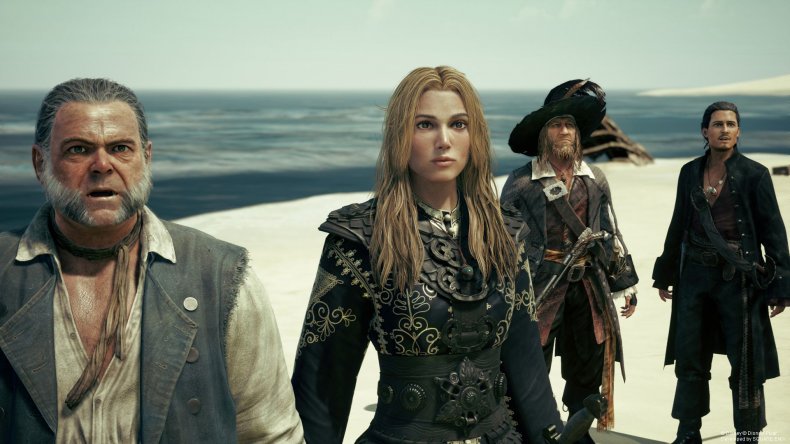 The lore section of the trailer, backed by Utada Hikaru's "Oath," tells us a little more about the complex story behind Kingdom Hearts 3. Luxord returns to Organization XIII following his disillusionment with the group, and, just like the others, he's looking for a mysterious box that holds the key to resolving the ongoing battle between darkness and light. The encounter acts as a fitting way to tie up loose ends considering Sora's last main encounter with Luxord was in the Port Royal world of Kingdom Hearts 2. Aside from Sora, we also see more of Lea and Karai's blossoming romance and the reappearance of Kairi's classic hairstyle. Riku is also shown sitting on the beach with...himself.
This is technically the fourth Kingdom Hearts 3 trailer shown over the past three days. Most of the clips are slight variations or different edits of the same footage. The main announcements of the week include the Pirates world, a Frozen world and a quick glance at a mini-game based on Ratatouille. Square Enix announced Deluxe Editions that include a collectible artbook and optional action figures of Sora, Donald and Goofy. The edition without a figure costs $79, while the premium version costs $229. If that's not enough, you can buy the Kingdom Hearts All-in-One Package, which features every game for $99, or a limited-edition PS4 Pro bundle that's not yet available for pre-order.
Kingdom Hearts 3 comes to PS4 and Xbox One Jan. 29.
What are your thoughts on Pirates of the Caribbean coming back for Kingdom Hearts 3? Are there any other returning worlds you'd like to see? Tell us in the comments section!