'Kingdom Hearts 3' Update 1.05 Adds Critical Mode & New Game+ - Patch Notes
Kingdom Hearts 3 updates 1.04 and 1.05 have just been released. The two patches feature Critical Mode, a New Game+ option and more. Read the full patch notes courtesy of translations from Square Enix support.
Kingdom Hearts 3 1.04 Patch Notes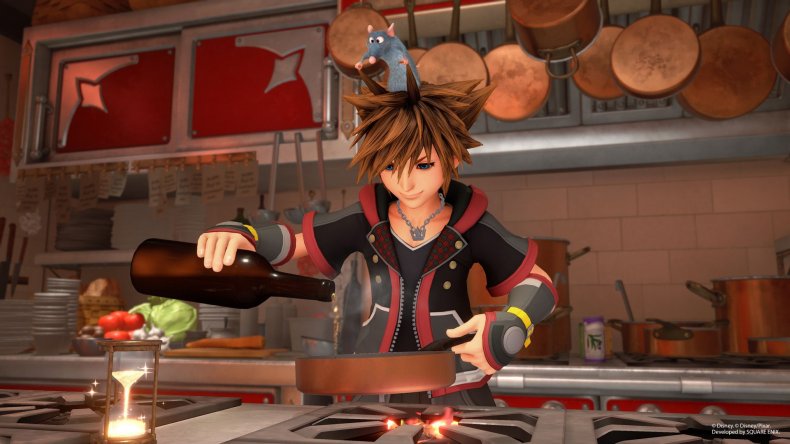 "Critical mode" has been added to the game mode, and new abilities can be used.
Adjusted the behavior of some enemy characters.
Acquisition of mini-game "Frozen Slider" The treasure can now be checked from the results screen and the mobile portal.
A check mark is now displayed on composited items in the item composition of Moogle shop.
We added messages such as game help.
Fixed various problems.
When this version is installed, new save data is created.
Kingdom Hearts 3 1.05 Patch Notes
When starting a new game with "New Game", it became possible to take over the key blade etc. from clear data.
We changed processing about photography and became able to save up to 200 pieces.
Fixed various problems.
The deployment of these updates is quite strange in that it appears the content will be spread over two separate patches deploying at "slightly different" times. That being said, those who wait for their consoles to auto-update Kingdom Hearts 3 will likely be pushed to version 1.05 without much fuss.
As for the addition of Critical Mode, Kingdom Hearts 3 Co-Director Tai Yasue has been a little coy, teasing that Critical will be slightly more involved than it's been in past franchise titles. While previous incarnations of Critical Mode were mostly just a notch above Proud difficulty, this particular version features brand-new abilities designed to enhance the technical combat of the game. It's also been suggested that optional mechanics, like cooking, will essentially become mandatory. In other words, while Beginner, Standard and Proud difficulties let players mash their way to victory, that shouldn't be possible in Critical. The addition of a New Game+ that allows Keyblades to transfer is also interesting but not a major game changer. Kingdom Hearts fans have long complained that Kingdom Hearts 3 feels too easy, but updates 1.04 and 1.05 go great lengths toward solving that problem.
Kingdom Hearts 3 is available now on PS4 and Xbox One.
What are your thoughts on Critical Mode and New Game+ coming to Kingdom Hearts 3? Did you find the existing game too easy? Tell us in the comments section!