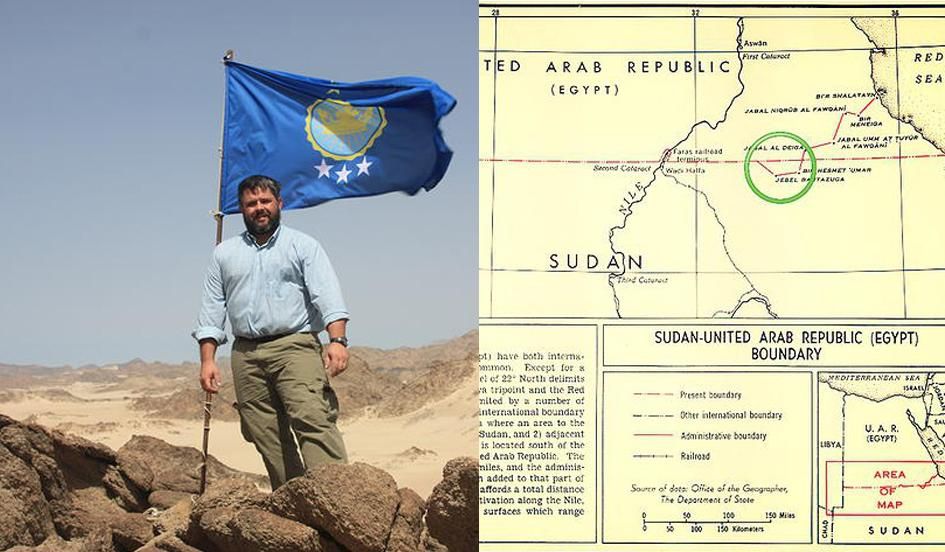 Jeremiah Heaton says life hasn't changed too much since the news of his search for a desert kingdom to govern exploded across the Internet in July.
Heaton, a father of three from Abingdon, Virginia, still runs his mining safety company, and his wife, Kelly Osborne-Heaton, is still a middle school teacher. His kids still go to school in Abingdon and he's still settled in the United States.
But some things have changed. His daughter, Emily, whose desire to be a princess spurred Heaton's land grab, is sometimes recognized on the street. Heaton now has a manager and a talent agent.
That's partially because Morgan Spurlock, the filmmaker behind documentary hitsSupersize Me and The Greatest Movie Ever Sold, and his Warrior Poets production studio are teaming up with Walt Disney Studios to develop a movie based on Heaton's story. The deal was first reported by Deadline Hollywood. The tentative title: Princess of North Sudan.
Spurlock will be producing the film with Richard Arlook of the Arlook Group, who also manages Spurlock, according to Deadline.
Since July, Heaton said his life has carried on as normal, with the exception of the movie deal negotations, which he told Newsweek have "taken a lot of time." But Heaton's mission still hasn't changed: He hopes, along with his family, to become the leader of a new kingdom in a currently unclaimed 795-square-mile sliver of land between Egypt and Sudan.
On June 16, 2014, Heaton travelled to this location, called Bir Tawil, to fulfill the wishes of his daughter Emily, 7, who told him she wanted to be a princess. Since 1902, neither Egypt or Sudan have claimed the land, which Heaton called "the dusty corner of the Earth that nobody wanted" in an interview with Newsweek in July. He named it the Kingdom of North Sudan.
When he got back to the United States, Heaton wrote a post about his trip, and his fledgling kingdom, on Facebook. Heaton says that one post resulted in more than 200 interviews with news outlets from around the world, with requests still trickling in today.
"Everything that has happened from a media standpoint has grown completely organically," he told Newsweek.
A few days after Heaton's Facebook post went viral, Spurlock's assistant reached out to him via Facebook, Heaton says. Within 24 hours, Heaton was on the phone with Spurlock himself.
Spurlock declined to comment for this article as the film is still in the early stages of development.
"I think Morgan's going to do a great job of telling the story," said Heaton. In a best-case scenario, the film will be ready in three or four years, he said. Heaton says he'd like to Disney put some of the film's focus on children who develop a love for science, and notes that his wife Kelly has put "great consideration" into the actors she'd like to see play her husband on the big screen (the list includes George Clooney, Matthew McConaughey and Channing Tatum). Heaton is a fan of Anne Hathaway to possibly play his wife.
Colonialism or Compassion?
Heaton tells Newsweek he has dealt with some "blowback" since the story broke, especially from people who have accused him of modern-day colonialism. He claims to not see the world through any type of racial lens, and says he was surprised to hear the criticism.
"To use the word 'colonialism' on the continent of Africa has twinges of racism to it and I can understand the history of that," he says. "But I also understand that this particular region of Africa has been ungoverned and unpopulated in the same way Antarctica has been for a very long time." Antarctica has no formalized central government and is managed under the Antarctic Treaty of 1959.
"[In Bir Tawil] there's no population to subjugate, there's no resources to take advantage of, so I think people struggle with defining what I've done. I'm not sure exactly what the definition is for what I've done," Heaton says.
Bir Tawil has the potential to be a dangerous, says Eric Reeves, a Sudan expert and English professor at Smith College who spoke to Newsweek about the area's history. In 1899, the British readjusted the straight-line division between Egypt and Sudan. Egypt continues to claim that the Hala'im Triangle, a disputed area of land that appears on most maps as belonging to Sudan, is in fact part of Egypt. Bir Tawil might experience conflict if Egypt ever tries to reclaim the Hala'im Triangle, said Reeves.
"The fact that Bir Tawil exists by virtue of the same line that created the [Hala'im] Triangle makes it a potential hot spot," Reeves said in an email. "The simple fact of the land being unclaimed now says nothing about its future, depending on Sudan-Egyptian relations and whether or not there is anything of value underground." Of Heaton's kingdom, Reeves said: "His vision is, in short, preposterous."
Public Response and Honorary Princesses
For his part, Heaton hopes to use Bir Tawil to develop agricultural tools that can tackle food security issues in the region. He doesn't know how much of his scientific vision will be shown in the film because Disney, Spurlock and Arlook will control of the narrative, but says that "North Sudan will be 100 percent energy efficient in terms of using 100 percent renewable energy." Heaton adds that the country will run on solar panels and wind energy, and points to Tesla Motors CEO Elon Musk and Virgin Group founder Richard Branson as role models for the type of development involved. He also notes that their ventures are good examples of a third way of funding research and development that is neither governmental nor private, but consists of philanthropists bankrolling projects with their fortunes.
Heaton wants to crowdfund the development of North Sudan. He plans to set up an IndieGoGo campaign that will allow people to pay to name roads and an airport in the region, and to become honorary citizens, knights, duchesses and dukes. He hopes to launch the campaign will launch in early spring. For $20, people can even buy their child the title of Honorary Princess, complete with a frameable certificate.
"We also have full titles for the court that will be available at a higher reward level," Heaton says. "One of those that has been in high demand is court jester. Dungeon master has been another." Those titles will cost a couple hundred dollars.
"Just because you're developing a country in a very serious way with very serious goals, that doesn't preclude us from having a whole lot of fun in getting there," Heaton says. He notes that any profits from the entertainment side of his story will be used to fund his children's education, while all the funds raised by the campaign will go towards funding North Sudan research projects.
But for now, life goes on as normal for Heaton, who is trying to focus his children, Emily; Justin, 12, and Caleb, 10, on scientific subjects to better prepare them to run a country one day. And with the movie in the early days of development, Heaton continues to fend off criticism that he's "some rich guy who is lavishing his children."
"In reality it cost me about $3,000 to go to Egypt, to Bir Tawil and claim the land. It was basically the airfare and the renting of the Land Cruiser to get there," said Heaton. "That money, that $3,000 and the good that's going to come of it in terms of what we can do for the country, is one hell of a return on an investment."