'Kingkiller Chronicle' Author Rejects Chandrian, Breakfast Connections
Author Patrick Rothfuss briefly delved into the motivations behind the mysterious villains of The Kingkiller Chronicle in a new video about breakfast jams.
"Hi there, my name's Pat Rothfuss, I'm here to tell you to get the new Jamdrian jampacked jam packs," the author said, in a new video promoting the Geeks Doing Good 2020 Fundraiser.
The intentionally tongue-tying jam promotion was presented as a behind-the-scenes look at Rothfuss outtakes from the creation of an Indiegogo fundraising video, though it becomes clear after a few seconds that Rothfuss' outsized anger and frustration at delivering overwrought ad copy about breakfast jams is the joking point of the video.
But one outburst from the author actually provides a smidge of insight into the creation of the Chandrian, a mysterious cabal of seven magical beings, responsible for the death of Kvothe's parents. Kvothe, the narrator of The Kingkiller Chronicle and a powerful magic user himself, has been hunting for the Chandrian throughout the two books so far released in the planned trilogy.
"What about the jam? Hey everyone: Evil jam!" Rothfuss says in the video, in mock exasperation. "When I made the Chandrian, I spent a long time creating something other than your typical fantasy bullshit mustache-twirling villain: 'Ah, now you're tied to the train tracks!' They're supposed to be really psychologically terrifying. What about that pairs naturally with a breakfast condiment?"
While far from amounting to spoilers for the third book in the series—currently titled The Doors of Stone—Rothfuss' description of his creating the Chandrian suggest what many readers already suspect: the sinister group has more complicated motives than the preservation of their own power and mystique.
Kvothe's revenge on the Chandrian has motivated the swashbuckling bard throughout The Name of the Wind and The Wise Man's Fear, but readers haven't yet learned what's behind their actions. We only know that the Chandrian kill anybody who might expose them, even in small ways: they killed Kvothe's parents and their entire traveling troupe after his father Arliden composed a song about them.
They are otherwise regarded as myth by most people in The Kingkiller Chronicle world of Temerant. In two books, Kvothe has only encountered a member of the cabal once, when he discovered the bandit leader he fought in the Eld Forest was actually the Chandrian Cinder in disguise.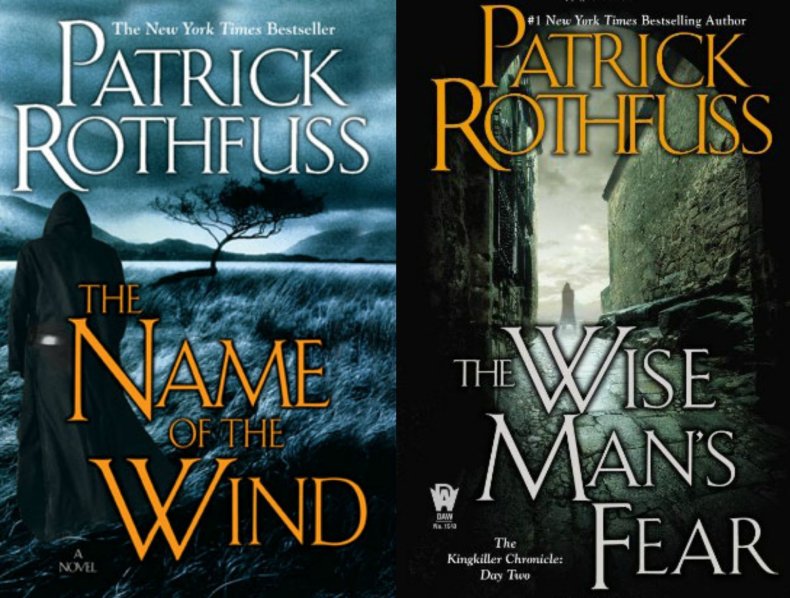 There are hints that the Chandrian—Cinder, Cyphus, Stercus, Usnea, Dalcenti, Alenta and Haliax—may have good reason to want to remain hidden, particularly fear of a secretive group of holy knights known as the Amyr (again, believed by most to be ancient history) and two other, even more mysterious, foes: the Sithe and the Singers.
We'll undoubtedly learn more in The Doors of Stone, but the complexity Rothfuss describes as underlying the rarely seen villains suggest they may have some compelling motives.
As for the Jamdrian jams, they're one of the many available rewards for donating to the Geeks Doing Good campaign, which is raising money for the Worldbuilders charity Rothfuss founded in 2008. Worldbuilders has since raised millions for charities, including international health care organization Project HOPE, Mercy Corps, First Book and Heifer International, which works to alleviate poverty and hunger by providing animals and agricultural training.
The Chandrian themed Jamdrian jams are rewarded for a $25 donation and come in aronia, blueberry jalapeno, mint and apple butter flavors.
Other fantasy and science fiction authors also have themed rewards available as part of the fundraiser, including a t-shirt from Martha Wells' Murderbot series and signed books from Mary Robinette Kowal, Brian McClellan and urban fantasy author Jim Butcher.
Rothfuss posted the parody behind-the-scenes video to his blog, one of two recent blog posts after months without updates. While the author has interacted with fans via daily Twitch streams, he described why he's largely avoided blogging in a Tuesday post.
"For a long while now, a lot of what's been going on with me... talking about it just hasn't been appropriate. Most of the big events in my personal life are depressing, or not entirely mine to share," Rothfuss said.
Part of what he was previously unable to talk about was details regarding his development deal with Lionsgate and the development of a Kingkiller Chronicle series for Showtime. While Rothfuss didn't provide many concrete details regarding the progress of TV and movie adaptations, he did share some anecdotes.
"Was it interesting? Absolutely. New? Terrifyingly so. Were there stories to tell? Very yes. Once Flavor Flav stopped me in my hotel lobby and told me I really looked like an old friend of his. I actually worked with Sam Raimi. (He's really nice.) I got to be in a writer's room for the first time. In fact, I've been in more than one," Rothfuss said, while revealing that a non-disclosure agreement prevents him from saying much more.
Rothfuss delved a little further into his collaboration with Sam Raimi, who was previously attached to direct Lionsgate's first Kingkiller Chronicle movie, to be executive produced by Lin-Manuel Miranda. Raimi is no longer attached to the project.
"Even when it wasn't illegal for me to talk about, a lot of times it would have been really unforgivably rude. Like when I met Raimi, we talked a couple times *long* before Lionsgate ever made the announcement that he was involved in the movie," Rothfuss said. "So I couldn't just go on my blog and tell y'all about how he was really nice and also he gave me a lemon."
The Kingkiller Chronicle book 3, The Doors of Stone, doesn't yet have a release date.