'Kingkiller Chronicle' Author Pat Rothfuss' Worldbuilders Fundraiser Gives Fans a Chance to Win a Piece of Geek History
Patrick Rothfuss, author of The Kingkiller Chronicle, was up late. Worldbuilders, the charity he'd started 10 years earlier, was set to launch its annual fundraiser for Heifer International the following morning, and Rothfuss was nervous about their new strategy—a two-week blitz with the aim of topping previous years, which have raised up to $2.5 million.
"I hate and fear change, which is what makes this year's fundraiser extra stressful," Rothfuss told Newsweek. "We are compressing it down to less than half the normal time."
But it already looks like Rothfuss' fears, shared openly on his blog, will prove unfounded. This year's fundraiser runs from Nov. 27 through Dec. 11 and has so far raised over $350,000, in part by offering geeks more than ever before. There's never been a fundraiser quite like this one, which unites a dizzying array of authors, tabletop gamers, artisans and comic book artists for a good cause, while also offering some astounding opportunities for readers, Dungeons & Dragons players and nerds of every imaginable stripe.
"We're pulling out all the stops this year," Rothfuss said.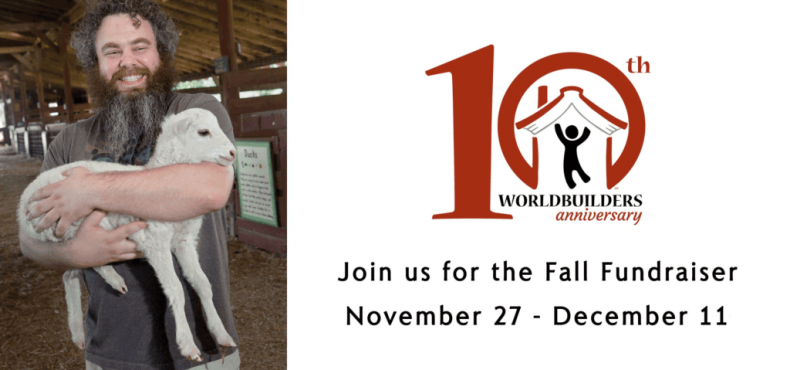 The concept is simple. 100 percent of donations go directly to Heifer International, a highly-rated, global nonprofit that has provided agricultural training and farm animals, including goats, sheep, cattle and chickens, to 30 million families in more than 125 countries.
"The reason we back Heifer the most is because no other charity provides the same amount of lasting, sustainable, world-shaking improvement to people's lives. $20 provides a family with education materials and a flock of chickens, so that children get to eat eggs every day. $120 buys a family a goat, so children get to drink milk and the family gets to sell milk for money," Rothfuss said. "It's like giving someone a small business that gives birth to more small businesses."
For every $10 you donate, your name is entered into a lottery of prizes, like signed books, figurines, rare board games and a $10,000 black walnut gaming table. There are also direct auctions on eBay, with items like a replica of Caesura, the sword wielded by Rothfuss's hero, Kvothe, in Book 2 of The Kingkiller Chronicle, The Wise Man's Fear. (We'll have more on one particular category of prizes, a fascinating new way to expand the universe of tabletop roleplaying, soon.)
"We work hard to rally the geek community," Rothfuss said. "We've got over a $150,000 in books and games and comics. Almost 6,000 prizes we're giving away."
While this year's Worldbuilders promises to be massive, especially with your help, it's origins are more humble, starting on Rothfuss' blog in 2008. In a post about Heifer International, Rothfuss offered to match donations for a month, initially up to $5,000, a target reached in just three days. "At the end, we raised $50,000 and that was all the money I had and it broke me," Rothfuss said. "But it was such a delight. I had been broke before, but never been broke for a good reason."
Soon a network of fantasy and sci-fi authors—including Brandon Sanderson, Terry Brooks, Django Wexler, Mary Robinette Kowal, N.K. Jemisin and Neil Gaiman—joined the cause, contributing signed copies, first editions and reader critiques to the Worldbuilders auction.
The charity expanded massively, year-over-year, with authors soon joined by publishers and company partners like Humble Bundle, Macmillan, Subterranean Press, Wizards of the Coast, Cards Against Humanity and IDW Publishing.
Visit the Worldbuilders site to donate directly, get a chance to win fabulous prizes, feed families around the world and join a movement that unites all of geekdom under one banner.