King's Hawaiian Sued for Its Rolls Not Being Made in Hawaii
The maker of King's Hawaiian rolls has been hit with a class action lawsuit claiming that fraudulent marketing leads consumers to wrongly believe the product is made in Hawaii.
Robert Galinsky, a resident of Yonkers, New York, filed the lawsuit after he purchased a package of King's Hawaiian rolls and realized there was misleading information about where the product is made, according to Top Class Actions, a company that reports on consumer class action lawsuits.
The lawsuit states that "Hilo, Hawaii," can be seen on the front and center of the package, leading buyers to believe that the rolls are made on that part of the island. In reality, the sweet bread rolls are made in Torrance, California, which is listed in smaller font on the back of the package.
Galinsky claims that King's Hawaiian rolls "essentially invented this category of food" and says the misleading label impedes on consumers' ability to purchase authentic items.
"For many consumers, authenticity has overtaken quality as the prevailing purchasing criterion," Galinsky's lawsuit says.
The complaint also points to four lawsuits King's Hawaiian Holding Co. has filed against competitors who have attempted to use similar colors and the term "Hawaiian rolls," on their packaging. Last year, the company settled a lawsuit with Aldi over orange colored packaging sold at the grocery store that they alleged infringed on its intellectual property, according to a press release issued by King's Hawaiian.
"The King's Hawaiian packaging trade dress is one of our most valuable assets and King's Hawaiian has assembled a top-notch, two-firm legal team to protect and to enforce our intellectual property rights in the trade dress," King's Hawaiian President and Chief Strategy Officer John Linehan said last year.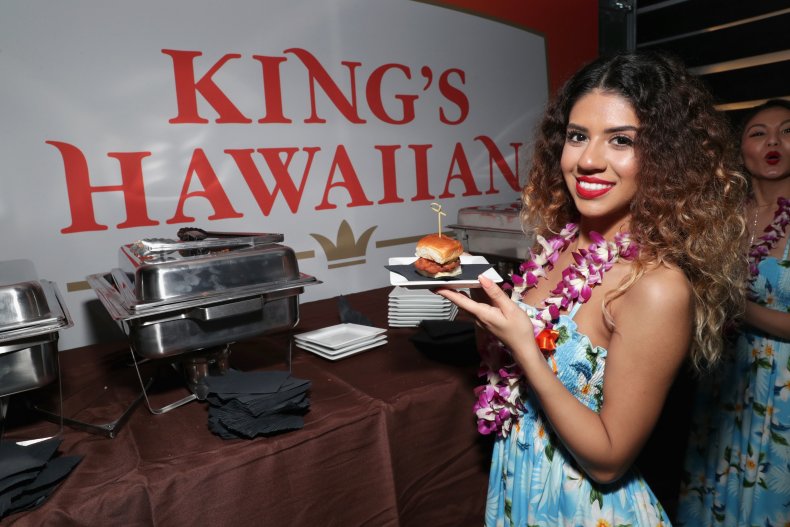 In his complaint, Galinsky says that while the average shopper likely realizes that King's Hawaiian is the name of the company, listing "Hilo, Hawaii" gives the impression that the product is made in that location.
"Reasonable consumers understand that the term 'Hawaiian Rolls' by itself, does not denote a roll made in Hawaii any more than a 'Moon Pie' can claim to have been baked on the moon," he said.
But he added that the company's "fraudulent intent is evinced by its failure to accurately identify the Product's immediate place of origin — where it's made — as opposed to where the company is originally from — when it knew doing so would misled [sic] consumers."
According to Top Class Actions, Galinsky is seeking to form a class of New York state residents who've purchased packages of King's Hawaiian rolls within the applicable statute of limitations.
Newsweek reached out to the company for additional comment but did not hear back in time for publication.