Kino Jimenez Arrested After Teen in MAGA Hat Assaulted at Whataburger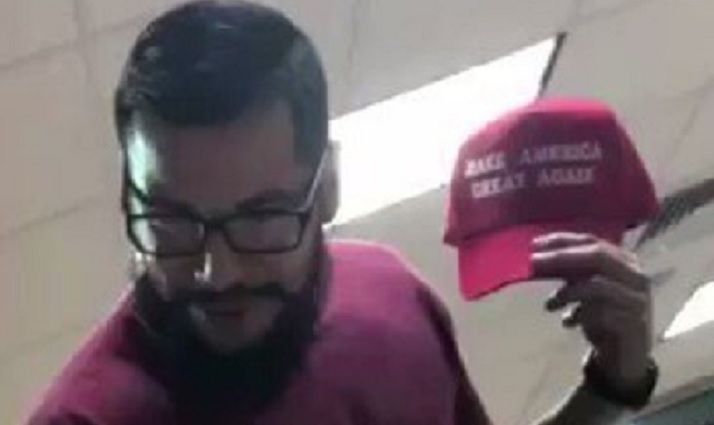 A man has been arrested after a video showing a 16-year-old boy having a drink thrown in face for wearing a Make America Great Again (MAGA) hat went viral.
San Antonio Police confirmed that 30-year-old Kino Jimenez was arrested by detectives from the Robbery Task Force on a warrant of theft of person following an incident at a Whataburger restaurant in Thousand Oaks, Texas, in the early hours of July 4.
Footage, which has since been viewed more than two million times, shows 16-year-old Hunter Richard being verbally abused by a man while he was having a meal with his friends, before the suspect throws a drink in his face and walks away with the red MAGA hat.
"This is gonna go great in my f**king fireplace," the man says as he walks away.
The incident went viral after the footage was posted onto Twitter by user @brxpug and Facebook by Patricia Spittler, believed to be one of the boy's mothers, who asked users to help identify the "scum bag of the year."
"Jimenez was located in Universal City, Texas. Universal City police officers took Mr Jimenez into custody without incident," San Antonio Police said in a statement to Newsweek.
"He was transported to the Robbery Unit to be interviewed by detectives assigned to the case. Mr Jimenez is being transported to the City Magistrate for booking."
Prior to his arrest, Jimenez was fired from his part-time job at a bar in San Antonio after he was identified online as the man seen in the video.
"We have since terminated this employee, as his actions go against everything that this establishment stands for," the Rumble bar wrote in a Facebook post. "THIS BAR IS A SAFE SPACE FOR EVERYONE! No matter your race, creed, ethnicity, sexual identity, and political stance, you are welcomed here!" The bar has since deleted its Facebook page.
Following the incident, Hunter told News 4 San Antonio that he believes people with different political views should "have a conversation about it instead of ripping my hat off."
"I just think a conversation about politics is more productive for the entire whole rather than taking my hat and yelling subjective words to me," he added.
Hunter later uploaded a photo of himself on Instagram wearing a MAGA hat and hooded top along with the caption: "HAD A BOMB A** 4th OF JULY! ALTHOUGH MY HAT GOT JACKED BUT ITS ALL GOOD THE LIBTARD THAT TOOK IT CAN HAVE IT."
"We were shocked to see this video and certainly don't condone this type of customer behavior in our restaurants," a spokesperson for Whataburger Corporate Communications told Newsweek.
"To be clear, no Whataburger employees were involved or witnessed the incident, and we ask that questions be directed to San Antonio PD as we continue supporting their efforts."