Trump Allies Like McCarthy 'Have Been Lying to You' About 2020: Kinzinger
Representative Adam Kinzinger, an Illinois Republican, told members of the GOP on Sunday that the party's leaders, including House Minority Leader Kevin McCarthy, have been "lying" to them about the 2020 election.
Kinzinger's comments came during an appearance on ABC's This Week, after host Jonathan Karl asked him about a meeting that Republicans had five days before the violence at the U.S. Capitol took place on January 6, 2021. On Saturday, The Washington Post reported that at the meeting Kinzinger told McCarthy: "Kevin you have convinced half of the country that the election was stolen, there's going to be violence." According to the Post, McCarthy responded: "Thanks Adam, next caller."
"McCarthy clearly didn't believe this stuff. Would it have been different if he had stood up and he had said, 'no the election's not stolen'...or would he have just been pushed aside?" Karl asked the congressman.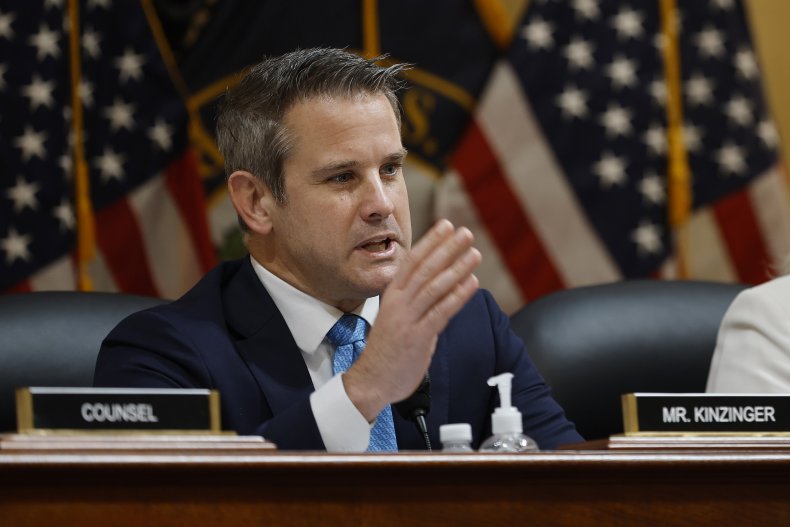 "...It all would be so different right now. Would he have been pushed aside in the process? Maybe, but the question is what are you going to stand for in your life. Are you going to go out being known as the guy that enabled a fail coup, or are you going to be the guy that goes out standing up?" the GOP lawmaker responded.
Kinzinger then brought up the photo of McCarthy and Trump that was taken at the former president's Mar-a-Lago Club in Florida in January 2021, just weeks after the Capitol riot. He said the "second" McCarthy "showed up at Mar-a-Lago taking that picture with Donald Trump, he literally resurrected him politically."
The congressman went on to say that when people "only trust a subset of certain leaders, let's say Republican leaders, and Republican leaders don't tell them the truth, they're not going to believe the truth."
"Ladies and gentlemen, and particularly my Republican friends, your leaders, by and large, have been lying to you. They know stuff that's very different than what they're telling you. They know the election wasn't stolen, but they're going to send out fundraising requests. They're going to take your money from you and they're going to use you to stay in power. You are being abused," Kinzinger said.
He added that Republicans "can be mad" at him and Representative Liz Cheney, a Wyoming Republican, who is also a frequent Trump critic and a member of the House committee investigating the Capitol riot, but that they're "not the ones lying to you."
"It's the people you think are telling you what you want to hear. They're the liars and Kevin McCarthy is among them," Kinzinger said.
Newsweek has reached out to McCarthy's press office for comment.