Kirsten Dunst Took Emotional Baggage From 'The Power of the Dog' Home with Her
Kirsten Dunst found the tragic character she plays in The Power of the Dog—the kind-hearted but fragile Rose Gordon—followed her home after filming had stopped.
Speaking from the red carpet of the film's UK premiere, Dunst admitted to Newsweek that the depth of her character's emotions stayed with her once the cameras stopped rolling. She said: "Whenever you're making a film, there's some energy that, depending on the character you're playing, stays with you until you finish the movie.
"I think that's just a natural thing that happens in any work environment," Dunst continued, "Certain people or things or the experience of playing someone so deeply insecure, I'd like go home and think about things more."
Dunst plays Rose Gordon in the movie which is available to watch on Netflix now. Jane Campion adapted the screenplay from the book of the same name and also directs while Benedict Cumberbatch, Dunst's real life fiancé Jesse Plemons and Kodi Smit-McPhee all co-star.
Dunst character Rose is introduced as a small business owner and a single mother to a son that doesn't fit in (Smit-McPhee). Eventually she falls for George Burbank (Plemons) much to the chagrin of his brother Phil (Cumberbatch). Once the families merge and live under the same roof, Phil emotionally torments Rose leading to an emotional spiral.
Dunst told Newsweek: "I noticed that, that questioning of herself, the way Rose feels seeped in a little bit into into the way I questioned myself at the end of the day sometimes."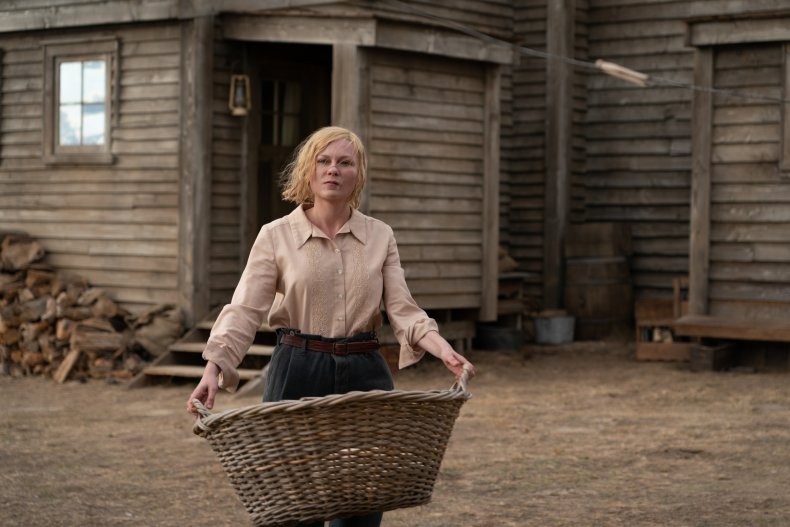 Cumberbatch isn't the charming British actor fans know in The Power of the Dog, as he gives a gruff malevolent performance as Phil Burbank. He told Newsweek what it was like performing against type. "It was fun," he said, "[It gave me] permission not to worry too much about what people think about me and not apologize too much. I have a propensity to do that myself, but Jane gave me full permission to be him from dusk till dawn and I needed to. It's quite a far reach for me this entire character in this world."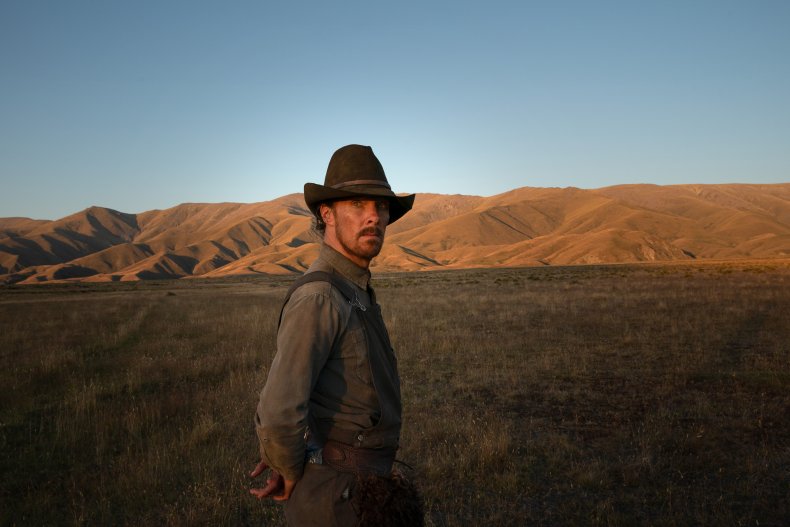 Cumberbatch's performance is already being included in the conversations for awards season, but he is remaining level headed about that talk. "All I can remember from last time [he was nominated for an Oscar] was that it is amazing to be part of the conversation. If it means the work is being seen and celebrated in whatever regard then that's a great thing," he said.
Jane Campion is the driving force behind The Power of the Dog, acting as the director and she also adapted the script from Thomas Savage's 1967 novel. Dunst reveals that this collaboration with Campion has been over a decade in the making.
Dunst said: "The performances and the actresses she has worked with are always the performances that have inspired me over the course of my career. The more I educated myself on film, I got to know her as an artist and as a masterful filmmaker of our time.
"So she wrote me in my 20s about working together so to finally have that happen was just like, it's just a dream for me as an actress."
The Power of the Dog is available to watch on Netflix now.