Kirsten Gillibrand Says She's Considering A 2020 Presidential Run To Restore America's 'Moral Integrity' Lost By Trump
New York Democratic Senator Kirsten Gillibrand said on Monday morning that she is actively considering a presidential run in 2020.
The View's Joy Behar asked Gillibrand, who was on the show to promote her new children's book, Bold and Brave: Ten Heroes Who Won Women the Right to Vote, if she was planning to serve her full six-year Senate term or if she would run for president.
"Well, I'm obviously very dedicated to serving New Yorkers, but that is a very important moral question that I've been thinking about," Gillibrand replied. "I've been thinking about it because what President Trump has been putting into this country is so disturbing, so divisive, so dark that I believe I've been called to fight as hard as I can to restore that moral integrity, that moral decency. So I'm thinking about it."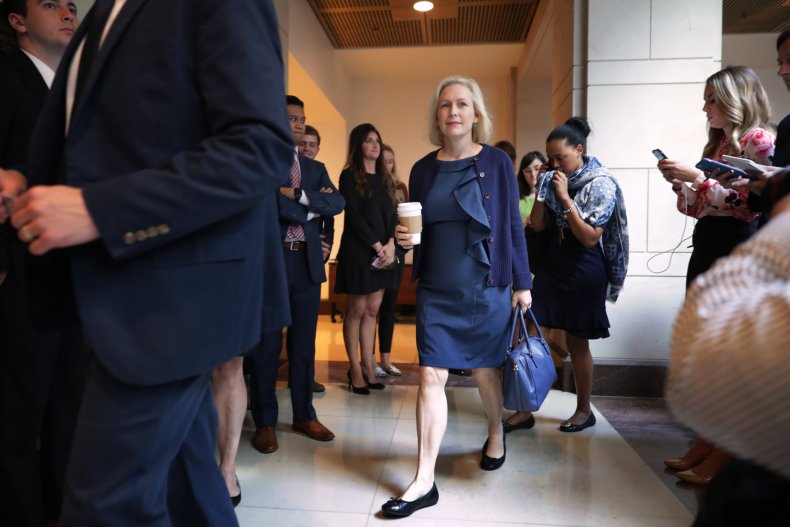 This isn't the first time Gillibrand has hinted at a presidential run. After easily winning her Senate reelection bid last Tuesday, she said on The Late Show with Stephen Colbert that she was thinking about it. "I promise you I will give it a long hard thought of consideration. I will do that," she said. During the interview, she once again framed her potential decision as a moral one.
"I believe it is a moral question for me. I believe in right versus wrong, and until this election I actually thought that wrong was winning," she said. "As I've traveled across my state, across the country for all these candidates, I've seen the hatred and the division that President Trump has put out into our country and it has called me to fight as hard as I possibly can to restore the moral compass of this country."
Conservatives are already firing back against Gillibrand's moral compass line, which appears to be something she will repeat multiple times over the next few weeks.
The New York Post editorial board wrote Sunday that, "as her entire political career has proven, the only compass she has is what works best for her politically at any given moment. There's nothing 'moral' about it."
"Gillibrand has built her whole career on flip-flops. While representing a conservative upstate House district, she was a pistol-totin', hard-line-on-immigration, Israel-supporting, pro-Wall-Street kind of gal. (And that was after her years as a lawyer for Big Tobacco)" they continued. "The moment she was named to Hillary Clinton's Senate seat, she morphed overnight into a gun-control hawk, pro-immigration, soft-on-Israel foe of the 'corporate interests' that 'control the agenda in Washington.'"
Gillibrand served as New York Congresswoman for two years before taking over Hillary Clinton's Senate seat in 2009. She's has been considered a 2020 front runner for some time and has more than $10 million left in her campaign coffer, giving her a leg up over other Democrats considering a run.
A recent Axios poll found that Gillibrand would have a six-point lead on President Donald Trump if she were his Democratic opponent.