Kirstjen Nielsen Blames Both Sides for Deadly Charlottesville Violence, Claims Russia Didn't Try to Help Trump
Department of Homeland Security Secretary Kirstjen Nielsen said Thursday that Russian interference did not play a role in President Donald Trump's 2016 election win.
"I haven't seen any evidence that the attempts to interfere in our election on infrastructure was to favor one political party," she told a crowd of mostly Republicans at the Aspen Security Forum in Colorado. "I think what we've seen on the foreign influence side is they were attempting to intervene and cause chaos on both sides."
The comment came just three days after Russian president Vladimir Putin confirmed that he wanted Trump to win the 2016 presidential election over his Democratic opponent, Hillary Clinton. During a joint press conference with Trump in Helsinki, a reporter asked if Putin supported Trump during the election, "yes I did," responded Putin. "Yes I did, because he talked about bringing the U.S.-Russia relationship back to normal."
In May 2018, the Senate Intelligence Committee backed previous reports issued by the National Intelligence Council and special counsel Robert Muller, reaffirming that Russia interfered in the 2016 election to benefit Trump. "The Russian effort was extensive, sophisticated, and ordered by President Putin himself for the purpose of helping Donald Trump and hurting Hillary Clinton," they wrote.
President Trump has sent mixed messages about his official stance on Russian election intervention. In Helsinki on Monday, Trump suggested to reporters that he believed Putin's denial of interference. The following day he claimed he simply misspoke, but on Wednesday appeared to tell reporters that he did not believe Russia was still targeting the U.S. White House press secretary Sarah Huckabee Sanders then denied Trump was responding to a question when he said "no." Later that day, he told CBS News that he did, in fact, blame Putin for election meddling "because he's in charge of the country."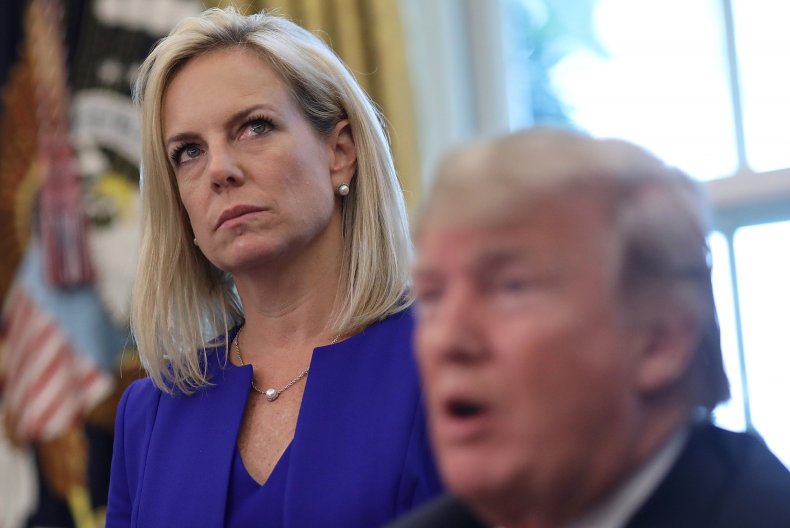 After her talk in Aspen, Nielsen also walked back her comments, telling CNN's Jim Sciutto that she supported the intelligence community's report, "full stop."
But that wasn't Nielsen's only comment during the talk that raised eyebrows.
Nielsen discussed Trump's controversial comments that there were "fine people on both sides" of the white supremacist riots in Charlottesville, Virginia, last summer. Nielsen explained that "it's not that one side was right and one side was wrong." Instead, she said, "anybody that is advocating violence, we need to work to mitigate."
Jonathan Greenblatt, CEO of the Anti-Defamation League, responded to Nielsen's comments on Twitter. "Actually, Secretary Nielsen, one side was wrong: the white supremacists & neo-Nazis chanting 'Jews will not replace us,' he wrote. "This moral equivalence is disgraceful coming from anyone, let alone the head of the Department of Homeland Security."
Nielsen also received an unintentional laugh from her audience when she told them that Trump "loves diverse opinions," and "craves different points of views."
This story has been corrected to better reflect Secretary Nielsen's comments