Kirstjen Nielsen Admits Parents Were Deported Without Children but Claims They Were Given Multiple Chances to Take Them
Secretary of Homeland Security Kirstjen Nielsen testified before Congress on Wednesday that parents were deported without their children but said they were given several chances to take their children.
"I would also just note that consistent with longstanding practice in the law, before we deport any alien after they have gone through the process and receive a final order of removal, we do ask them if they'd like to take their children with them," Nielsen said while appearing before the House Homeland Security Committee.
"At that same time their consulate or embassy—for purposes of issuing them travel papers—also asks them would you like to be removed with your children as you're removed.... The judge also asked us to go back and ask the parents again, in conjunction with ACLU [American Civil Liberties Union]. Which we did. So there was no parent who has been deported, to my knowledge, without multiple opportunities to take their children with them."
In response, the ACLU tweeted Nielsen "should reread the stories of parents who signed deportation forms they couldn't read, believing it would bring their kids back."
Nielsen also testified on Wednesday that the department knows how many children it has detained—but that she didn't have the number with her.
Sheila Jackson Lee, a Texas Democrat, asked Nielsen: "Do you have a census of all of the children that are being detained in the various facilities, both the ones at the border and others that are in partnership with HHS? Do you know how many young people are detained?"
"Yes, ma'am," Nielsen responded, before adding,"I don't have that number in front of me. We have all of the numbers."
Asked by Jackson Lee if she could provide that figure, Nielsen said she could.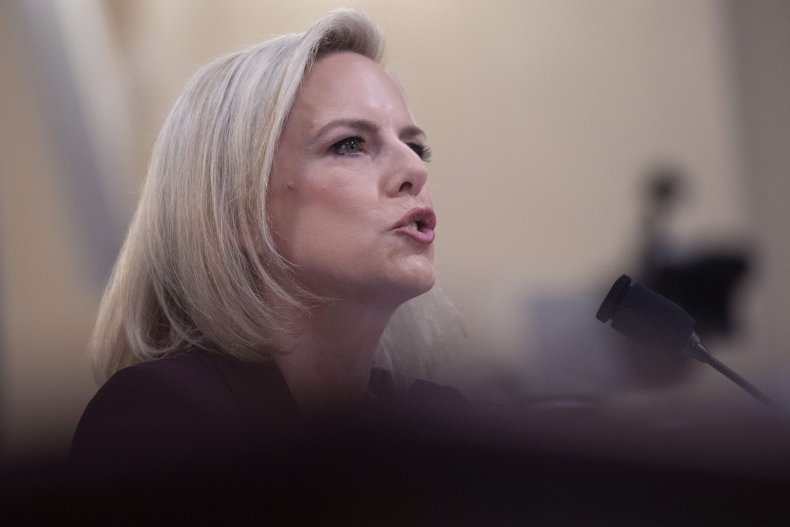 Nielsen backed President Donald Trump's national emergency declaration during her testimony, saying: "This is not a manufactured crisis. This is truly an emergency."
Representative Bennie Thompson, a Mississippi Democrat and the House Homeland Security Committee's chairman, said in his opening statement that Nielsen "can choose whether to be complicit in this administration's misinformation campaign, or she can correct the record and start a serious discussion about the way forward on border security.
"For the sake of our country, I urge her to choose the latter," he said.